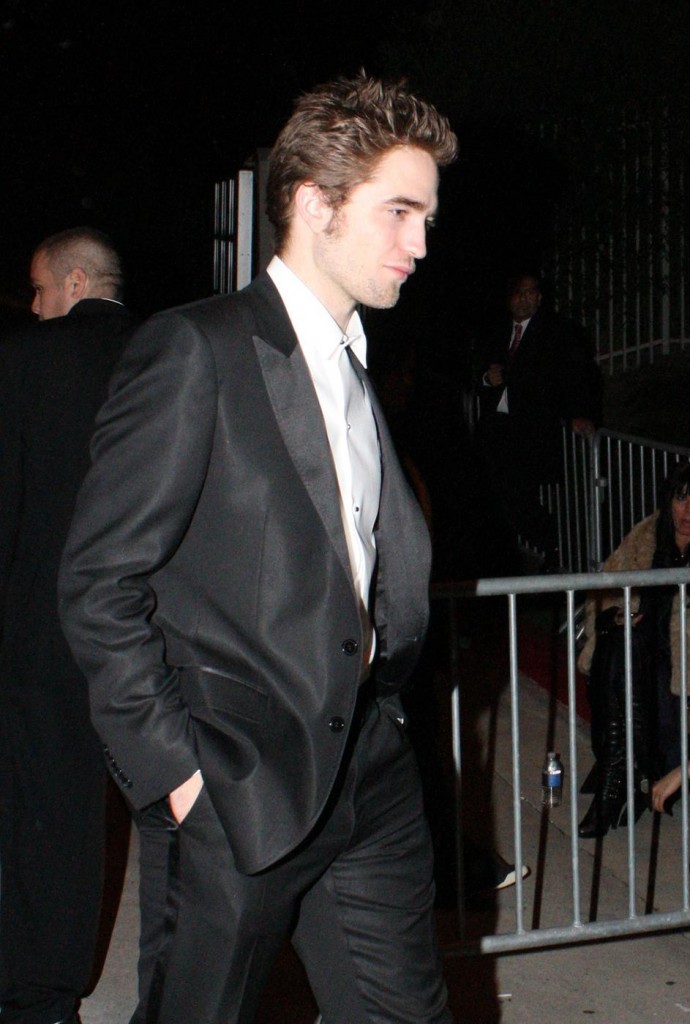 The reports have been coming in pretty steadily that Robert Pattinson is hooking up with at least one of his New Moon co-stars. Some say Kristen Stewart, some say Nikki Reed, some say both. But even a smelly, small-wanged womanizer needs more than two co-stars and a buffet of Teen Beat readers. He needs a professional. A professional stripper, that is.
Is seems R-Pattz has a thing for a local Canadian stripper named "Kendra". Kendra works at Brandi's Exotic Nightclub in Vancouver, and R-Pattz has visited her several times. Kendra is apparently a Bo Derek look-alike, and R-Pattz loves a good lap dance. This is gross, right? Even though it's obvious to me that R-Pattz isn't God's gift, I will acknowledge that he still doesn't have to pay for it.
The attention of gorgeous costars — and red-blooded women the world over — has failed to quench Rob Pattinson's thirst for affection!

In the May 18 issue of Star, we report that as if British hunk doesn't have enough ladies in his life with his Twilight costars Nikki Reed and Kristen Stewart both crushing on him, he's added another woman to the mix — a stripper!

While shooting New Moon in Canada, he's made not one but two trips to Brandi's Exotic Nightclub in Vancouver, where he became infatuated with a curvaceous dancer named Kendra.

The night they met, Rob followed the hot blonde into a private room for a lap dance and he must have liked what he saw because he returned asking for her two days later.

"She's very pretty and very sexy," one insider at Brandi's says about the object of Rob's affection. "She reminds me of Bo Derek in 10."
[From Star Magazine]
Out of all of the celebrity magazines and tabloids, OK! Magazine seems to be the most focused on the whole Twilight/New Moon hysteria. They devoted their cover to New Moon this week, and today they put up an "exclusive" interview with Ashley Greene, who plays Edward's (Robert Pattinson) sister Alice. When asked about R-Pattz's extensive time in the make-up and hair trailers, Ashley says that Robert "likes being pretty! No, I think any guy [actor] is kind of like, eh. But it's part of the job."
Ashley also lets loose a little bit about Robert's single status, and his maybe-crush on Kristen Stewart: "Rob's always like, "I don't belong here, what's going on?" He's not the most sociable. He's not one of those people who can go and talk to anyone. He's kind of a hermit and a little awkward. He got thrust into this limelight, but he's dealing with it. I think it'd be kind of difficult for anyone… I think he's loving being single. He's pretty much one of the most eligible bachelors out there right now. So if he was sad before [about Kristen], I think that he's all right now."
Header of Robert Pattinson leaving One Electra after attending an Oscars afterparty on February 22nd. Images thanks to Pacific Coast News.