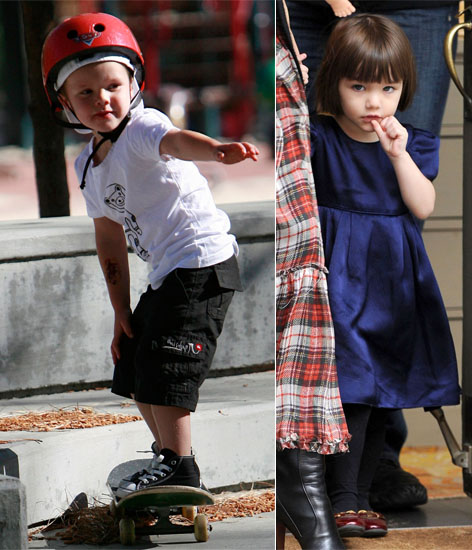 Princess Suri Cruise has met her prince… and his name is Cruz. It seems everybody's favorite little munchkin princess has a little-girl crush on Cruz Beckham, son of David and Posh. Suri is three, and Cruz is four, so we know Suri has a thing for older, athletic boys. But will she give up her royal title to marry a commoner?
This comes from The National Enquirer, and initially I thought it was just a really cute story, but now I'm a little perturbed by the creepy undercurrent. First, the cute stuff. Suri is so in love with little Cruz that she draws him special pictures with her crayons and makes sure her mom picks up an extra chocolate cupcake (Cruz's favorite) when Suri knows they're going to see each other. All of it very sweet, very innocent. But then there is this: "And Suri already seems to know that the way to a man's heart is through his stomach." Seriously? Cruz Beckham is a "man" now? And Suri the three-year-old is hyper-aware of the way to "please her man"? Gross:
Little Suri Cruise has a crush!

The adorable 3-year-old daughter of Hollywood heavy-hitters Tom Cruise and Katie Holmes has flipped for Cruz Beckham, the 4-year-old son of David and Victoria Beckham – and she's been trying to woo him with cupcakes and crayon drwings.

"It's too precious for words," a close friend told The Enquirer. "Little Suri is smitten!"

The famous tots share frequent play dates since their parents are close friends and neighbors. They often have outings together to Coldwater Canyon Park in Beverly Hills, and both take art classes at The Children's Art Studio in Los Angeles.

"The children are wonderful playmates, and Cruz has become sort of a big brother figure to little Suri," said the friend. "She lights up whenever he's around."

After a recent art class, Suri gave Cruz one of her drawings, telling him it was a "special gift just for him," said the friend. "She drew stick figures of the two of them – hers pink and his blue."

"They were standing inside a gigantic heart, holding hands."

And Suri already seems to know that the way to a man's heart is through his stomach. Suri insists Katie buy a chocolate cupcake for Cruz during their twice-weekly outings to Crumbs Bake Shop in Beverly Hills.

Suri seems to have worked her charm on Cruz.

"Cruz is always begging Victoria to take him to Suri's house because he loves jumping on her trampoline and playing on her jungle gym," said the friend.

"They're also both learning French and Spanish, so they practice together."

Tom, Katie, Victoria and David get a kick out of their toddlers' friendship. "They think it's a hoot," added the friend.
[From The National Enquirer, print edition, May 25, 2009]
It's probably all very innocent, but there were a couple of double entendres in there if you have a naturally dirty mind (me). Cruz loves to hang out with Suri "because he loves jumping on her trampoline and playing on her jungle gym." Hey, slow down, cowboy! Oh wait, they mean an actual trampoline. Right. I knew that.
So do Suri and Cruz have a love match that will stand the test of time? They might, actually. The Beckham family seems invested in their relationship with the Holmes-Cruises, so I bet Suri and Cruz spend a lot of time together growing up. Hopefully, Cruz will understand how to treat Suri like the princess she is as the years go by, and twenty years from now we'll be reading about their semi-royal wedding. Just as long as Suri doesn't try to put the moves on Kingston Rossdale, who is obviously going to end up with Zahara Jolie-Pitt.
Cruz Beckham is shown playing on 5/6/09 and 5/7/09. Credit: WENN.com