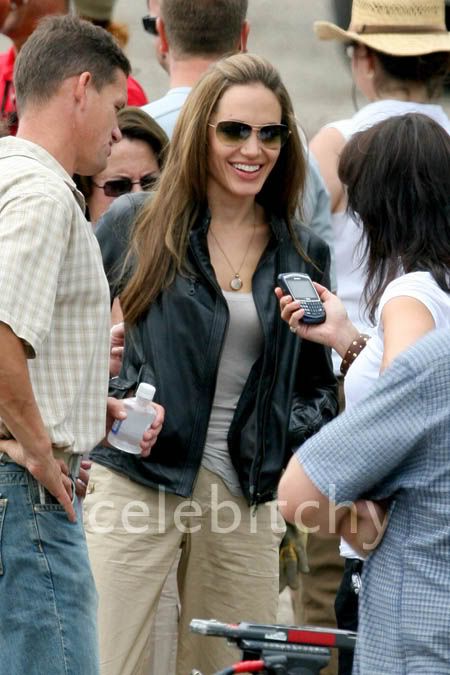 Angelina Jolie was all smiles yesterday when she was photographed on the set of her film Wanted, now filming in Chicago for about two weeks. She was seen smiling broadly while interacting with crew members and walking around. She looked healthy in bagging khaki slacks and a leather jacket.
Angelina Jolie, her partner Brad Pitt and their children celebrated the 6th birthday of their oldest child, Maddox, over the weekend in Santa Barbara. They had a military-themed birthday party complete with costumes for the adults and children. Brad wore a white t-shirt and an army helmet while Angelina had on a camouflage kerchief on her head and wore smudged dark face makeup. Perez Hiltons reports that the upcoming issue of Life and Style will report that they enjoyed dirt biking, a water slide, and pretend camping at the party. [via GossipRocks]
This weeks' National Enquirer has a cover story saying that Brad moved out, but the entire family was seen arriving on a private jet in Chicago yesterday so those rumors don't seem to have much merit. Angelina did look at a small house in LA by herself last week, but maybe she was helping out a friend or looking for digs for one of their help or something. Who knows what's true with these two?
As for rumors that they're headed for an imminent breakup, Angelina has said "We actually argue politics at home. It is the only time we argue."
Whatever the case, Angelina seems to be making a concerted effort to improve her image, or maybe she's just in a better mood lately. She was also seen smiling yesterday when she got off the plane in Chicago, and gave her daughter Shiloh a big kiss.
Thanks to SplashNews for these pics.