'Slumdog Millionaire' child star Rubina Ali's slum home is destroyed too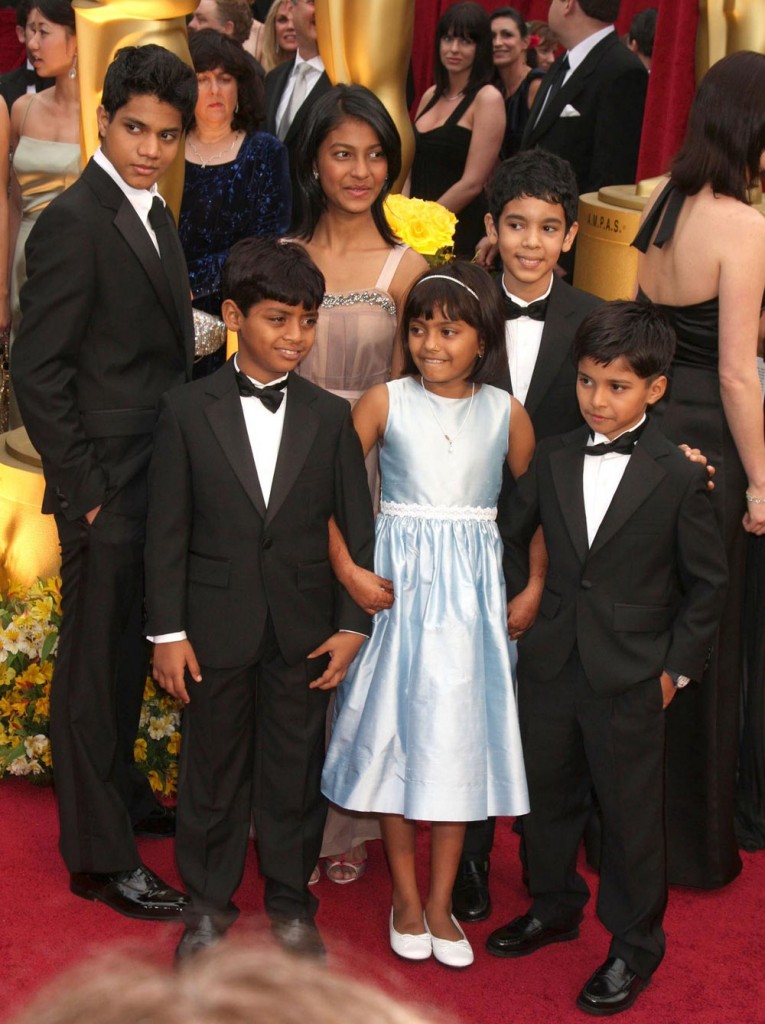 At nine years old, Rubina Ali has already lived an extremely complicated life. Ali is one of the Mumbai slum-dwelling children cast in what would become the Oscar-winning film Slumdog Millionaire, but her burgeoning film career is the only bright spot in her life. The Associated Press (story via US Weekly) is reporting that the slum home Rubina Ali shares with her father and her step-mother has been demolished by the government. Much like Rubina's costar Azharuddin Mohammed Ismail's home was destroyed last week.
To catch up, yes Rubina Ali is the same little girl that The News of the World alleged was being sold off by her father and her uncle. After an investigation by the Indian authorities, Rubina's father was not charged. Rahim Shaikh, the senior police inspector in Mumbai area where Rubina's family lived, told the press "There is not any crime. The matter is closed… No money changed hands. Rubina is here." After that, Rubina still lives with him. Or she did before their home was destroyed.
Less than a week after the Mumbai slum home of one Slumdog Millionaire child star was demolished, the home of another's was torn down, the Associated Press reports.

Rubina Ali lost her home Wednesday when Mumbai authorities demolished part of a city slum where she lived with her stepmother and father.

Munni Qureshi — the stepmother of 9-year-old Rubina — said her husband was beaten by police who were supervising the demolition. She said he was taken to a hospital with minor injuries.

Dozens of police with bamboo batons walked around the alley near where their house is located and supervised demolition crews of young men, who used sledgehammers and metal rods to tear down the homes.

"I'm feeling bad," Rubina told The Associated Press. "My house had been demolished. I'm thinking about where to sleep."

Rubina's costar in the Oscar-winning film, Azharuddin Mohammed Ismail, lost his home last Thursday after it too was demolished by city authorities.

The 10-year-old boy was asleep when a police officer woke him up and told him to leave his family's home, he said. Shortly after that, the shack — among the 30 shanties on land that was owned by the government — were destroyed.

Officials — who insist only illegally built shanties were bulldozed — tell the AP that Azhar's family will be given a new home elsewhere.

Slumdog producers have said that they've done their best to help out the film's struggling young stars. They donated $742,000 to set up a five-year, healthcare and education program for the children. They also have created the Jai Ho Trust.
[From US Weekly]
The destruction of slum homes is nothing new in Mumbai, and the only surprise to me is that none of the Slumdog Millionaire children have been moved into the apartments they were promised. The producers announced The Jai Ho Trust, with money being given to the child stars' families specifically for housing, health care and education. Allegedly, a social worker in India was even hired to oversee the trust and the welfare of the children. What in the world is going on?
Here are photos of Azhar after his home was destroyed. Rubina is shown signing autographs on 5/15/09. Credit: BARM/Fame Pictures. Header photo of Rubina and Azhar at the Oscars credit: WENN.com
Written by Kaiser

Posted in Controversies, Rubina Ali, Slumdog Millionaire

- Harry Styles & Kimberly Stewart going strong [Lainey]
- Demi Moore's new man is gross [D-Listed]
- Fug or fab: Emma Stone [Go Fug Yourself]
- Arrest warrant issued for Jenelle Evans [Reality Tea]
- Only God Forgives review [Pajiba]
- Hugh Jackman, scooter master [Buzzfeed]
- Who does Drew Barrymore call her sister? [Evil Beet]
- Cannes couples past and present [Popsugar]
- Arrested Development supercut [CDAN]
- Lea Michele's see through skirt [Celebslam]
- Cheating wife's lover escapes out of window [Movin925]
- Joe Francis is crazy [Starcasm]
15 Responses to "'Slumdog Millionaire' child star Rubina Ali's slum home is destroyed too"