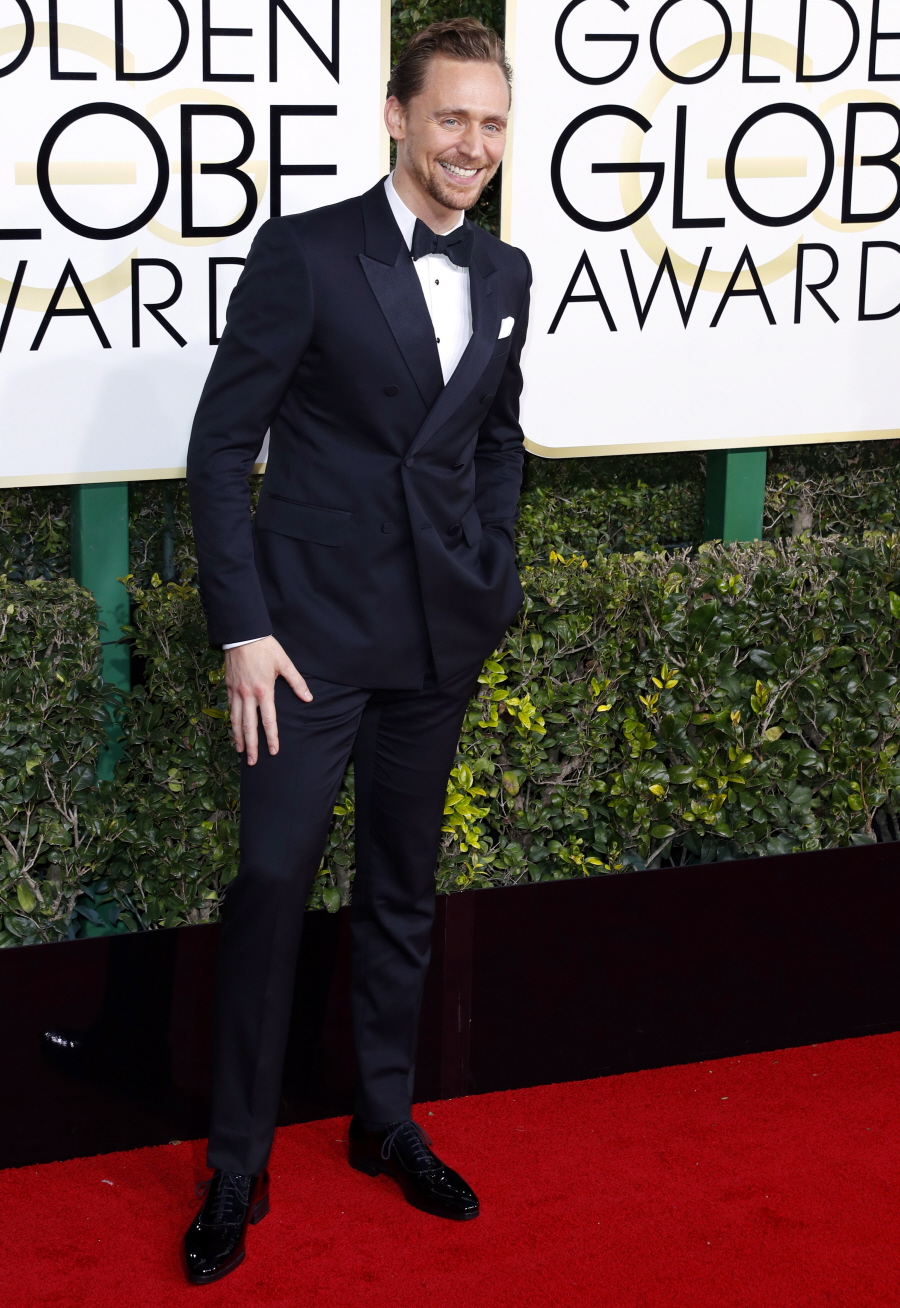 What can even be said at this point about The Problem with Tom Hiddleston? The Dragonflies are in full meltdown mode, trying like hell to justify, explain and defend Tommy's poor showing at the Golden Globes. The thing about it is… Tom actually went into the Globes as the underdog. Very few of us thought he would win. Courtney B. Vance was the favorite in that category, and when Tom won, it was a surprise to viewers at home and to people in the room. We would have been just fine with an off-the-cuff speech, something simple and grateful. But no. Hiddles had to get up there and make an ass out of himself. While he offered up an apology for his inelegance (but not his unquenchable thirst), let's revisit the cringe once again:
Every time I watch it, I cringe even harder because I know how bad it's going to get. My God. He's just incapable of reading a room. He's incapable of self-awareness. So who will save Tom Hiddleston from himself? I don't even know at this point. But it's worth noting that Tom's Globes performance got terrible reviews in the UK as well, and now Daily Mail columnist Jan Moir has written a column devoted to "rescuing" Tom and his career. The whole piece is worth a read just because… my God, Tom really ruins it for himself, doesn't he? Moir uses these words to describe him in the buildup: gauche, humiliating, weaselly, needy, and noble white savior. Yeah, it's that bad. So here are Moir's suggestions for how Tommy can improve:
No more piety. "Nobody likes sanctimony — especially at an awards ceremony. Piety and Angelina Jolie-esque shout-outs for global suffering are so over, darling. So he should quit it with the charity twaddle and try to endear himself. This is what he should have said: 'Thanks everybody for this amazing award. Listen. I just want to say sorry about the Taylor Swift thing. I lost my mind there for a few months but everything is cool now. Remember that T-shirt that had "I Heart T.S."on the front? She said if I didn't wear it she'd shoot her kitten. Goodnight everyone, and thanks again.'

Don't monkey about. "Tom once told an interviewer: 'I can't turn off my intelligence.' Perhaps he should try — because nobody likes a smart Alec. Especially one who stars in a lucrative superhero film franchise in a comedy wig and silly leather raincoat. Children love Hiddleston as megalomaniac villain Loki in the Thor movies, a role that sits oddly with his more pious side. His determination not to be a meaningless figure in a worthless world is admirable, but he must learn to wear the stigma of humanity more lightly.

Stop wearing those grey suede booties. "We've said it before, we will say it again. Please stop wearing the grey suede booties. From red carpet appearances to beach walks with Taylor, Tom was seldom seen without his beloved ankle-high lace-ups last year. There comes a time in every man's life when he has to stop wearing the same kind of shoes as Noddy. Tom, this time is now."

Shave the beard. "What is with his Ryan-alike hairy face furniture? Ryan Gosling looks like a god in his beard. Sadly, Tom just looks like a gosling. Or an egg with alopecia that got caught in the rain. Did he grow it to appear more macho? If so, it is not working. Perhaps Hiddy has a new film role as a pervert? Whatever the case, the beard has to go."

No dull films. "He has got to stop making such terrible film choices. Last year's High Rise was one of those trendy adaptations of an impenetrable J.G. Ballard novel that arty thesps love — but no one else does. It went straight to video — despite the fact Tom appeared naked in several scenes. Speaking of which . . ."

Avoid fashion. "The Gucci spreads with the Afghan hounds and the furry slippers; the metrosexual man looking mean in his leather onesie, the lonely bachelor in his boxers posing on a rumpled bed. For the next 12 months at least, Tom Hiddleston must pledge to avoid the world of fashion."

Fall in love. "Sooner rather than later, our hero has got to get himself a nice girlfriend. Or even someone wildly unsuitable, just to cheer him up and chase away the loneliness. Tom may have moved on from Taylor Swift, but something has been left behind — a chunk of his dignity. Whether he was the pursued or the pursuing, the dumped or the dumpee, nothing will heal until he finds another woman."
There's more but it just gets dumb after a while. Some of the advice is solid though – he needs an image rehab, from the spiritual to the intellectual to the sartorial. I like his facial hair, but he needs better "downtime" clothes. He needs a girlfriend in her 30s. He needs to not do any more Gucci fashion spreads, and he needs to never, ever agree to pose for a magazine editorial in his underwear. I also think Tom needs better advice on a day-to-day basis, so maybe… like, a new publicist and manager?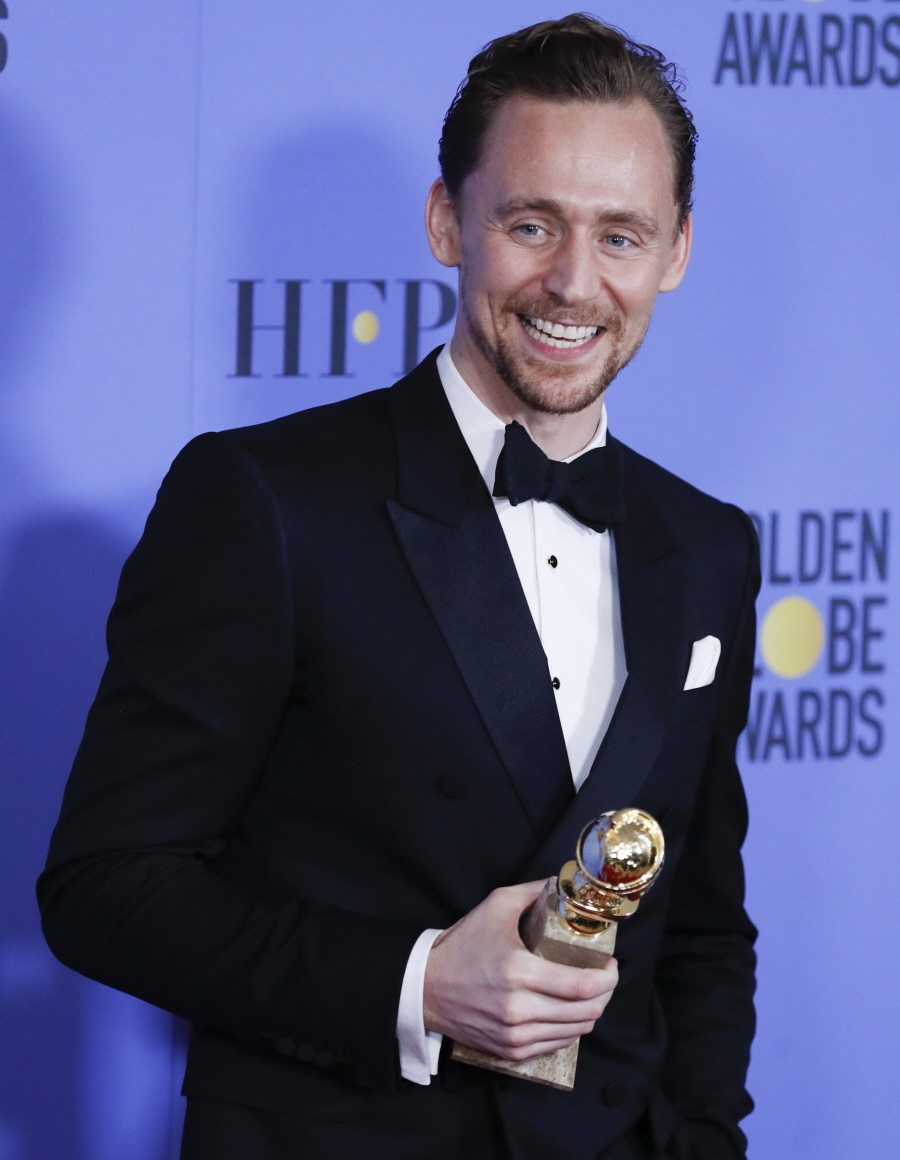 Photos courtesy of Fame/Flynet.