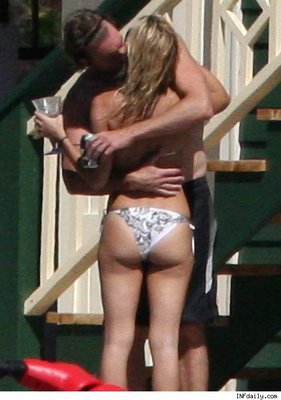 Kate Hudson is enjoying a hot new relationship with fellow actor Dax Shephard, and was recently photographed in a full-on embrace with him while she was wearing a bikini. Of course that means that the tabloids are speculating that she's neglecting her three year-old son, Ryder.
Supposedly Kate's ex husband, Chris Robinson, is happy that he can now seen his son whenever he wants. I call bullshit on this article:
[Katie Hudson's] ex-husband, Black Crowes frontman Chris Robinson, is said to be delighted about her new romance because it means he can see more of their three-year-old son Ryder.

A source told the New York Post newspaper: "Dax is basically living at her house right now. The rest of her family is a little annoyed.

"Chris is thrilled because now he can have Ryder whenever he wants. Kate gets a little more distracted when new men come into her life."

Kate's representative, Brad Cafarelli, has denied the actress is neglecting Ryder because of her new romance, saying: "None of what you're speculating here is accurate."
[Female First via Gossip Rocks]
Someone saw that picture of Kate and Dax kissing and/or the paparazzi know that Dax is over Kate's house all the time. It's probably not true that she's ignoring her son as a result, and even if she is giving her ex more time with him, what's wrong with that?
If she was keeping Ryder around while she was involved in her new relationship, someone would point out that it's bad to have the kid get to know another boyfriend that might not last, as in her last relationship with Owen Wilson. As Kate's rep points out, this is all speculation and it's not known if this is even partially true.
Kate Hudson's stepdad, Kurt Russell, is said to be the one who set her up with Dax. He met him a few months ago and immediately took a liking to him. Kurt introduced Dax to Kate at a barbecue in June. Dax is also friends with married mom Liv Tyler, with whom he stars in the upcoming film Smother.
Thanks to INFDaily for these images. Used by permission.