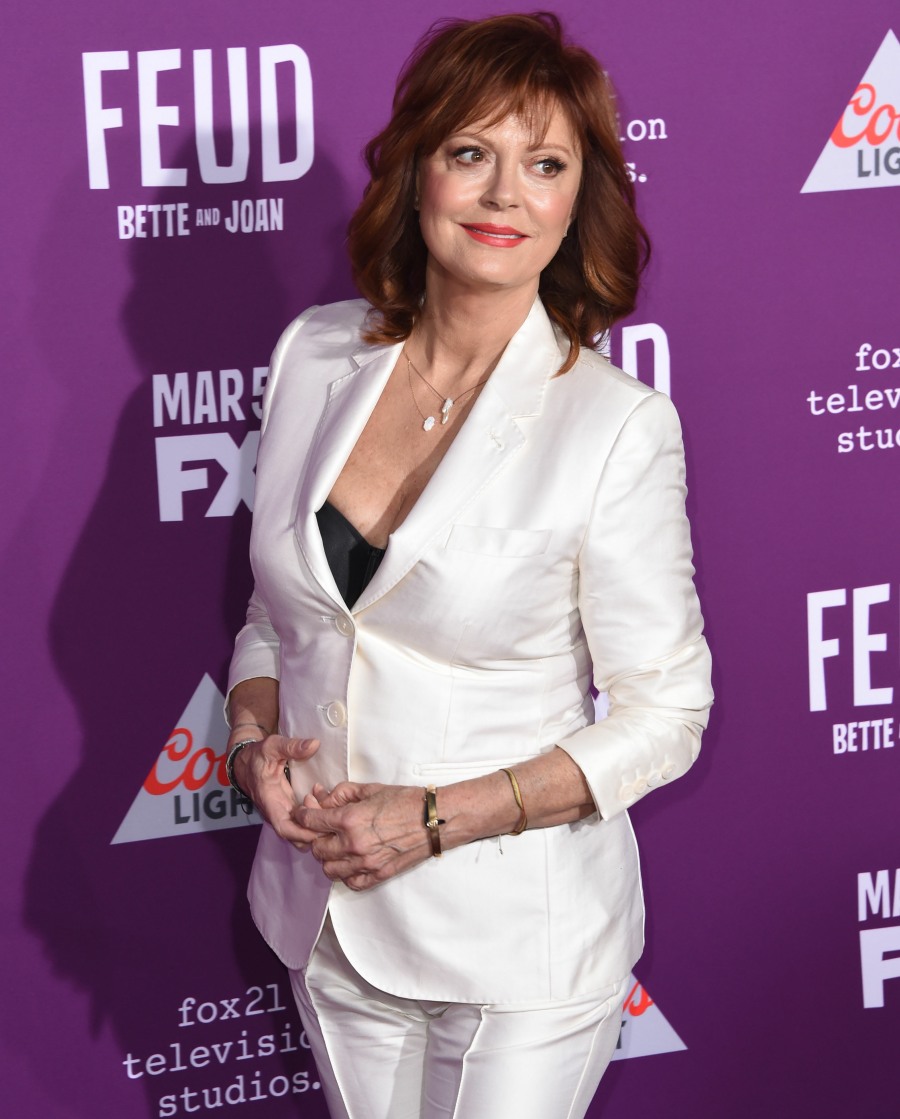 For years, I've thought that Susan Sarandon had some of the best plastic surgery ever – she admitted to getting some eye work and some lipo under her chin, and the work was great quality, because she never looked all that different. Like, she didn't suddenly appear one day with a completely new face (hello, Renee Zellweger). Susan never tried to look like she was 33 years old, which is the mistake so many women make. Now, that being said, I was startled by these photos of Susan at Wednesday night's premiere of Feud. Like, she does look very different to me. Botox? Fillers? Facelift? What's going on here?
Anyway, as most of you know, Susan Sarandon was canceled last year. She was a Bernie-or-Buster who publicly declared that Donald Trump was a more palatable candidate than Hillary Clinton. She then publicly endorsed Jill Stein. Then when everyone was like "Susan Sarandon deserves some of the blame for Trump's presidency," Susan went on All In with Chris Hayes and talked about how great is it that people are "awake" now that Trump is POTUS. So, yeah, chica is canceled. So, as you can imagine, Susan's interviews to promote Feud are not going well. She spoke to the Guardian in a new interview and in between offering blind-items about sh-tty costars and how she wishes women would form more alliances (you know, like Hillary Clinton tried to do???), Susan deigned to speak about Bernie, Hillary and Trump.
How she annoys people: "I think it is more annoying to have a woman with opinions for a lot of people. I couldn't give you any solid proof that has hurt my chances in the business. Today in the New York Times, they were talking about the Academy awards and the fact that I was one of the people who didn't get a nomination for The Meddler, and [it] mentions that it might have something to do with the Clintonized Hollywood, when I supported Bernie Sanders."

The backlash against her personally: "I have had a huge amount of backlash. There's been a really strong blame for a lot of things that are obviously not my fault."

How Democrats are pissed at her: "There's no valid argument. It's just an easy place to put your frustrations, to blame me. I mean, if you read the list of people who voted Hillary Clinton – and then I think it's me and Viggo Mortensen on the other side. You'd have to be delusional to actually think that Beyoncé and Jay Z and George Clooney and Julia Roberts and Meryl Streep, and the list goes on, were actually overpowered by the two of us."

She's focused on uniting people against Trump: "I'm focusing on reaching out and forming a coalition not only with all of Hillary's people but with people I know that voted for Trump, because we have serious work to do now, and we can't indulge in blaming or depression or any of those things. There isn't time any more to look back. We have to look forward."
The only thing I can say in her defense is that she's right that she doesn't deserve ALL the blame. No one – or very few people? – voted for Donald Trump because Susan Sarandon pissed all over Hillary Clinton. There were probably only a handful of people who were swayed to vote for Jill Stein because of Sarandon's endorsement. That being said, I haven't seen anyone laying the entire blame for Trump at Susan's feet. Sarandon's critics – of which I am one – blame her for being symptomatic of the purity-test progressives and political naifs, those people who were so blindly obsessed with Bernie Sanders that they honestly thought that Donald Trump was a suitable second choice. Hillary Clinton was never a perfect candidate, but it's a true sign of stupidity and privilege to suggest that a Clinton presidency would have been the same or worse than this Trump presidency. And the fact that Sarandon still can't admit that shows you that she absolutely deserves some of the blame.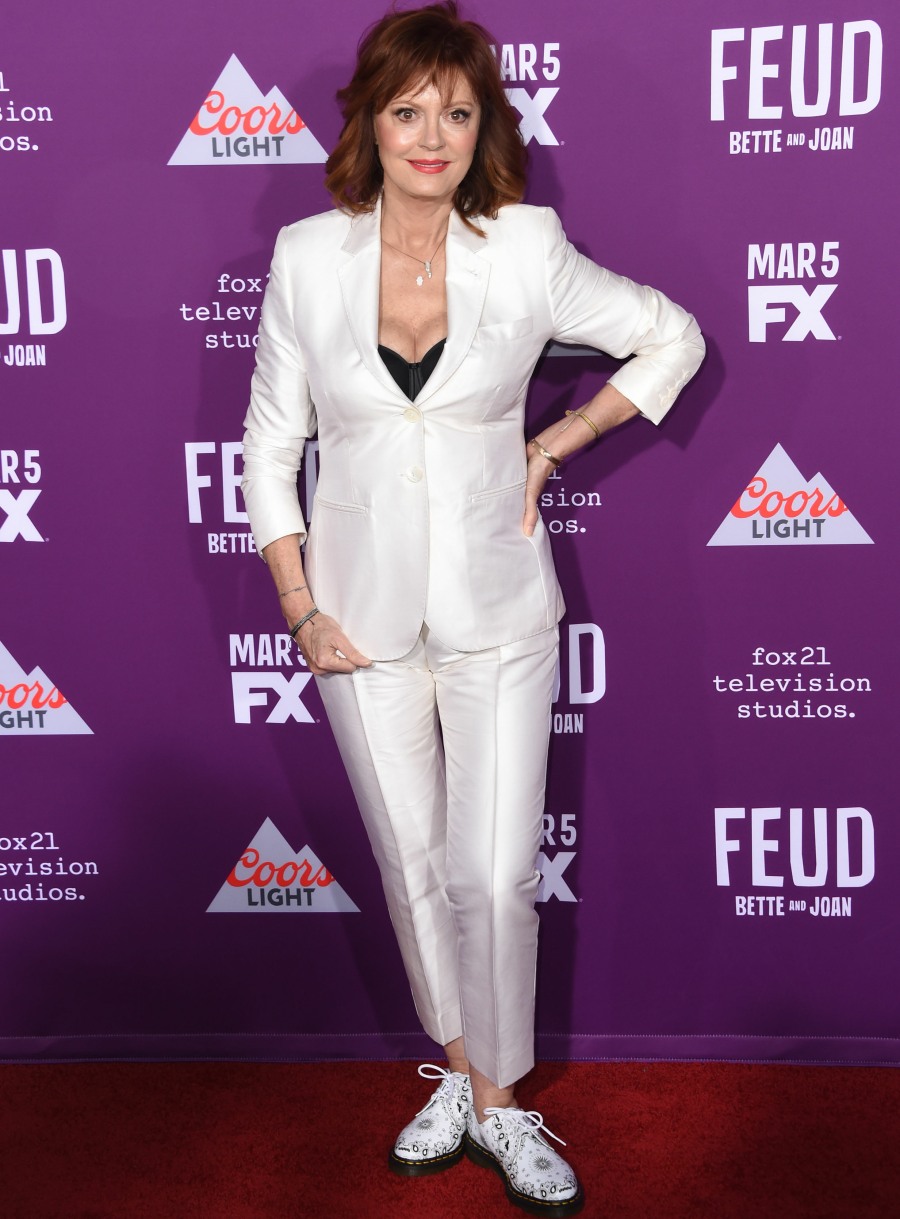 Photos courtesy of Fame/Flynet.