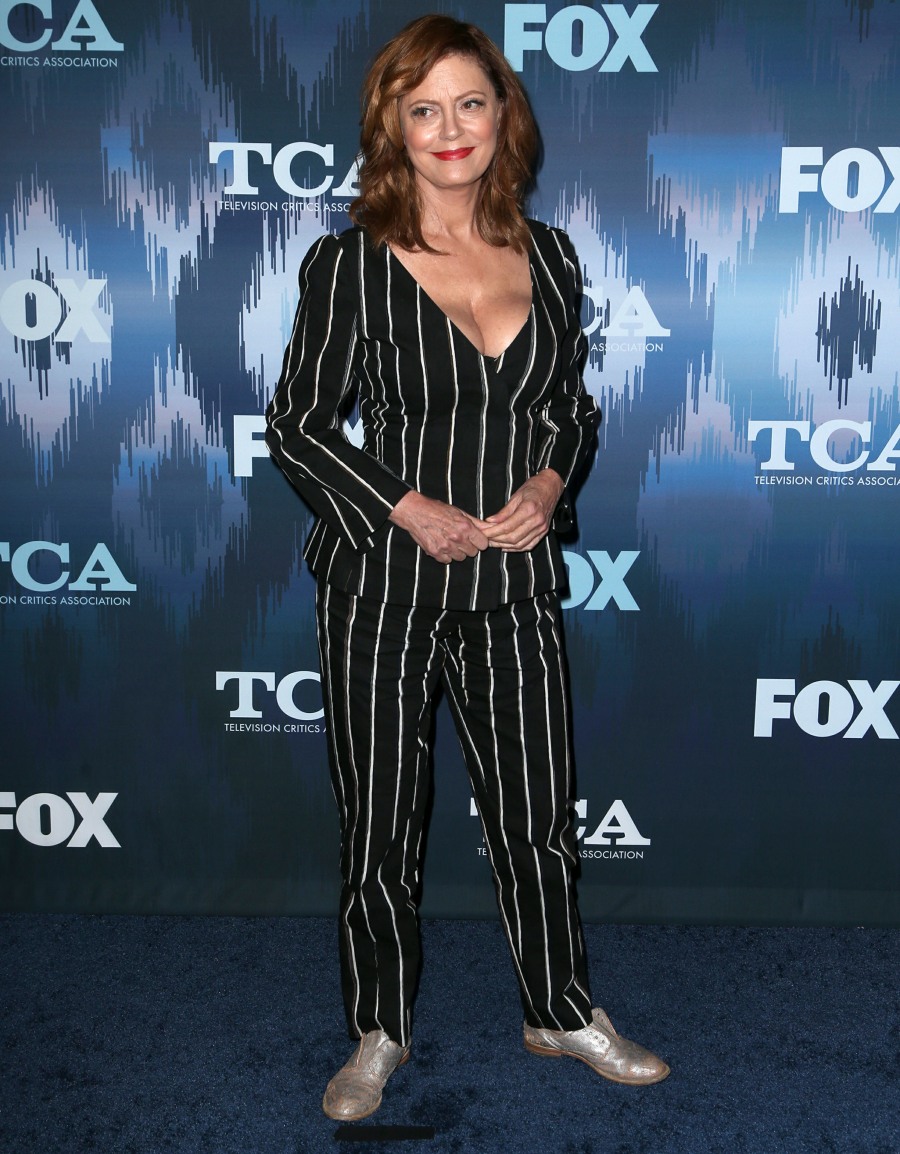 Yesterday, I asked whether or not Susan Sarandon had been canceled. It was a rhetorical question, because of course she has been canceled. Susan Sarandon spent half of 2016 campaigning for Bernie Sanders. When her guy lost, she refused to endorse Hillary Clinton, which is her prerogative, of course. But her rationale for publicly declaring why she would not vote for Hillary was problematic, even more so in retrospect. Sarandon was one of those Bernie-or-Busters who seemed to believe Bernie and Donald Trump both represented the same kind of disruption and agitation to the "system", and that Trump would be "better" for America than Hillary Clinton. Because of those f–king emails, you know. Sarandon then smugly endorsed Jill Stein as her "vote of conscience." After the election, Susan basically shrugged and said words about how her Stein endorsement (not to mention the anti-Hillary Bernie-or-Busting) didn't have any effect.
So, Sarandon went on All In with Chris Hayes last night. Hayes was basically like "see what your political naivete has wrought" and she was like "well people are more engaged in politics now, so I'm vindicated!"
This is the big exchange:
"Do you feel like you properly appreciated what a Donald Trump presidency would be?" Hayes asked her.

"I think that I absolutely feel that talking about blaming people for what happened is really wasting your time and energy," Sarandon replied. "Because what we have now is a populous that is awake."

She went on to say that Trump is "so clumsy and so bad" at putting policy together that "now everyone is awake." She insisted that she's not in favor of a "revolution" brought on by Trump's misdeeds instead of the one we could have had with Sanders in office. To the people that would "attack" her for her statements, she asked, "Really? That's where we want to spend our time and energy?"

Sarandon sat stone-faced when Hayes pointed out that the "status quo" she feared may have just gotten "much, much worse." For instance, he said, "The head of Exxon could be the next secretary of state."

"Could you look me in the eyes, both of you, and say, yes, 24 days into the Trump administration, this is about what I expected it would be?" Hayes asked. "A better question might have been, do you really think Hillary Clinton would have been worse?"

"What is the point of even saying that?" Sarandon shot back. Instead of answering him, she challenged the host to look her in the eyes and say that he was "doing his job to cover these issues completely."

"Yes, I can," Hayes said, without hesitation.
Nope. Canceled. My God, she's an a–hole. This is what smug liberal complacency and white privilege looks like. She isn't being affected by Trump's unhinged executive orders, she doesn't give a sh-t about the millions of people being affected in real terms by this presidency every day. She refuses to even say that Hillary Clinton would have been a better president than what we're seeing from Donald Trump! This is going to sound mean, but she's like the liberal version of the Fox News-viewer archetype: someone over-65, ignorant, smug, white and unwilling to acknowledge their own biases.
Susan Sarandon remains the world's oldest college sophomore.

— Dustin Kent (@dustinjkent) February 16, 2017
I wish Susan Sarandon could live 1 day under @realDonaldTrump as poor person or POC. Then maybe she'd check her privilege & gain perspective

— Sergio Grant (@sgrant525) February 16, 2017
Tomorrow, Susan Sarandon will visit fire-damaged mosques & bomb-threatened synagogues to tell them to focus on lobbyist donations right now.

— PinotYouDidnt (@PinotYouDidnt) February 16, 2017
Sally Yates did more to stop fascism in 10 days than Susan Sarandon, with her purity tests, did in her entire lifetime. #TheResistance

— Jesse Stark (@StopNuclearWar) February 16, 2017
I don't know about y'all, but I didn't need to suffer through the collapse of my country to know we needed political and social reform.

— Melissa McEwan (@Shakestweetz) February 16, 2017
Photos courtesy of WENN.