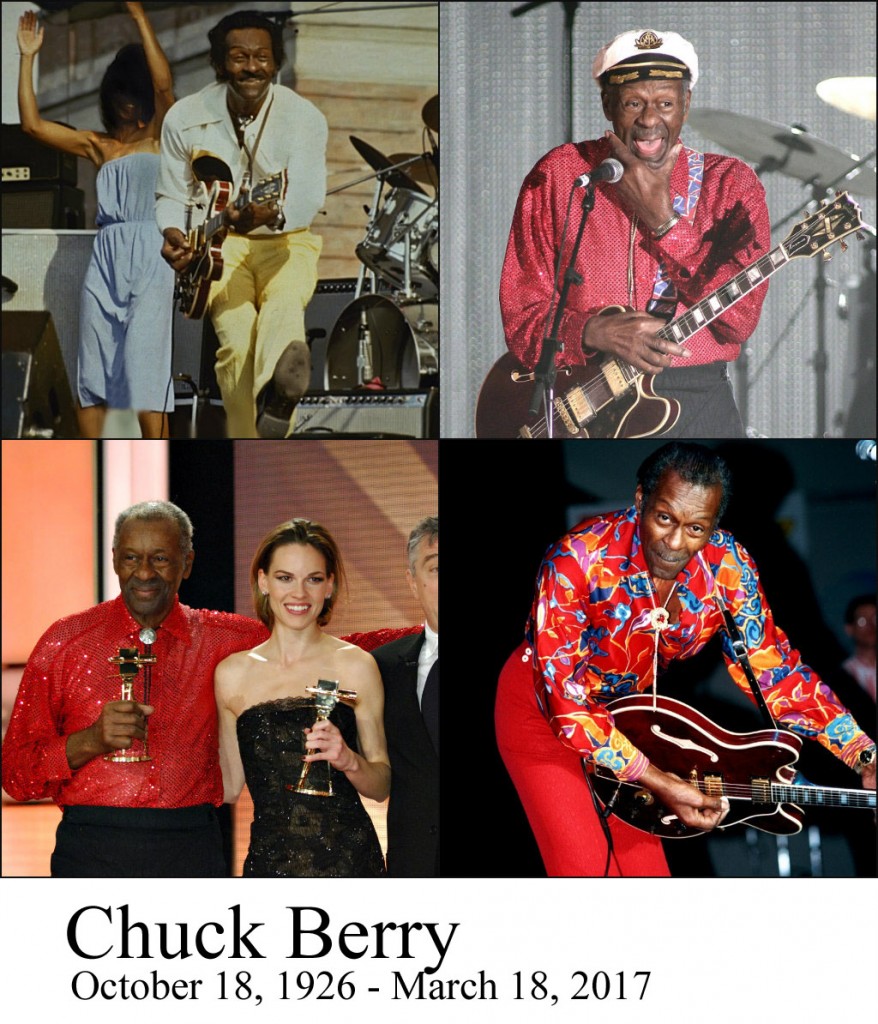 Musical legend Chuck Berry died at his home Saturday. He was 90 years old and is survived by his wife of 68 years, Themetta Berry, and two children, Ingrid and Charles, Jr.
Berry is commonly known as the father of Rock and Roll. It was his blending of R&B with honkytonk that linked two disparate music genre groups and gave rise to a new sound in music. Berry told the New York Times that when he sang his music, he made a point to pay close attention to his diction to appeal to both white and black listeners, and he is generally credited with bridging the biracial gap in music. Berry said, "I made records for people who would buy them. No color, no ethnic, no political — I don't want that, never did."  In addition to his guitar solos and distinct sound, Berry made famous a particular stage move he called the Duck Walk that is copied by many, especially when trying to convey a 1950s sound.
Berry's contribution went far beyond a musical style, he is credited with defining the modern teenager by giving social commentary a popular beat.
Berry is one of those artists that even if you don't recognize his name, you have likely heard one of his songs: Sweet Little Sixteen, Maybellene, Roll Over Beethoven, Brown Eyed Handsome Man, School Days, Nadine, Rock and Roll Music and Johnny B. Goode, which Marty McFly cheekily took credit for in Back to the Future.
Legendary musician Chuck Berry has died, police confirm. He was 90.

The St. Charles County Police Department in Missouri confirmed on Facebook that they responded to a medical emergency on Saturday afternoon where they found an unresponsive man.

Born Charles Edward Anderson Berry on Oct. 18, 1926 in St. Louis, Missouri, Berry was one of six children born to his father Henry, a contractor and deacon, and his mother, Martha, a public school principal. He was raised in a neighborhood known as The Ville, which was a mostly middle class area at the time. He was fascinated with music from an early age, and gave one of his first public performances in 1941 while still a high school student.

Berry served the first of his three infamous prison terms while still a high school student in 1944. At the age of 17.

He was playing with local bands in St. Louis for an extra flow of income. Around this time, he was combining the blues music he had played since he was a teenager, while borrowing techniques and tricks from blues legend T-Bone Walker. His guitar lessons from friend Ira Harris began to shape his style with the instrument. By 1953 he was playing with Johnnie Johnson's trio, and began incorporating the country sound that would lend to his appeal with white audiences.

Around this time, Berry began incorporating his famous duck walk into his act. The duck walk was an old inside joke with his family from his childhood. According to Berry, a ball he was playing with as a kid rolled under a kitchen table where his mother and her church friends were sitting. Jokingly, he crouched down, knees fully bent, and with his head and back straight, he scooted under the table to get the ball. His mother got a kick out of it, asked him to repeat the waddle again and the duck walk was born.

Recently, on his 90th birthday, Berry announced plans for a new studio album, his first since 1979. The album, titled Chuck, will be released this year. It features his children, Charles Berry Jr. and Ingrid, on guitar and harmonica, and is dedicated to his wife of 68 years, Themetta Berry.
Berry continued to perform into his 80s. It was only after he collapsed on stage in Maryland that he retired from touring. However, he still played every Wednesday night at the Blueberry Hill restaurant up until three years ago, something he'd been doing since 1996.
As I said, you may not know who Chuck Berry is off the top of you head but you have heard him. Even if you don't know his music, bands like The Beatles and The Rolling Stones were greatly influenced by him. Not only did they both groups cover Berry's songs early in their careers but his music shaped their sound. Keith Richards had the honor of inducting him into the Rock and Roll Hall of Fame.
I am so sad to hear of Chuck Berry's passing. I want to thank him for all the inspirational music he gave to us. 1/3 pic.twitter.com/9zQbH5bo9V

— Mick Jagger (@MickJagger) March 18, 2017
He lit up our teenage years, and blew life into our dreams of being musicians and performers. 2/3 #ChuckBerry

— Mick Jagger (@MickJagger) March 18, 2017
His lyrics shone above others & threw a strange light on the American dream. Chuck you were amazing&your music is engraved inside us forever

— Mick Jagger (@MickJagger) March 18, 2017
"One of my big lights has gone out."
- Keith, 3/18/17 pic.twitter.com/I86dHlvN5W

— Keith Richards (@officialKeef) March 19, 2017
So sad ~ with the passing of Chuck Berry comes the end of an era 🙏. He was one of the best and my inspiration 🎸, a true character indeed. pic.twitter.com/OnT8YXZpPn

— Ronnie Wood (@ronniewood) March 18, 2017
R I P. And peace and love Chuck Berry Mr. rock 'n' roll music 😎✌️🌟💖🎵🎶☮ pic.twitter.com/hS2S2lUORf

— #RingoStarr (@ringostarrmusic) March 18, 2017
Countless other celebrities have paid tribute:
RIP Chuck Berryhttps://t.co/9MoHHXnxD7

— Carole King (@Carole_King) March 18, 2017
Dang another one not funkin' with us. Our Rock & Roll legend Mr. Chuck Berry has changed frequencies today. Join… https://t.co/aSIayg1lSJ

— Bootsy Collins (@Bootsy_Collins) March 18, 2017
Chuck Berry. Maybe the most important figure in all of rock and roll. His music and his influence will last forever. – Huey

— Huey Lewis (@Huey_Lewis_News) March 18, 2017
RIP Chuck Berry !!!! Thank you for the poetry, the passion and the potency! GO JOHNNY GO. – KU

— Keith Urban (@KeithUrban) March 18, 2017
RIP, Mr. Berry.
photos credit: WENN, FameFlynet, PRPhotos and Getty