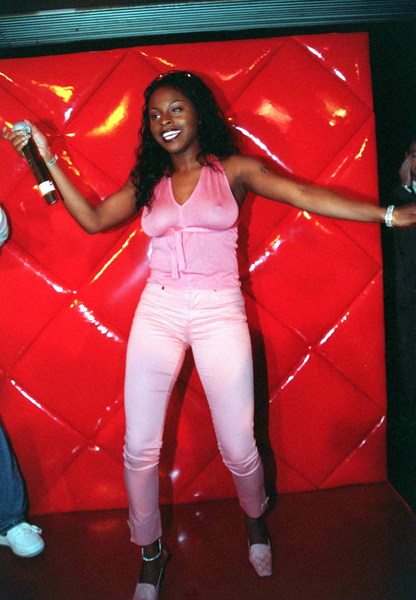 I can think of few people I'm more afraid of than Foxy Brown. Checking Wikipedia, Brown has eight arrests since January 1997. Most of them seem to be issues stemming from her anger issues. There's also a lot of issues with her spitting on people (which is technically assault). Brown was arrested and charged with assault and possessing a weapon after she hurled her Blackberry at her neighbor. The weapon in question was the Blackberry itself, which legally counts as a weapon if you use it as such.
"The latest arrest could lead to her probation being revoked. 'We have filed a violation of probation with the court,' said Jack Ryan, a spokesman for the city Department of Probation.

"Brown was arrested Tuesday for allegedly assaulting Arlene Raymond, 25, who lives near the rapper in the Prospect Heights section of Brooklyn, on July 30. Police said the two women got into a fight over Brown blasting her car stereo. Raymond alleged that a few days later, they passed each other on the street and Brown hurled her BlackBerry at her, cutting her lip and knocking a tooth loose.

"Brown, whose real name is Inga Marchand, was released on $50,000 bail after her arraignment Tuesday on charges of felony assault, misdemeanor assault and criminal possession of a weapon. Her manager, Chaz Williams, said the charges were false. Brown's lawyer, state Sen. John Sampson, didn't immediately respond to requests Thursday for comment."
[From the Associated Press]
Brown was on probation due to an incident in 2004 when she attacked two manicurists at a New York City salon over her $20 bill which she refused to pay. She was sentenced to three years probation and forced to attend anger management counseling. Restraining orders were also granted to the manicurists. This latest infraction means she could go to jail – not for the Blackberry incident itself (though it's possible) but because committing another assault is a violation of her probation from the 2004 incident. I think it also proves that the anger management counseling has done absolutely nothing for the pint-sized singer with a huge sense of entitlement. I'd really like to know what it is she's so angry about. All of her criminal troubles stem from either run-ins with service people, police, or her car. Her first arrest, at the age of 17, came after she spat on two hotel employees when they told her they didn't have an iron. Her next was for getting into a car crash while driving with a suspended license. There were several altercations with police officers (both in and out of the country), and several altercations with judges, one of which led to her being handcuffed to a bench for 15 minutes. Then there were all the poor salon owners. Never, and I repeat never, do Foxy Brown's nails or sell her glue for her weave. Either way, you're likely to end up with something thrown at your eye. And of course, being spit on. This is Foxy Brown, after all, and she's known for being classy like that.
Picture note by JayBird: Here's Foxy Brown at the Louis Vuitton Anniversary Party. Header image of Brown performing at the launch of WHN financial website (why??) on July 20th, 206. Images thanks to PR Photos.