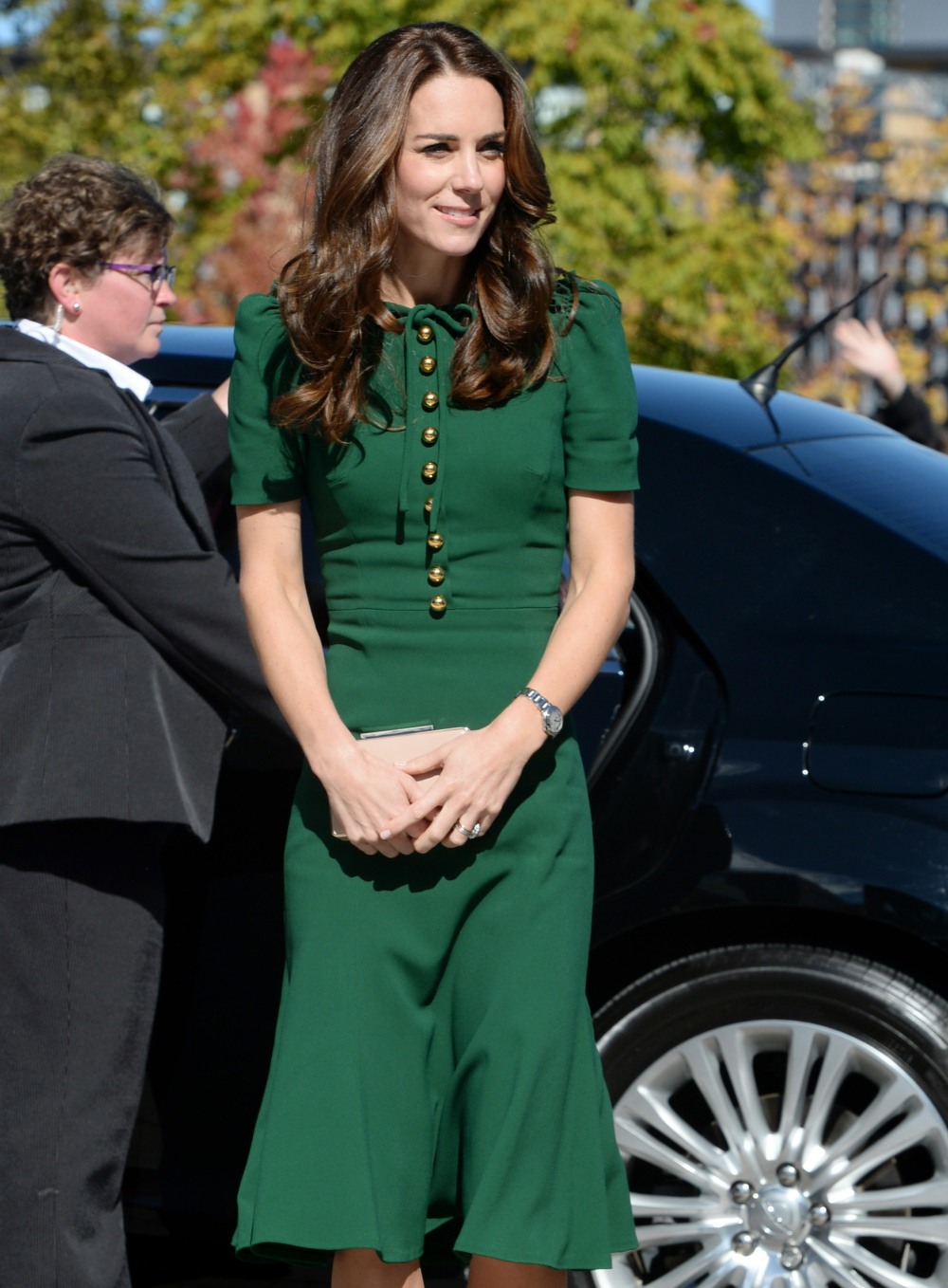 These are some photos of the Duchess of Cambridge from 2016. She wore this green Dolce & Gabbana dress in British Columbia, in the middle of the Cambridges' uninspiring Canadian tour, which was more like a state-sponsored vacation. Kate's style during the tour was notable because it was mostly appropriate, albeit very sedate and very "Kate." There was only one Marilyn Moment-ish, when a skirt-wearing Kate happily kneeled down with her children at a garden party and photographers got several shots up her dress (she wore a slip). She wore her beloved jeggings a few times, but all in all, she seemed to have figured out (finally) how to look professional on a royal tour. This D&G dress was not the best, and not the worst. But that's good enough for the house of Dolce & Gabbana, because they're reissuing this dress with a new name: The Middleton.
The Duchess of Cambridge now has the ability to inspire designers to change the names of their pieces once she has worn them. A Dolce & Gabbana dress the Duchess wore in Kelowna, British Columbia, last fall during the Royal Tour of Canada has been restocked and renamed the "Middleton" after its most famous wearer. The Middleton georgette-trimmed crepe midi dress retails exclusively on Net-a-Porter for £2,150. A similar style, the Middleton bow-embellished cady midi dress, in cream, is sold on the Dolce & Gabbana website.

"Dolce & Gabbana's 'Middleton' dress is named after the Duchess of Cambridge," reads the Net-a-Porter website, "who wore hers on a recent visit to Canada. This forest-green crepe piece has puffed sleeves, a pretty bow tie and white buttons, evocative of styles from the '40s. We like how the stitched seams and raw georgette trims playfully emphasize the craftmanship."

When the Duchess of Cambridge first wore the dress last fall, she was wearing a bespoke version of a Fall 2016 Dolce & Gabbana runway dress inspired by Alice in Wonderland. The original dress featured an embroidered pocket-watch design that she opted to remove for the Royal Tour of Canada.
Several parts of this amuse me. One, I sort of love that people still refer to her as Kate Middleton. "Middleton" is her brand. A lot of British papers still call her Kate Middleton too. Notice that D&G isn't calling this "the Cambridge" or "the Catherine." Nope, it's the Middleton, and the Middleton brand is all about BUTTONS, puffy sleeves and prim little-girl vibes. As for an Italian design house naming a dress after a British duchess… I actually don't mind it.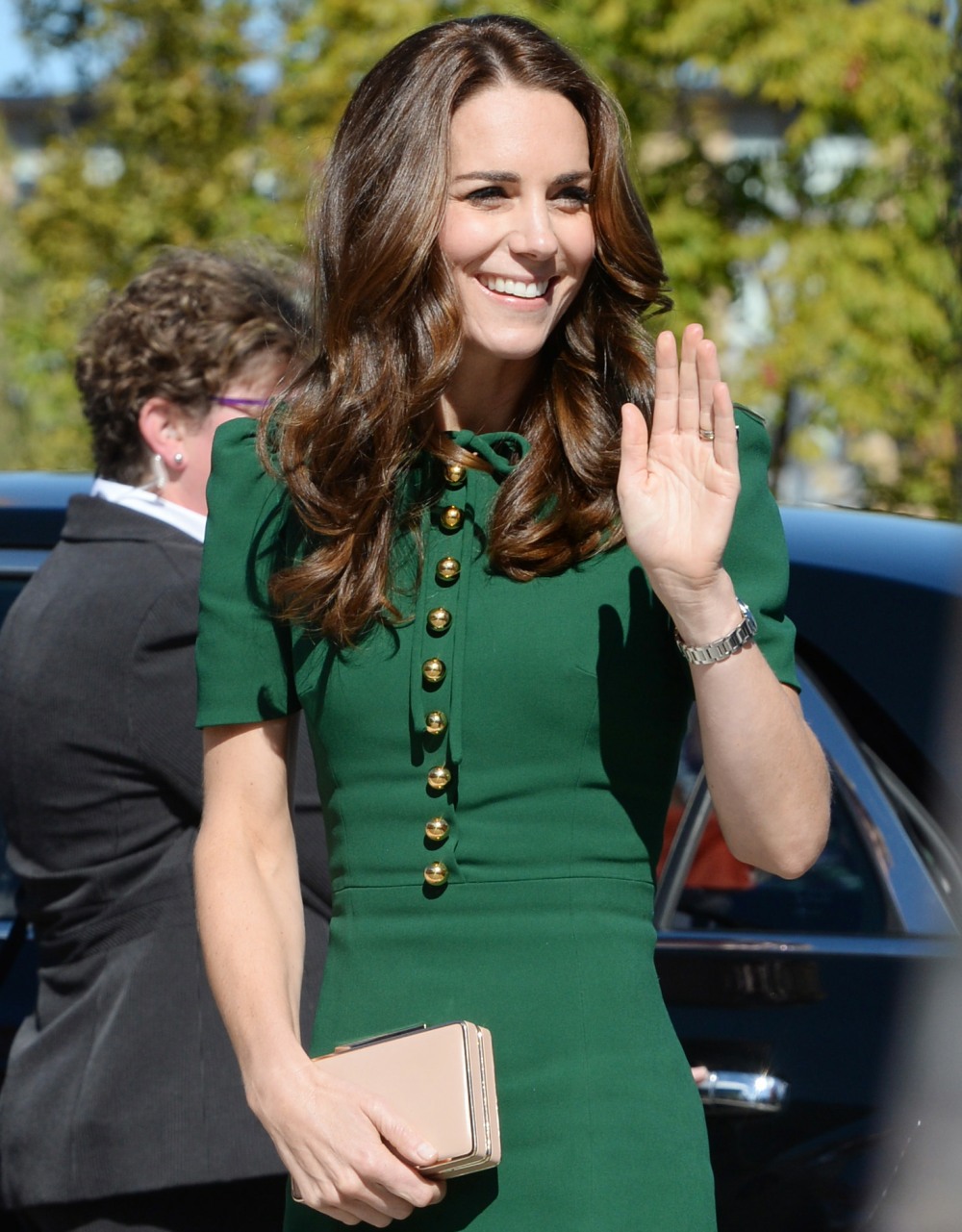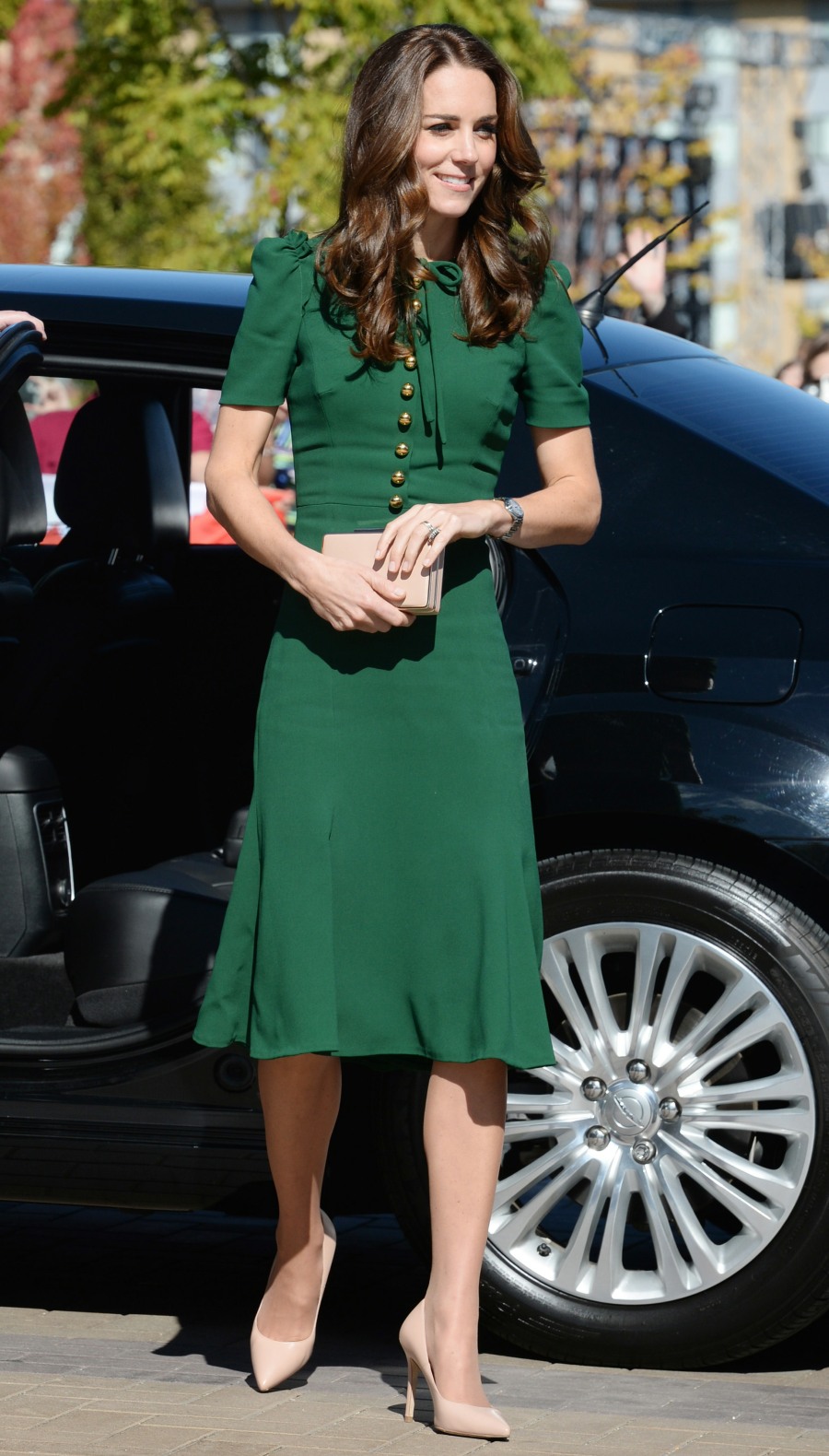 Photos courtesy of WENN.