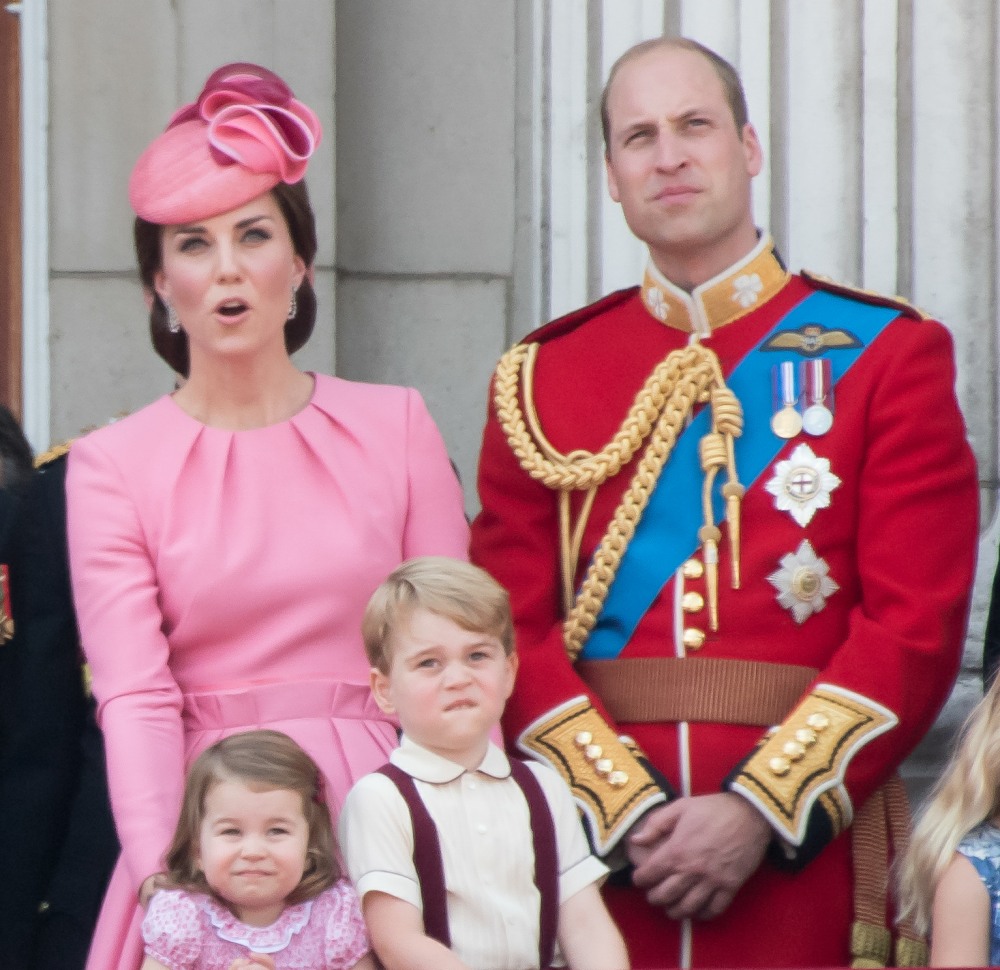 Here are some photos of the Duke and Duchess of Cambridge and their children, Prince George and Princess Charlotte, attending the Trooping the Colour event on Saturday. Trooping the Colour is basically the birthday party for the Queen's official (but not actual) birthday. Last year was the first time William and Kate brought both of their children to Trooping the Colour, and it went over pretty well… even if the Queen had to scold William in front of everyone last year. Honestly, it looked like the Queen was about to tell off the Cambridges a few times this year too – Will and Kate were being very animated with the kids, and Kate knelt down a few times to talk to George and Charlotte (who were just acting like normal kids, they weren't doing anything "bad"). As the Queen said to William last year, "STAND UP."
Anyway, let's talk about Kate, because she wants us to talk about her and what she was wearing. That's my only explanation for why she chose a dress in what I consider to be a vibrant shade of "cotton candy pink." The color is pretty and I've always said that vibrant shades of reds and pinks are underrated on Kate (she prefers pastels and muted blues). But it did feel attention-grabby, as did William and Kate's near-constant fussing over the kids. Kate's new pink dress seems to be a bespoke piece from Alexander McQueen, Frankenstein'd together from several pieces from the 2016 collection. I absolutely loathe the sh-t at the waist – it's not a "cool design feature," it just looks sloppy and bulky. She paired the McQueen with a matching hat from Phillip Treacy, and she borrowed a pair of diamond earrings from the Queen.
Kate made sure to coordinate with her daughter – Charlotte also wore pink, a cute little polka-dotted dress. It felt like George was left out, sartorially, because the shade of burgundy in his outfit didn't really match with anyone else. I'm quite sure someone (probably at the Daily Mail) will do some digging and learn the hidden Princess Diana callback of all of this. George is probably wearing some replica of something William once wore as a child, and Kate is probably making a visual callback to Diana in some way too.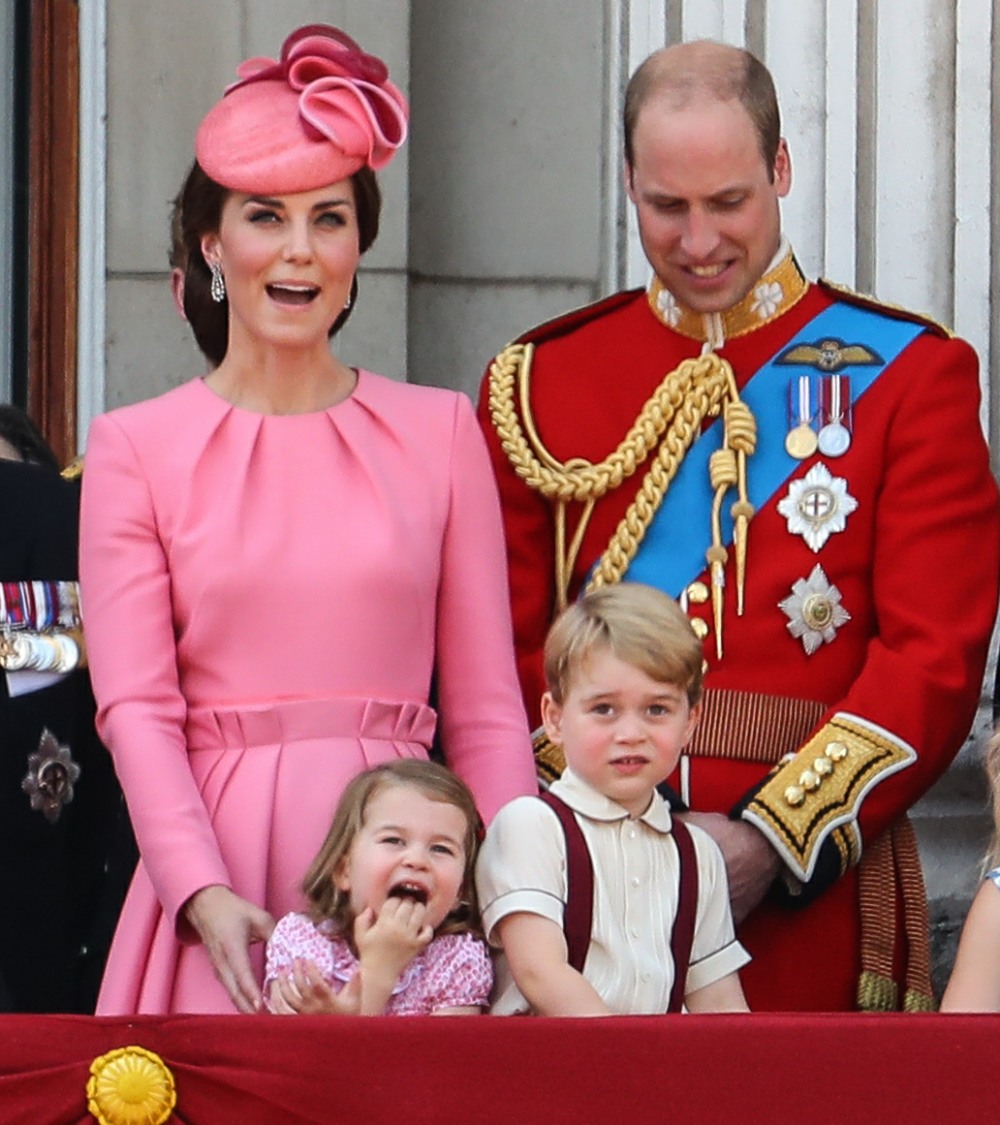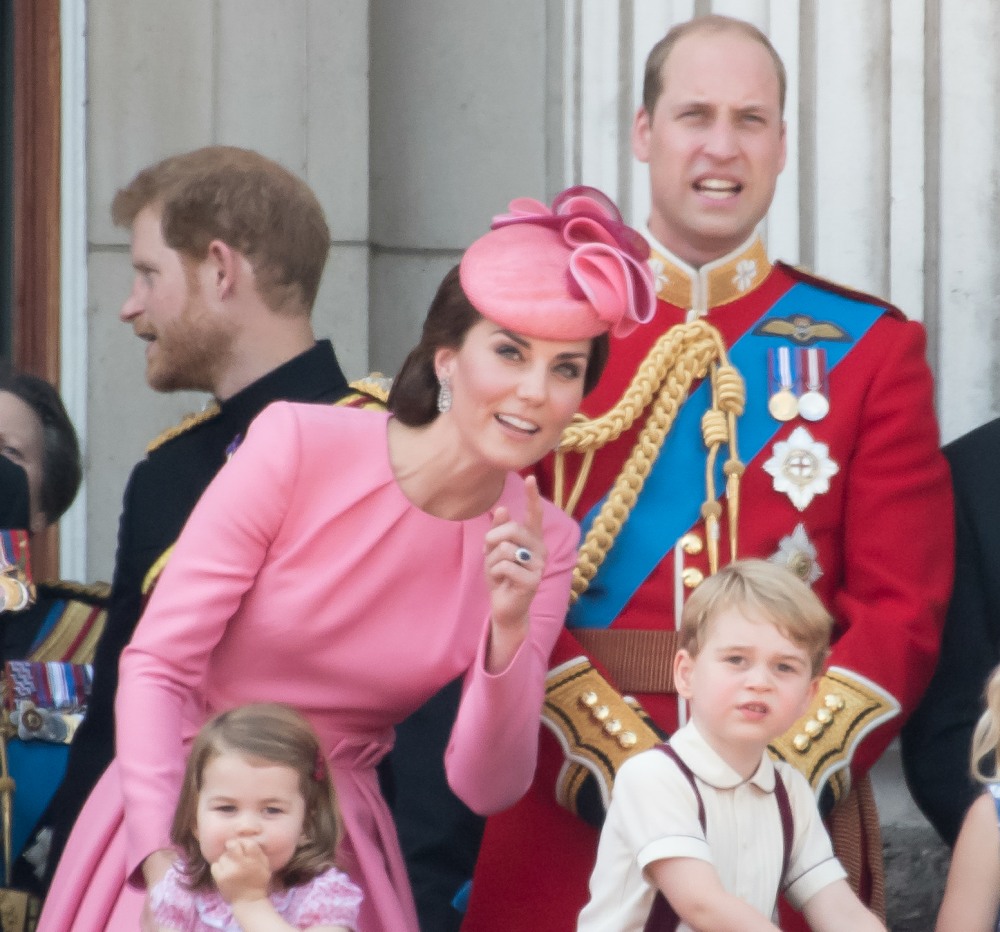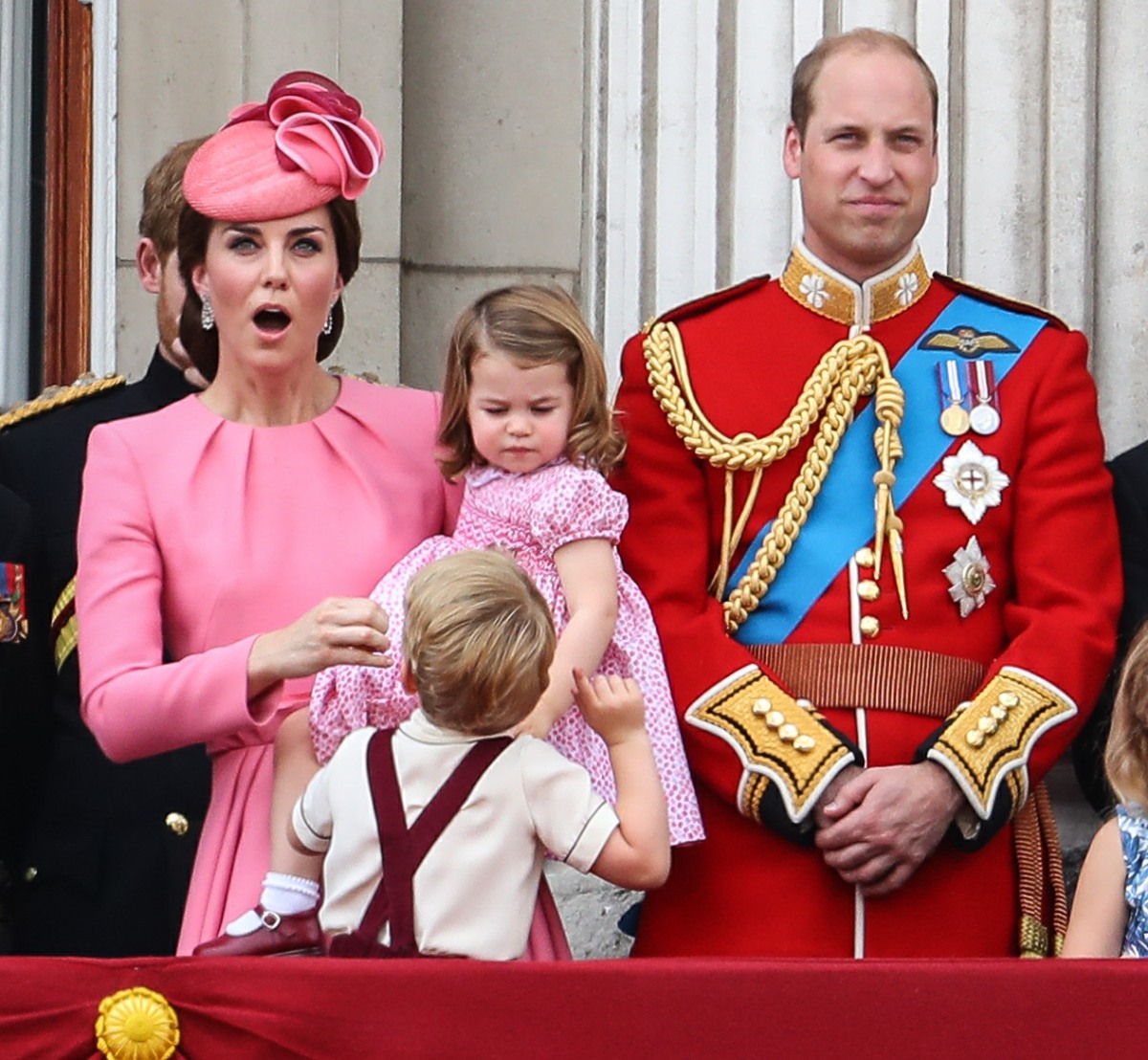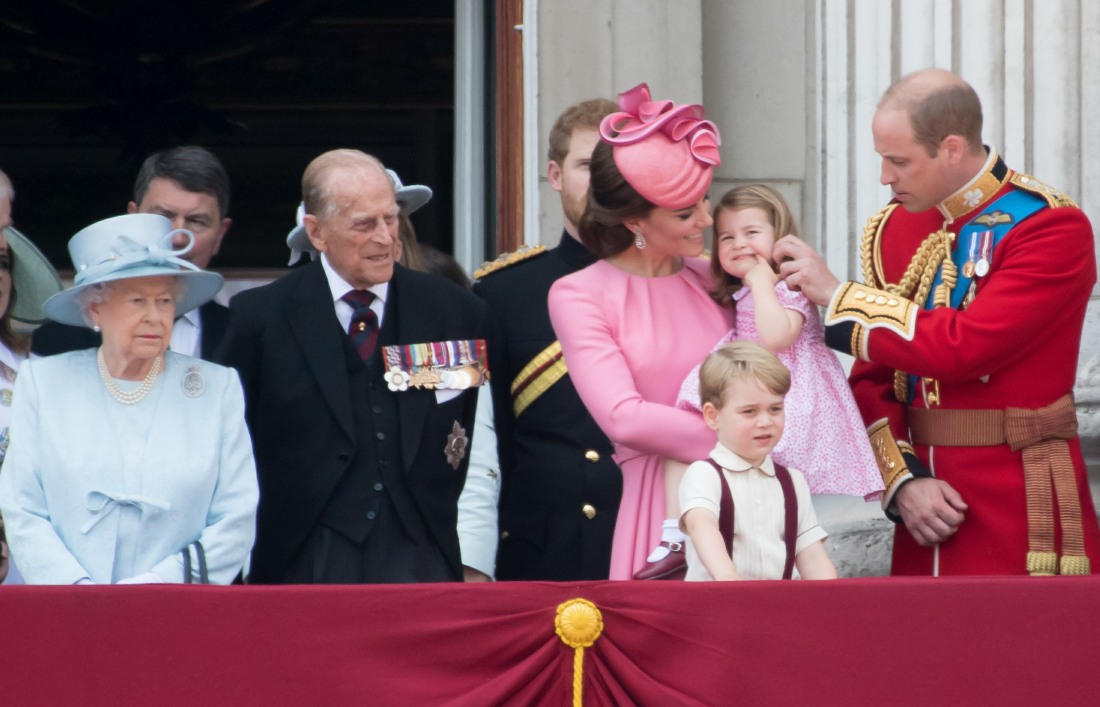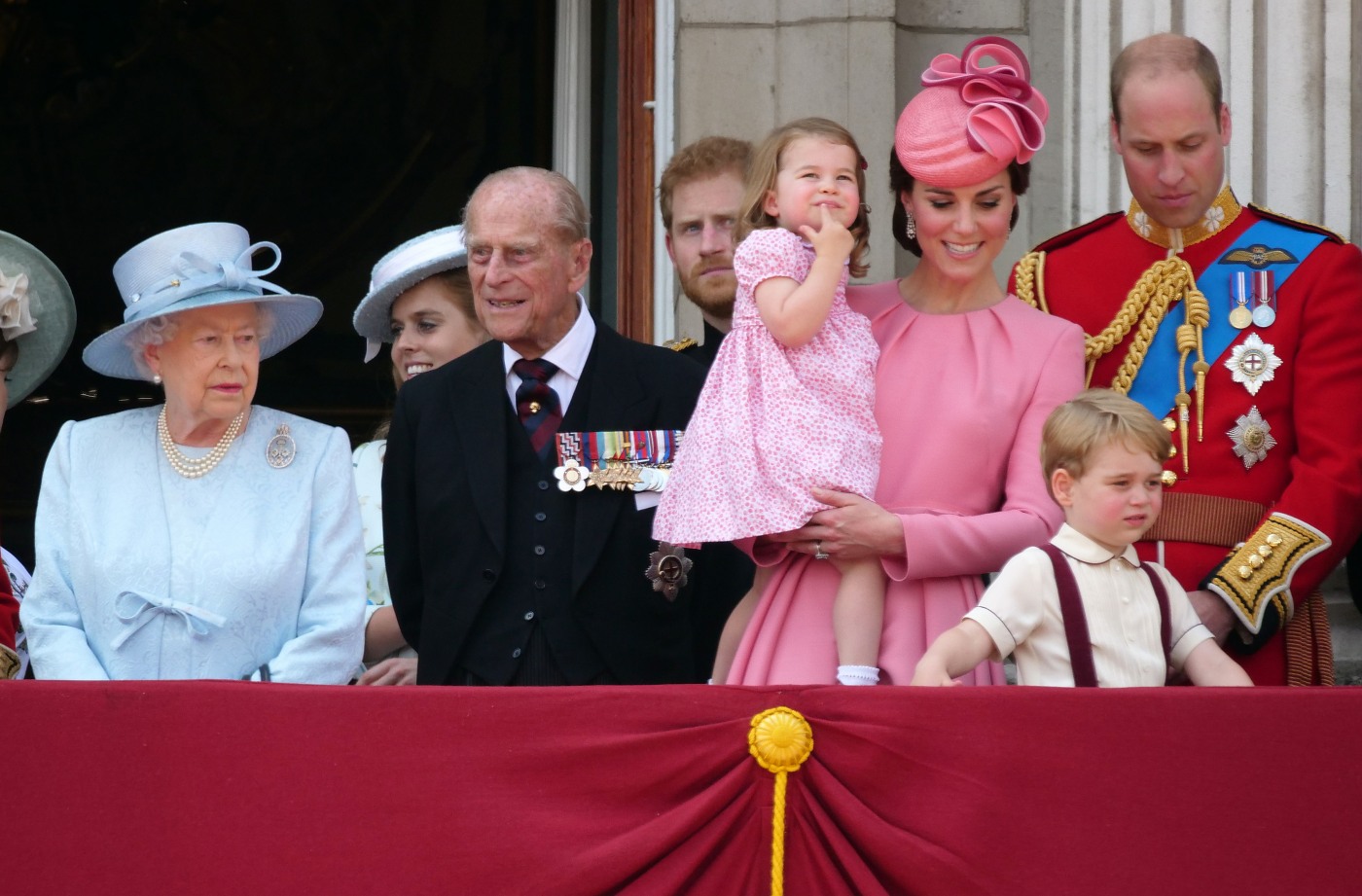 Photos courtesy of WENN.