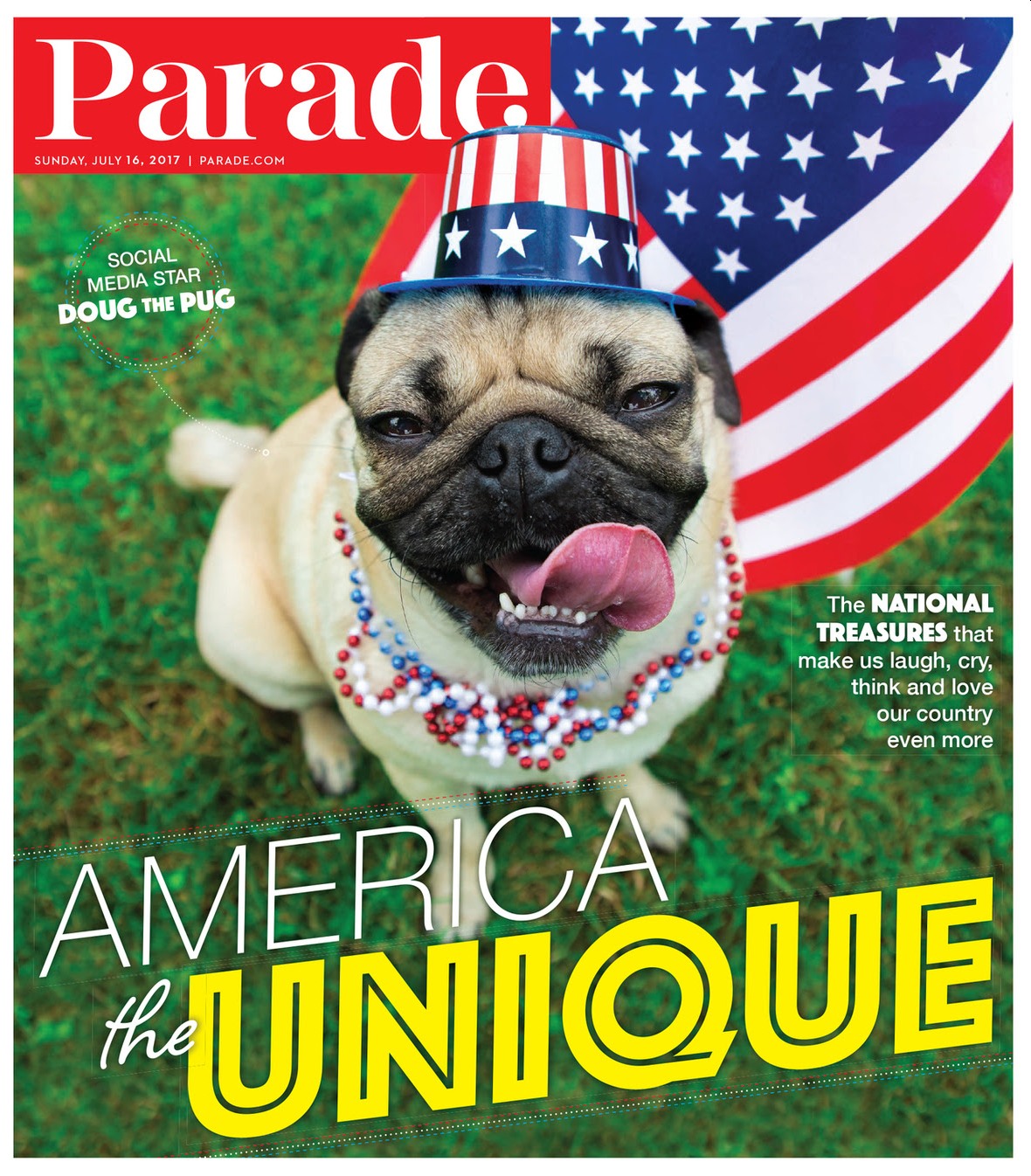 We all have ways we deal with the daily onslaught of terrible news. Some of us are stress eating. Some of us are binge-watching tennis. Some of us are are watching cat videos and dog videos. And I guess some of us are obsessively checking out cute animals on social media? Perhaps. That's why Doug the Pug is a thing. Doug the Pug is a famous dog on the internet. His mom and dad have really pushed for Doug to be the King of Pop Culture or something. Doug has a Twitter and an Instagram and lots of celebrity friends. Demi Lovato even hired Doug for her record release party. This is a legit career now, making your animal famous.
Anyway, Doug the Pug covers the new issue of Parade, and issue devoted to America's "National Treasures." Here's what Parade says about him:
Known as the King of Pop Culture, Doug is not your average pooch. He's a New York Times best-selling author (with "momager" Leslie Mosier) and social media star whose millions of adoring fans follow his pizza-eating, world-traveling adventures on Facebook, Instagram, Twitter and Snapchat. When he's not chowing down, Doug makes appearances on the Today show, Billboard's Hot 100 Festival and the CMT Music Awards. And Doug leaves celebs starstruck too—he's taken selfies with everyone from Justin Bieber to the cast of The Big Bang Theory—but he still loves a good nap more than anything.
You can read more about Doug-at-home here. My first reaction was "oh, that's a cute dog." Now that I've looked at the social media though, I find the whole thing kind of annoying. I have a similar feeling whenever I watch the equestrian events during the Olympics: that the horses should get the Olympic medals, not the riders. Doug the Pug should get the money his parents are making off him. Like, it should be put in a trust for him or something. Doug's stage parents are sort of creepy, I'm just saying. Then again, I can happily spend the day watching YouTube videos of Huskies and Newfies, so maybe Doug's parents aren't so crazy.
When ur parents tell u dinner is ready but then they make u set the table pic.twitter.com/2LX05OpO0H

— Doug The Pug (@itsdougthepug) July 12, 2017
I have a talent of falling asleep anywhere pic.twitter.com/JqpMfB5JUW

— Doug The Pug (@itsdougthepug) July 11, 2017
Spider-Pug 🕷 pic.twitter.com/I0N9bX3A2z

— Doug The Pug (@itsdougthepug) July 9, 2017
Photos courtesy of Parade, Doug's Twitter.