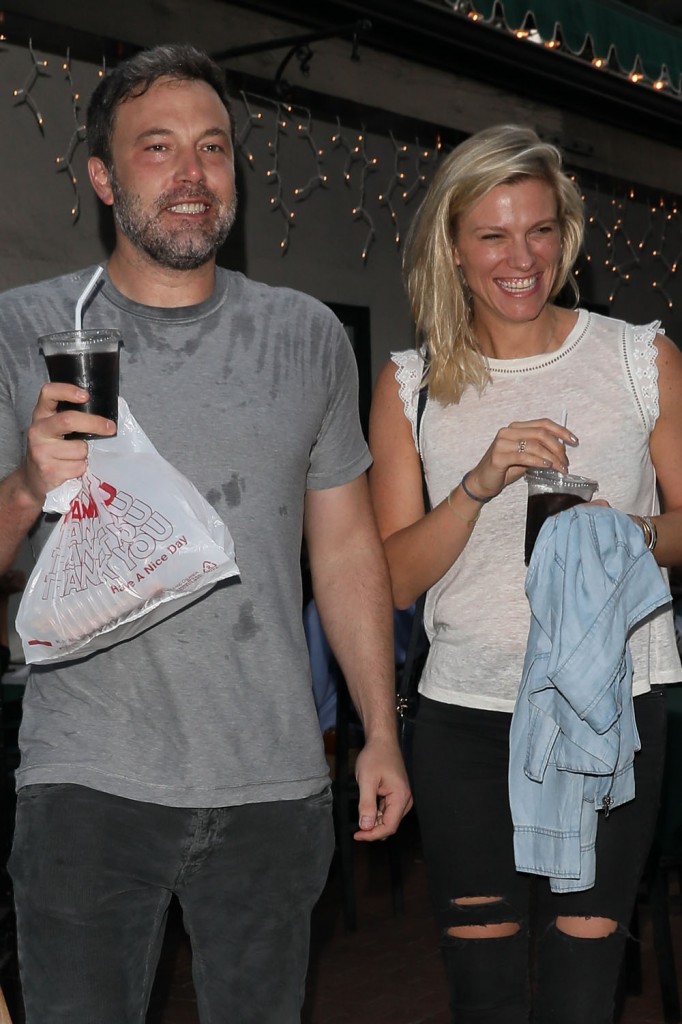 Page Six has a rather long piece on Lindsay Shookus, the SNL producer who became famous a couple of weeks ago for being the first woman Ben Affleck has openly dated post divorce. Several sources give inside quotes which have conflicting opinions on Shookus. A colleague and one publicist praise her and her work ethic and gush about how she landed Affleck. Another publicist makes it sound like she's a conniving so-and-so. The article paints her as somewhat of a player in that she's rumored to have dated Jon Hamm and Chris Noth in the period she was separated from her husband and (presumably) having a time out from her affair with Affleck, which started in 2013 if reports are correct. She hung in there, Affleck came back, and now she's getting the payoff of being the cool girl who was first seen out with Affleck. It's a long article and I'm just doing the highlights, so you might want to read it at the source if you're interested.
On how Shookus is dealing with the attention
"She's enjoying it," a colleague of Shookus' told The Post. "She never wanted to be on camera, but she's comfortable getting a lot of attention."

Affleck got her jewelery, his MO
A publicist close to the situation told The Post that Affleck "adorned [Shookus] with gifts . . . all these bracelets and rings. He was here in NYC all the time visiting her and no one knew."

On how she landed Affleck
"I can't believe that a girl from nowhere New York ruined a Hollywood marriage," said the publicist close to the situation.

Although she's a beautiful blonde, Shookus is a departure from Affleck's past rotation of A-list love interests. "He's never really dated a regular girl before," said an entertainment publicist who knows Shookus.

"He's always gone for high-profile women. He wants to date people that know and understand his life. When you're a TV producer, you understand that [Hollywood] life."

"Ben really enjoys [Shookus'] company," said a friend of the actor's. "They have a really good time together. She's very smart, and they share a lot of the interests. She's a movie buff, so that clearly always excites him."

On how great she is at her job
"The role that she has at 'SNL' now, she is very much the trusted confidante of all the talent," said the colleague, who added that Shookus has taken over the hobnobbing duties.

"Lindsay has developed very close relationships with all of [the cast], as well as the [guest] hosts."

The other famous guys she has dated
In addition to Affleck, Shookus has previously been linked to Jon Hamm, who has hosted three times and made six guest appearances on "SNL," according to multiple sources. One insider told The Post of having spotted the pair looking cozy at a Kanye West concert at Madison Square Garden last September.

The colleague of Shookus' said the talent booker is rumored to have dated "Sex and the City" star Chris Noth, too.

(Hamm's rep tells The Post that Shookus and the "Mad Men" star know each other from "SNL" but "have not dated. They are not friends; they are acquaintances." Noth's rep didn't respond to requests for comment.)

"The [idea of] having an affair [with Affleck] soon after she had a kid is disgusting," said the publicist who is close to the situation.

They sort-of claim Affleck is sober but phrase it oddly
But Affleck's friend disregards any such concerns, saying the actor/director — who has been to rehab more than once, including a stint this year related to alcohol addiction — is "working really hard at staying healthy."

"Lindsay doesn't have to be sober, and she's welcome to drink," the pal added.
We knew this about her, we could tell from the photos from the quotes that her people gave that she's comfortable with celebrities, that she loves the attention and that she's trying to give off the vibe that she's not impressed with Affleck's status and wealth. Also, Affleck's still drinking right? No one explicitly said he's sober, the source said he's "working really hard at staying healthy." That's not the same thing! Plus there new photos of him smoking before boarding a private jet yesterday. One vice at a time though, I get that.
Oh and as far as Affleck showering Shookus with jewelry – this is his MO. Remember the 10 carat yellow diamond engagement ring he bought Jennifer Lopez? He got Jennifer Garner a 7 carat diamond ring in 2009. Also, Radar had a story that Garner first discovered Affleck's affair with Shookus when a high end jewelry boutique called their house to inquire about a purchase. (Kaiser told me that this same plotline was in the 1986 movie Heartburn, with Meryl Streep and Jack Nicholson, about the breakup of Nora Ephron's marriage, but it sounds plausible anyway.) So maybe Radar got this one right.
This was a quiet weekend for Ben and Jen. Jen took her kids out to Jessica Biel's family restaurant, Au Fudge, on Friday. On Sunday it's presumed that she went to church because her daughter, Violet, was seen entering the church. Jen must have slipped through a back entrance with the other two kids because there aren't any photos of her with them Sunday that I can find. As I mentioned Ben was seen smoking and getting on a private plane. Given how much attention Lindsay has been getting I would bet good money that he's pulling away from her.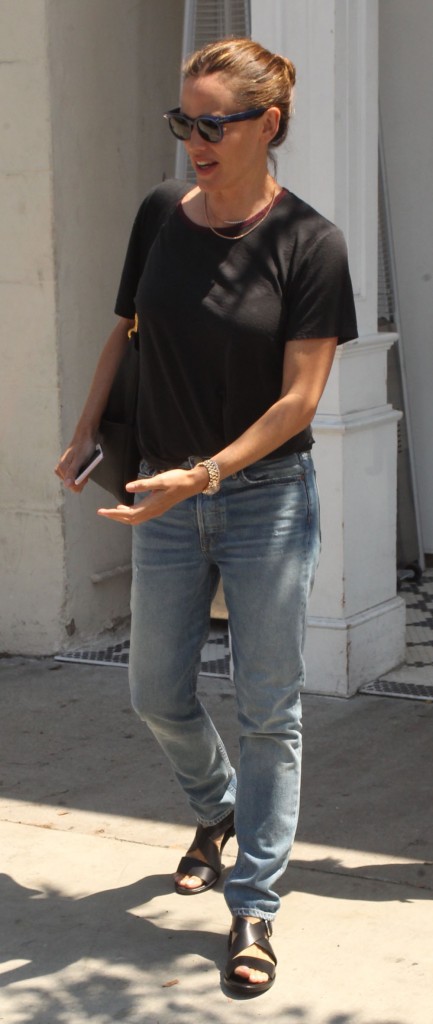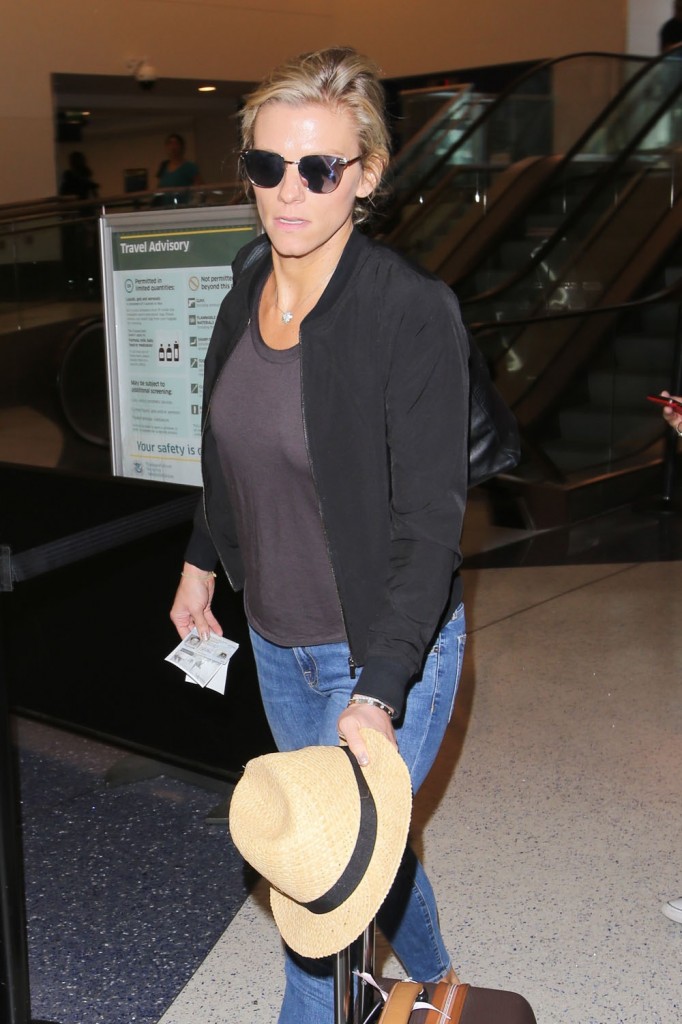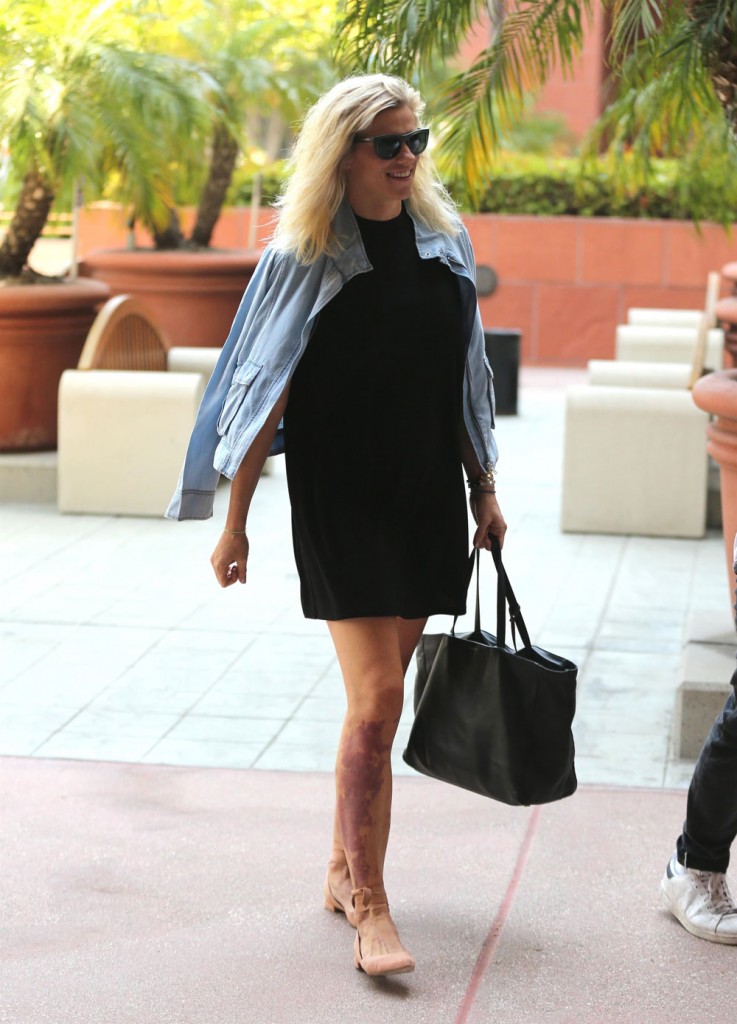 Photos credit: WENN and Backgrid