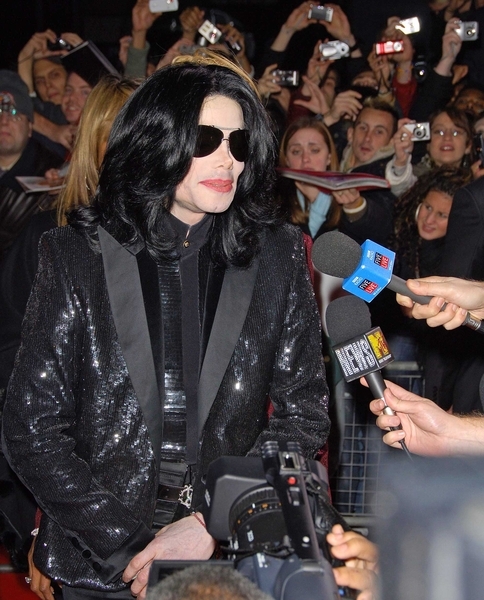 Every so often you hear a story about one of Michael Jackson's crazy eccentricities – and his PR people always rush to tell you all the wonderful, charitable things he does for people, kind of to counteract the madness. But after a while, you hear so many bizarre things, and enough of them turn out to be true that you realize someone's really a nutcase. We all reached this point a long time ago with Jackson, especially regarding crazy lawsuits against the guy. But one emerged today that tells a pretty clear story about the true selfishness of his character.
Back in 2005, Michael had that pesky little child molestation trial. He showed up late, or in pajamas, or not at all, on several occasions, often citing his fragile health. On one occasion he went to the hospital for "flu-like" symptoms – I think it was one of the times the judge ordered deputies to come find him and bring him to trial. Well this particular time, Jackson was admitted to Marian Medical Center in Santa Maria. The hospital didn't have any empty double rooms, only half occupied doubles and singles. Well a single wasn't enough space for Jackson, and he certainly couldn't be bothered to be charitable enough to another human being as to share a double room with them. So Manuela Gomez Ruiz, who was already in a double room, was booted out to make way for Jackson and his entourage. Ruiz had just had a heart attack that day, and had been on critical life supporting machines until she was kicked out and kept in an exam room using hand-pumped oxygen. She had another heart attack, but due to the hubbub of Jackson's presence, doctors couldn't get to her in time, and she died. So her family is suing Jackson and Marian Medical Center, in what seems to be a very fair case. Unfortunately the case has been halted, and the family will have to re-file over technicalities.
"The family of Manuela Gomez Ruiz had sued Jackson and Marian Medical Center in Santa Maria, claiming she was kept from critical care after she had a heart attack on the same day Jackson was brought in with flu-like symptoms during his 2005 child-molestation trial. Jackson was acquitted in the case.

"Judge Rodney Melville — also the judge in Jackson's molestation case — on Tuesday allowed challenges to the complaint filed by attorneys for Jackson and the hospital, who had argued the facts of the case didn't justify the complaint.
"Melville gave the plaintiffs' attorney, James McKiernan, 30 days to redraft their complaint. McKiernan said he would refile the necessary documents.

The lawsuit said the 73-year-old Ruiz was on life-support after a massive heart attack and was moved from a two-bed room so Jackson could occupy it by himself. She was kept alive in an exam room using hand-pumped oxygen until she could be reconnected to a life-support machine, court papers said.

"The lawsuit alleged she had another heart attack but the crowd milling around the pop star delayed her arrival at the critical-care unit. Ruiz died later that night. The complaint cites the 'outrageous, circus-like atmosphere they orchestrated during the last hours of Manuela Ruiz's life and its obvious emotional and mental lasting effects upon the plaintiffs.'"
[From the Associated Press]
This is one lawsuit that I truly hope goes through. I know people will say Michael Jackson didn't actually kill her, but that doesn't mean he doesn't bare some culpability. Yes he didn't sit on her chest or anything, but if he hadn't been his diva self and had settled for a private room or shared the room Ms. Ruiz was already occupying, she might not have died. The biggest ethical burden lays with the hospital, in my opinion. Michael Jackson can act like a queen bee all he wants, they still have the moral obligation to look out for all of their patients equally, and it sounds like they didn't do that. I doubt Jackson has any money left to his name, but I hope he's penalized in some way. If he truly cares about people as much as he claims – and let's be honest, that's all PR spin – he should spend the rest of his life feeling horribly guilty that his selfishness contributed to another person's death.
Picture note by JayBird: Here's Michael at the 2006 World Music Awards. Image thanks to PR Photos.