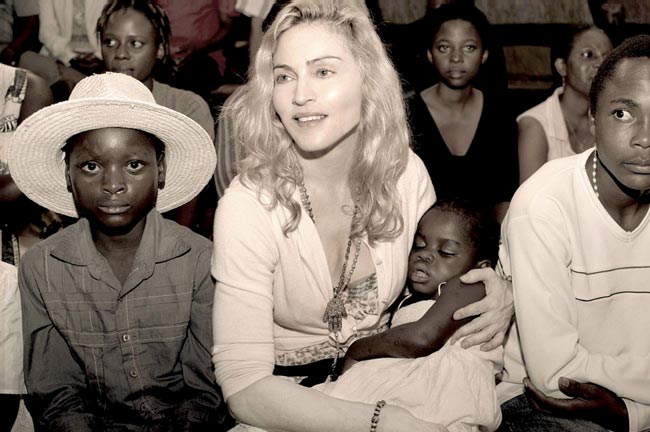 Madonna was devastated to learn that the Malawian high court denied her adoption bid for three year-old Mercy James in early April. (Mercy could be four at this point, the reports differ.) Madonna appealed the decision but it was unknown whether she would be successful given how she flouted the country's adoption laws. Malawian law states that adoptive parents must reside in the country for at least 18 months, and Madonna made no attempt to live in Malawi even after the adoption was denied. The 50 year-old pop singer is also single, and the courts favor married couples. Three year-old Mercy James also has a living father and a grandmother who have both spoken out against the girl being adopted and removed from the country.
All of those details were mere ignored formalities to Madonna and she's still pushing forward with the adoption. According to The Sun, Madonna has "convinced" all three appeal judges to approve the adoption and it will be rubber stamped over the weekend. I wonder how much she paid out in bribes. The Sun has a history of scoops with Madonna-related stories and is probably accurate in this case:
MADONNA has persuaded three appeal judges to allow her to adopt Malawian orphan MERCY JAMES, The Sun can reveal.

Two have already submitted reports recommending it go ahead and the third is said to be "in complete unison with them".

Madonna, 50, whose two-year application to adopt the three-year-old was blocked by a court in March, has been told the news by her lawyer Alan Chinula.

The ruling is set to be announced next Sunday at Malawi's Supreme Court of Appeal.

A source there said yesterday: "The paperwork is being typed up now.

"All recommendations are in favour of the adoption taking place. Mercy should start packing her bags. She's off to America."

A close friend of Madonna said: "She's ecstatic.

"She made a promise that she wouldn't give up on Mercy and, believe me, she could move mountains when she's this determined."

Madonna's adoption application was originally rejected because she had not lived in the east African state for 18 months, as required.

But one of the three appeal judges has said that rule was out of date.

The pal added: "No stone has been left unturned to prove that ruling was wrong."

Mum-of-three Madonna has longed to adopt a sister for her adopted Malawian son DAVID BANDA, three.
Mercy will likely have a "better," or at least a much more comfortable life, under Madonna's staff's care, but is it fair to the family that the little girl be taken out of the country? Sure she was in an orphanage, but from what I understand that's common in third world countries when a mother dies and the family doesn't have the means to ensure that the infant survives. It's a sad necessity that some impoverished families place their children in orphanages with the hope to bring them home when they're no longer vulnerable to malaria and other childhood diseases. That was the case with Madonna's other adopted child, David, whose father said that he didn't understand that he was signing away all rights to his child when he agreed to to the adoption.
There are no easy answers to this, but those adoption laws exist for a reason. The judge who first denied this second adoption cited the fact that approving this high profile case could open up the country to child trafficking. Now Madonna has three judges, probably on her payroll, not only agreeing to the adoption but possibly working toward changing existing adoption laws meant to protect children. The Malawian coalition of children's rights organizations that spoke out against this adoption could sadly have been right.
Photo credit: Fame Pictures