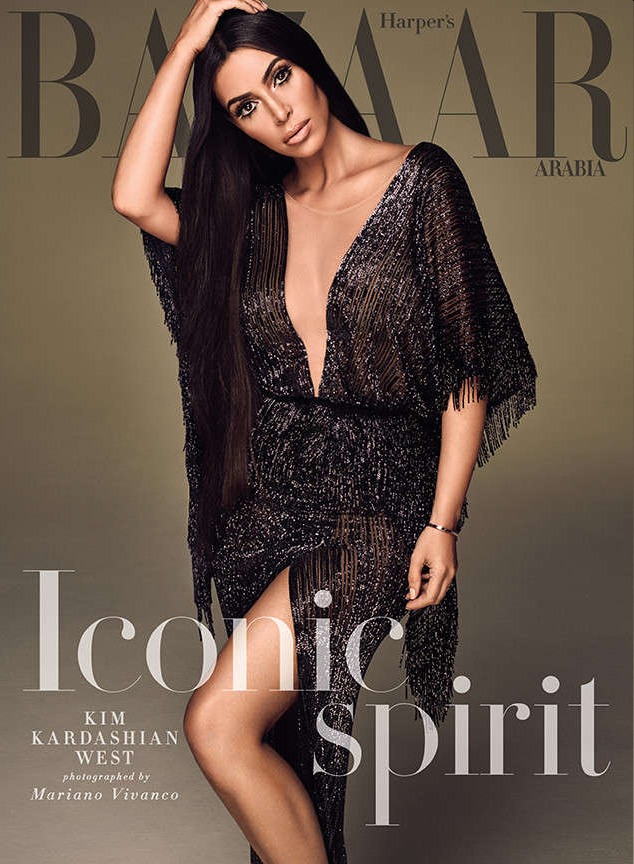 Kim Kardashian covers the latest issue of Harper's Bazaar Arabia. It's a gorgeous editorial for the most part, although to be clear: Kim obviously looks like some kind of Cher-doll hybrid. The combination of Cher-like extensions, plastic surgery, fake eyelashes and Photoshop have really given Kim an almost alien-like visage. In the interview, Kim talks politics and how much she hates living in Trump's America. Kim became more outspoken politically last year, donating to Hillary Clinton's campaign and trying to talk more about reproductive rights and racial issues. Some highlights from the interview:
Careful about political conversations: "Sometimes I feel like I want to speak out more about political issues. You have to be really careful about what you say, because a lot of things can be taken in the wrong context and I always want to be respectful; I don't want to hurt anyone's feelings."

On Donald Trump: "Anyone can run the U.S. better. My daughter [North West] would be better. We've worked so hard to get to where we were and to have so many things that we were so proud of in our country, to just literally revert backwards is the most frustrating thing. Every single day when you can't really believe what's going on, the next day it's something else even more crazy and tragic. It's really scary, the world that we're living in now. And when you did feel safe at home, now with Trump in presidency, you just don't feel safe any more."

On feminism: "I said once before that I'm not really a feminist. But I feel I do a lot more than people that claim that they're feminist. To clarify what I said before: I feel in my soul I'm a feminist. I just don't need labels to make me feel or know what I am inside…Modern feminists are all the girls around us today. Every time you look on social media and there's someone standing up for themselves, to me that's a modern feminist. There's such an amazing group of girls that empower each other."

Fearful for her kids' futures: "Life scares me, just thinking of all the things that can go wrong. When you're a mom you turn into this maniac that just thinks anything and everything can go wrong. [Social media] doesn't seem like the safest place. I have a pretty thick skin. But I feel bad for anyone that gets hate on social media. There's so much cyber-bullying and negativity in comments to everyone. I think it's so wrong. No matter what you do, you're so judged and criticized on social media. I hope it changes. I hope people stop being so negative."

Staying motivated:"When you have kids it keeps you motivated. I want to have something on my own. I feel good when I get up and go to work and am busy all day. That makes me happy. If I just, like, retire, I would definitely be more of a stay at home mom, but I want my kids to have a really strong work ethic and see how motivated mom and dad really are."
I've said before that few things make me more grateful to be childfree than the Donald Trump presidency. I don't know how you parents out there deal with this – how do you explain this orange monstrosity to your kids? Especially if you're the mother or father of kids who are minorities, how do you make them feel safe in Trump's America? Kim's right – it's like a nightmare every day, and I'm well into adulthood, so I can barely imagine how terrifying this must be for kids. That being said, I doubt North West would be a better president (but Kim would, sorry not sorry).
As for this: "I feel I do a lot more than people that claim that they're feminist…" That could be about anybody. But I think I know who she's talking about.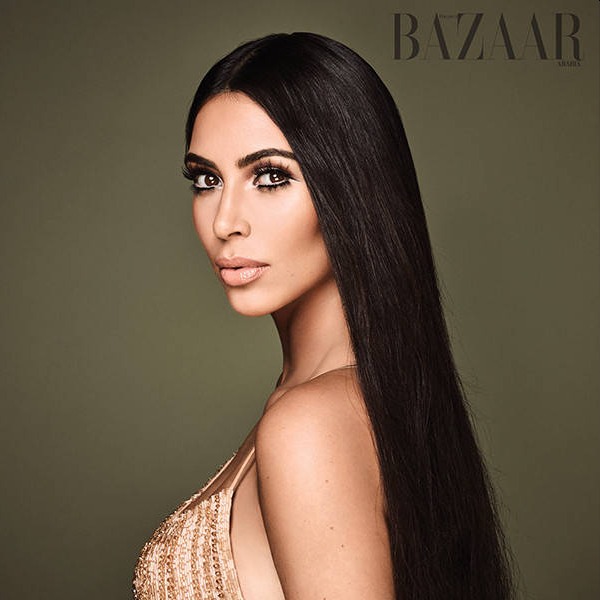 Photos courtesy of Harper's Bazaar Arabia.