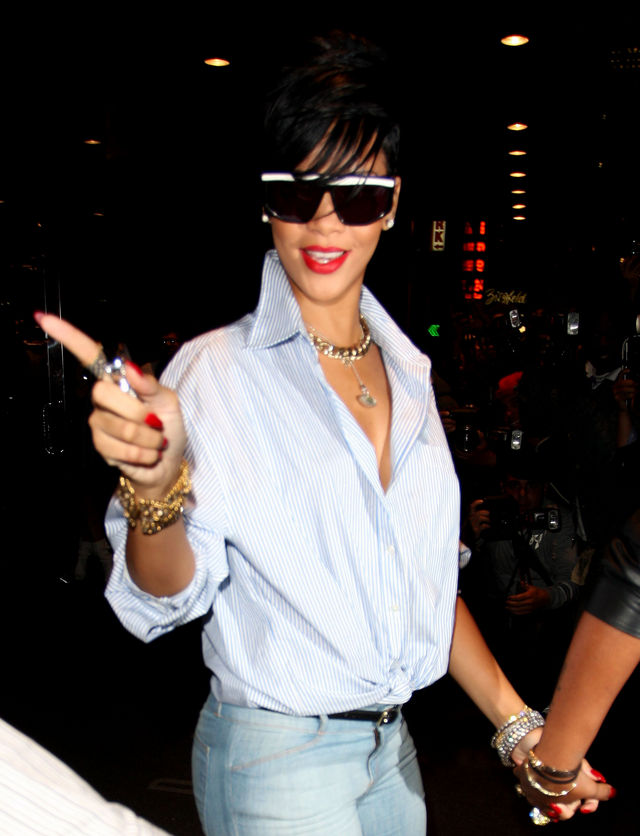 A little over a month ago, people started to notice that Rihanna was spending a lot of time with a "mystery man" who turned out to be Aubrey "Drake" Graham, child actor and star of Degrassi who is trying to make it as a rapper. Rihanna and Drake met when they signed on to work on a single together. In May, after they had been spotted partying and making out, Drake denied the rumors that he was dating Rihanna. Only two weeks later, though, his tune had changed a bit. He once again claimed that they weren't dating. But when the interviewer asked him specifically about reports of them making out in public, he responded, "Whatever. We're young, having fun and enjoying life. That's all."
He told DJ Semtex, "I'm actually writing for Rihanna right now. I guess I'm living a dream. I enjoy a challenge. I've never in my mind felt like, 'Oh, I could probably write something crazy for Rihanna.' That wasn't my first thought. But being put up to the task, we're coming up with some special stuff. It's crazy, man. All I could do is smile. It's nice."

With rumor swirling around lately that Rihanna was making out with Drake at a club, of course Drake was asked whether or not they were dating. "Out here? Yeah, it's just work. Me and Rihanna are just me and Rihanna. We're cool and she's great, man. She's a great person, definitely."

When asked about the claims that the two were spotted locking lips he said, "Whatever. We're young, having fun and enjoying life. That's all."
[from RihannaBuff.com]
So at last check they might be hooking up, but they weren't dating. Fair enough, both of them can do what they want, and Rihanna certainly deserves a little loving. But now the New York Post is reporting that the two are officially dating, but just trying to keep it on the DL.
Rihanna is stepping out with her new man. The singer, who dropped Chris Brown after he allegedly beat her up, is now dating hip-hop artist Drake. The couple went to the after-party for the movie "Year One" on the Empire Hotel roof Monday. "She and Drake were attached at the hip," said our source. After that, the duo went to Greenhouse on Varick Street and sat in the VIP area. "They are definitely together, but really trying to be discreet," said our tipster. Rihanna's rep didn't return e-mails.
[from NY Post]
What with the humiliating and painful public breakup Rihanna had to go through after her altercation with Chris Brown, it's no surprise that she would want to keep a new relationship quiet. She's still having to deal with the aftermath of her previous relationship, in terms of legal issues as well as possible nude photos and a suspected sex tape. It's a lot for her to have to deal with, and you have to give Aubrey kudos for supporting her. He always seemed like such a sweet kid when he was working on Degrassi, and it's good to see that he's having success breaking into the music business as an adult. He and Rihanna may not be officially girlfriend/boyfriend, but they look like they could be headed there. It's nice to hear that Rihanna is happy again.
Rihanna is shown outside her hotel in Manhattan last night, 6/17/09. Is she leaning on her friend because she can't walk in those boots? Credit: WENN.com. Aubrey Graham is shown out, also in NY, on 6/11/09. Credit: INFphoto.com