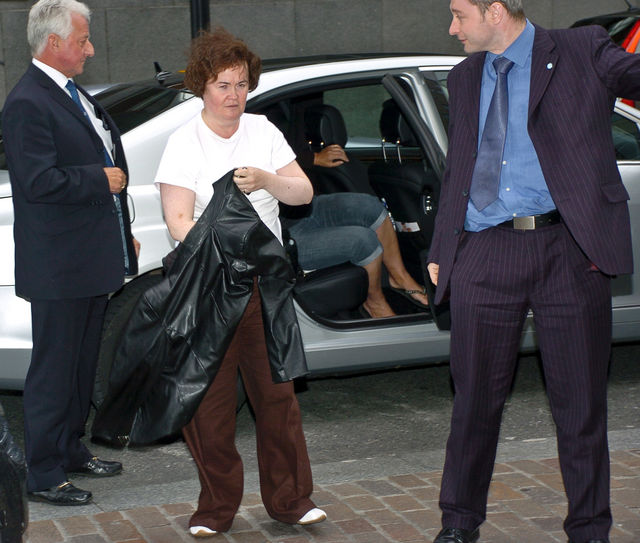 Susan Boyle continues to cancel performances on the Britain's Got Talent tour, and there were rumors late last week that she was screaming for her cat, Pebbles, and generally freaking out. She doesn't seem to be able to cope with the pressures of fame or of singing in front of big audiences, and many have called for a time out for Susan. It doesn't seem fair to the poor woman to continue to ask her to perform when it has such an obvious toll on her well being.
In light of this criticism, along with the controversy over young children being reduced to tears on the Britain's Got Talent stage, Simon Cowell has written a long essay in which he admits that he made some poor judgments with the show. He also defends his actions without sounding too haughty or self righteous about it. Here are some excerpts from Simon's explanation, which is well written and worth reading in it's entirety. Cowell is a curmudgeon and he can be incredibly mean, but he's not without a heart and he seems to understand the life-changing and sometimes very negative effects his show can have on contestants. The situation with Boyle unfolded gradually, and Simon explains how he didn't see it coming until it was too late:
However, as you might have noticed, the show has not been without controversies.

Chief among them, of course, were the difficulties experienced by runner-up Susan Boyle, and the children who broke down in tears in front of millions on the live show. That has provided a field day for the armchair pundits.

The show has been accused of being a cruel circus that sets out to exploit the vulnerable in a cynical bid to boost ratings. And I, of course, am inevitably portrayed as the evil ringmaster.

So love the shows or hate them, the time has finally come for me to set a few things straight. And I'm the first to hold my hands up and admit I've made mistakes.

I didn't get into showbusiness to make little children cry or upset a nice lady like Susan Boyle…

Sometimes I go too far, I admit it. And sometimes you just can't predict how events will unfold. Which brings us to Susan Boyle.

Looking back on it all, it has become clear to me that we didn't handle the situation with Susan as well as we could have.

Yet to be honest, when I analyse exactly what happened, I don't know that I could have done it any differently.

I had never met Susan Boyle before she walked on to the stage in the Glasgow auditions. I remember vaguely thinking 'I hope she is not another singer', as we'd had so many that day.

Then after she sang, I thought she had come over well, but not sensationally.

I certainly didn't think: 'Here comes a phenomenon who is going to become the most famous woman in the world, I wonder if she can mentally cope with it?'

I thought she looked a bit eccentric and certainly a character, but that was all.

Then, several weeks later, after Susan had become a global sensation, we were on a satellite link to the Oprah show together.

She seemed fine with all the attention – I thought she was utterly charming and really thrilled with what had happened. I thought – perhaps naively – that she was in control.

When I asked her if she was enjoying herself, she replied: 'Simon, I am having the time of my life.' I was pleased. I thought whatever happens, we have changed this lady's life.

Then, in the semi-finals, the pressure and her nerves were beginning to get the better of her. As the final approached, I started getting calls from the production team.

It had become clear that Susan was finding the experience difficult to cope with. So I said 'make sure she has a friend with her all the time. Make sure she has any help that she needs'.

Just before the final, I went to see her. She looked tired, but had one of her closest friends with her who was being a great support.

I said: 'Susan, are you sure this is still all OK?' And again she said, yes, she was fine. I told her the most important thing was that she enjoyed the experience; that it had to be the best night of her life.

Even then, I didn't pick up on any unduly troubling signs. She was nervous, yes, but no more nervous than Paul Potts had been before his live final two years previously. She understood the significance of the night.

Then, during the final show, at the crucial point when the dance group Diversity won, I looked over at her face and thought: 'Christ, she doesn't know how to deal with not winning.'

It was a bad moment. Afterwards, I went over and gave her a hug and tried to reassure her. 'Susan,' I said, 'my offer to record an album with you still stands.' And we agreed that we would work together; that it wasn't the end of the road for her.

After that, I left the studio. I remember having a drink that night and trying to relax, but still feeling a bit strange. Something just didn't feel right. And sure enough, it wasn't.

No need to repeat the details here – that wouldn't be fair to Susan.

On a practical level, the question was whether she wanted to go ahead with the Britain's Got Talent live tour.

I wasn't sure, so we gave her the opportunity of not taking part. But, after a few days at home in Scotland, Susan was determined that she wanted to do at least some of the dates.

It was agreed that it would be under her terms, and whenever she felt it was too tiring she could choose not to participate. The nights she has performed have been incredible.

She has had some fantastic reviews and I think it was a huge boost for her when she did the live dates in Glasgow and Edinburgh and had thousands of her own Scottish fans cheering her on.

There are still ups and downs, yes. She didn't make the final line up at Liverpool on Thursday or Cardiff last night.

But, when she does perform I am thrilled by the reception she gets. Suffice it to say that whatever happens in the weeks ahead, I will continue to support her.

But the question remains: should we have done things differently? Perhaps the ones who can best answer that are Susan Boyle's family.

Last week, I met them in my London office and I asked them: 'Tell me honestly; did we do right or did we do wrong?'

What I meant was, was it right to allow Susan to carry on performing in the show once it became clear that she was finding it stressful?

And they said, unanimously, that we did the right thing.

They said that Susan has always wanted to sing and had sat at home for years, wishing that she had a chance.

We had given her that opportunity. Even so, all this has raised some serious issues about the show, primarily about who should be on it and who should not.

Should children be on it? Should someone like Susan Boyle, a woman who was naive dealing with fame and that kind of exposure, be on it?

Should we impose a minimum entry age and introduce some form of stricter psychological screening for applicants?

I'm not so sure. How could that work? There is no easy way of achieving fame, and no guaranteed or trusted way of dealing with it.

Facing a series of public votes on a talent show is psychologically tough. Yet who has the right to ban Susan Boyle, or anyone like her, from trying to sing her way out of one life and into another?

She is one of those people – and there are millions of them in this country – who simply need a break. Nobody pays them any attention.

Now, for the first time in her life, people are looking at Susan Boyle.

Yes, there have been problems, but overall I think it is a positive experience for her. I'm glad we gave her this opportunity and – more importantly – I think Susan is as well.
[From The Daily Mail]
Last week's National Enquirer reported that Cowell quietly footed the bill for Boyle's stay at The Priory clinic following her second place finish on BGT. We also heard a rumor last week that Cowell is trying to work out a deal with Planet Hollywood in Las Vegas for Boyle to perform. I hope that in light of everything he's learned, Cowell doesn't push her into touring. Boyle is thought to have earned £8 million, or $13.2 million USD, for her recording contract with Cowell. If that contract includes any touring requirements Cowell would do well to cut them. I just don't see a scenario where Boyle can perform a full set every night. She's doing two songs on this Britain's Got Talent tour and it's too stressful for her. She needs a break and some rest, not continued pressure to perform.
Update: Here's Susan performing in London last night. She really brought it: [via RadarOnline]

Simon Cowell is shown on 5/31/09 with BGT judge Amanda Holden. Susan Boyle is shown on 6/18/09. Credit: WENN.com