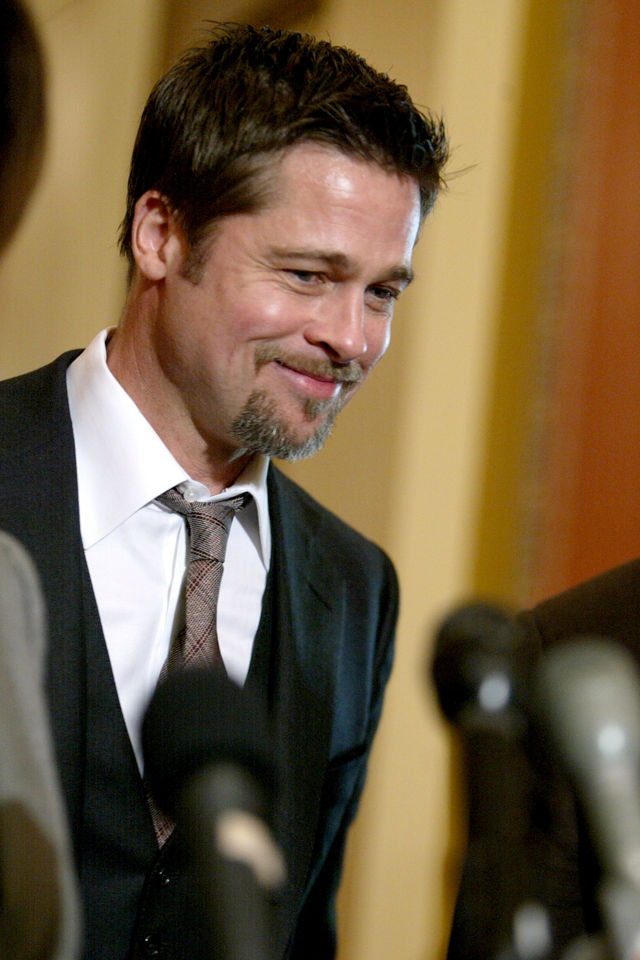 Brad Pitt's younger brother Doug is often the spokesperson for the Pitt family, so it's a given that Doug knows a lot about being diplomatic, dealing with the press, and knowing when to keep his mouth shut. Coincidentally, those are great qualities for a politician. When the Missouri state Republican Party was thinking and talking about who should run in Missouri's seventh congressional district. That seat is currently being held by Rep. Roy Blunt, who is the front-runner for the Republican nomination for the 2010 Senate seat being vacated by Sen. Kit Bond. So the state party is looking for someone young, good-looking, family-oriented, with great name-recognition for the congressional seat. Guess who they wanted? None other than Doug Pitt! Doug is a successful local Springfield businessman and philanthropist, and he apparently is quite the local Republican, unlike his brother Brad, who is quite the liberal Democrat. It's sort of like a John Steinbeck novel.
Anyway, when Doug's name came up, Brad apparently convinced his little brother not to run. This is according to the National Enquirer - they claim Brad has "big plans" for the work he and Doug will be doing together, and they wouldn't be able to do their work if Doug ran for Congress. Just in the last six months, Doug and Brad (and Angelina Jolie, through the Jolie-Pitt Foundation) have given away more than $2.5 million to Missouri-based charities and causes. There was the $1 million donation to a children's charity just before Christmas last year; then the $600,000 to Drury University for environmental technology (in the name of their father); and just a couple of weeks ago there was the $1 million donation to a pediatric cancer ward in honor of Jane Pitt. It seems Brad has successfully convinced Doug that there are better ways to help people rather than running for Congress:
Brad Pitt killed his brother Doug's political career before it even got started.

Instead of a job in Washington, Brad wants Doug to work by his side. Doug, 42, a respected businessman and philanthropist in the family's hometown of Springfield, Mo. He recently saw his name emerge as a leading choice to run for Congress in Missouri's conservative 7th district.

But with firm prodding from Brad, Doug put the kibosh on entering his name on the 2010 ballot, a source told the Enquirer.

"Brad has big plans for him and Doug," the source says. "They've already worked on a few charitable projects together, and Brad wants to see them become even more involved as a team."

"Brad felt if Doug was serving in Congress, anything they tried to do would smack of political cronyism."

While Brad, 45, is a well-known liberal, Doug would have run as a Republican, says a friend. Doug jokingly needled his brother: "Is this your way of trying to keep another Republican out of Congress?"

Doug was intrigued with the idea of a political career, said the friend. "And with the respect that he has, and that famous last name, he would have been a shoo-in."

"But Brad helped him see that there are other things he can do to help make the world a better place."

The Pitts have worked together on community projects, but Brad wants Doug by his side not just for humanitarian reasons. He values his business experience and wants him to help with his film production enterprise.

"There's no one on earth Brad trusts more than his brother," said the source. "It Doug had headed to Washington as a politician, brad would have lost a trusted business partner."
[From The National Enquirer, print edition, July 6 2009]
Honestly, I sort of believe this, and I sort of don't. I'm not even sure Doug Pitt is really a Republican, but it's conceivable. What I also find conceivable is that Doug might have had political ambitions. What I don't buy is that Brad wouldn't fully support whatever Doug wanted to do – and I don't think Brad would refuse to support his brother just because of a "cronyism" charge. It doesn't make much sense to me – but then again, I don't live in a Steinbeck novel.
Photos are from Brad Pitt's visit to the capital on 3/5/09. Credit: WENN>com