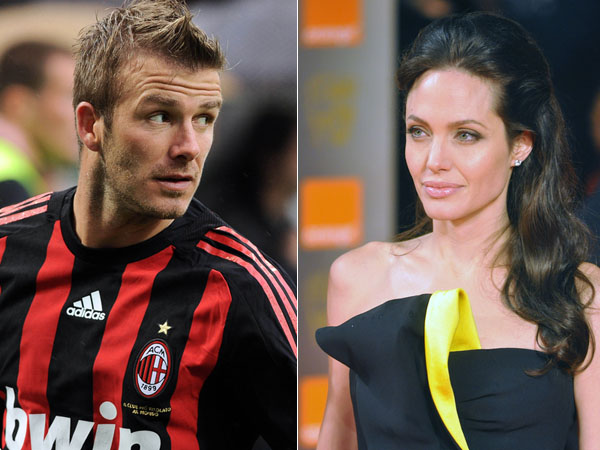 According to a handful of sources, Angelina Jolie has quietly signed on to be the face of Armani's new fragrance. Allegedly, Jolie will be starring in a major ad campaign, likely for Fall/Winter of 2009 or Spring of 2010. I'm speaking cautiously because I haven't found a really legitimate source on this rumor, but it is perfectly possible that Jolie signed on quietly. According to a report that originated in Life and Style a week ago, a fashion-industry source was quoted as saying: "Armani rolled up the Brink's truck for Angelina, because frankly, she's worth it. For this fragrance push, they needed a true A-lister, and Angelina is the biggest, most dynamic female star in the world." The deal comes with "creative oversight" for the print and television campaign, and the same insider says "She's giving a lot of input on that stuff already, picking the photographers and directors. The campaign is going to be bold."
Now the rumor has shifted – not only will Angelina be starring in this epic ad campaign, Armani might have recruited David Beckham and his big black bulge to act as La Jolie's costars. Beckham is already the "face" (re: The Bulge) of Armani underwear, or whatever fancy name they've given Armani man-panties. But, according to this report, Victoria Beckham, her rooster tail and her cold, dead eyes are not welcome in this alleged ad campaign – it's just going to be David and Angelina, together at last:
Angelina Jolie is set to star in an advert with David Beckham.

The Oscar-winning beauty has signed a deal with Emporio Armani and the Italian fashion house is keen for her to team up with the handsome soccer star – who has appeared in a number of their campaigns, including some with wife Victoria.

A source said: "When you have David Beckham and Angelina Jolie signed up to your fashion house it's a no-brainer to link them up.

"They appeal to a diverse audience and a collaboration would create so much publicity it would push Armani head and shoulders above their rivals. There are a few contract issues to be addressed but marketing experts are being tasked with coming up with clever ideas for a print campaign."

However, bosses are keen to make sure the adverts are not to risque as they don't want to ruin the committed family image both Jolie and Beckham have.

The source added: "The two are exceptionally beautiful on camera but both are in committed relationships so the advert would have to be sexy without offending their partners."

Jolie raises six children with partner Brad Pitt, while Beckham has just celebrated his 10th wedding anniversary with Victoria, who he has three sons with.

Beckham signed a deal with Armani in 2007, while Jolie was named as their new face two weeks ago.
[From Ireland Online]
If any of this is true, I hope Angelina exerts her creative control to get Armani a new stylist, because whoever has been styling the latest Beckham ads should be fired and perhaps slapped a few times. Armani used to have interesting ad campaigns, but lately they've just seemed like budget Calvin Klein ads, which is sad. I'd actually love to see any commercial David and Angelina would make together – just as long as David doesn't speak. His voice destroys the fantasy. All I can say is that if there's any truth to this, Posh is going to have a fit.
David Beckham is shown playing in Milan vs. Palermo on 4/26/09. Angelina Jolie is shown at the BAFTA Awards on 2/8/09. Credit: PRPhotos.