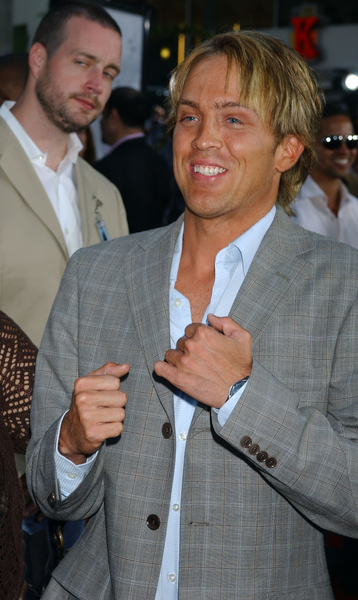 Just when you started to hope that Larry Birkhead would quietly fade into obscurity after throwing an obscene party for Dannielynn's first birthday comes news that he's trying to cling to the last vestiges of fame with the double-edged sword of infamy only used by the most desperate and clueless of the lower celebrity echelon – the reality TV show:
Meet Larry, a wacky bachelor who suddenly becomes a single father to a baby worth a fortune. And like a modern day Beverly Hillbilly, Larry leaves his humble home for the bright lights of Los Angeles where all sorts of hilarity ensues.

Custody battles. Lawsuits. Gay allegations. Y'all come back now, ya hear!

Larry Birkhead is no Jed Clampett – but he is about to get his own TV show, The Enquirer has learned exclusively.

The still unnamed reality show project is under development at the E! Network. It will focus on Larry and 1-year-old baby Dannielynn's life after Anna Nicole Smith's death, according to a TV insider…

"Larry's on the verge of signing with E! for a show that could be on the air by next spring," a Hollywood source told The Enquirer.
[From National Enquirer, print edition, September 24, 2007]
And new allegations by one of Birkhead's ex bodyguards about his money-seeking behavior make it clear that, just the deceased mother of his child, he'll do anything and everything to make a buck and keep his picture in the glossies.
The bodyguard claims that Birkhead asked photographers from Splash news to come to Daniel's grave with him on Daniel's birthday, where he pretended to be upset.
Anna's much-hated mother, Virgie Arthur, incidentally also worked with Splash to get paid for exclusive pictures while she was in the Bahamas after Anna died. She was rumored to have brought Splash photographers into the morgue with her for the pictures of dead Anna that were published in the Enquirer. Splash seemed to confirm that those pictures were real in a teaser post on their blog saying they had obtained pictures of the dead tabloid queen.
Anyway Larry wasn't quite distraught enough for the Splash paparrazzi, who told him to do another take, then another, until the photos were just right:
Mark Speer said he was guarding Birkhead in the Bahamas when Birkhead called Splash News, a paparazzi and tabloid news agency.

Speer, 53, told us: "Larry and I went to Nassau for over a week in January of this year. One day he said he wanted to go to Daniel's grave, ostensibly to pay tribute to him on his birthday. But it turned out he had another idea. He said, 'We're going to meet two guys from Splash.'

"They had arranged to wait in some bushes at the cemetery. They took pictures of Larry pretending to be sad and emotional at the grave site. Only the Splash guys weren't quite satisfied, so they asked him to do it again, and for me to get out of the picture. We did three takes. That was the first sign to me that Larry was in it for the money." When police were investigating Daniel's death, Speer says, "I was in the room when he gave the police a statement." He claims that Birkhead alleged to authorities that Smith's attorney Howard K. Stern "was wiring money from Anna's estate to offshore accounts and that he'd forged her signature." Birkhead also claimed he'd "watched Howard giving [Smith] drugs," Speer says.
[From NY Daily News]
Other allegations from the bodyguard include the already-rumored story that Larry and Howard K Stern worked out a deal in which Larry would get custody of Dannielynn while Howard would remain the executor of Anna's potential 1/2 billion estate.
He also claims to have seen pictures of Anna in bed with her new baby in the hospital – along with her son Daniel, who was already dead at the time. The picture are supposedly in the possession of a friend of Anna's.
Larry Birkhead is said to have received $600k from the photo rights to Dannielynn's first birthday, and now that he's set to get his own reality show he's not going to go away or stop making money any time soon.
A woman known for marrying an 89 year-old guy, being a ditz and flashing her boobs dies young, and she makes a handful of other people famous. We're the ones feeding this cycle by even paying attention to them. At least Larry is easy on the eyes and seems like a decent guy, even if he's getting paid every which way he can. He was working as a celebrity photographer when he met Anna, he knows how to work the tabloids.
Larry is shown at the Bourne Ultimatum LA Premiere on 7/27/07 thanks to PRPhotos. His eyes are beautiful, and if he's wearing colored contact lenses they're not that noticeable.