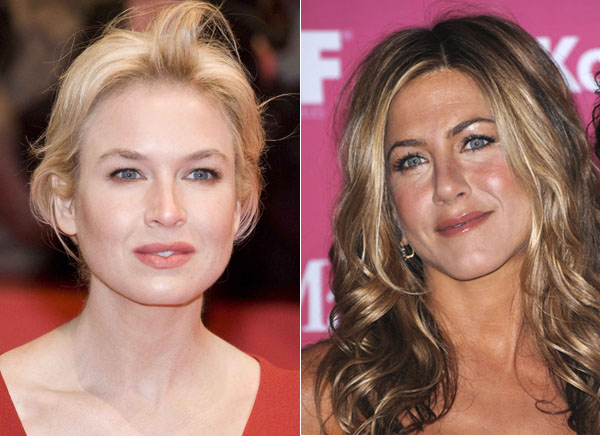 This piece of gossip was too good to pass up. It's probably total bullsh-t, but I would love it just for sheer hilarity's sake if it was true. So, everyone remembers that Jennifer Aniston went on a "date" with Bradley Cooper a couple of weeks ago. The tabloids had a field day, probably grateful that they had someone new to connect Jennifer to, and so they sort of made a mountain out of a molehill – it was just one dinner date, after all. So when Bradley Cooper had a "date" with Renee Zellweger just one week later, the tabloids threw another party, this time bashing Jennifer Aniston for being "too needy" et cetera. Only one tabloid – Life & Style – chose to go the nice route, claiming that Jennifer had her pick between Bradley and Gerard Butler.
Ever the self-perpetuating drama – because at this point, Bradley Cooper has gone on exactly two dinner dates with two different women – this week's tabloids stories are going to be taking out those pesky men that women fight over like a tube of lipstick. This week's OK! Magazine has Jennifer Aniston's "pal" being very bitchy about Renee Zellweger. The words used to describe Renee are "Needy Edie". Ha!
Jennifer Aniston has a "high school crush" on Bradley Cooper. She's not worried by the fact that he recently went on a date with Renée Zellweger — a pal says: "It looks like Needy Edie is throwing herself all over him. We joke about how Renée's face stopped moving a few years ago. I doubt Jennifer will see her as competition."
[From OK! via Jezebel]
Wouldn't you just love it? If this was really the way Jennifer Aniston and coven of goddess-circle friends really talked? Hey, it might be the case. And it's a pretty low blow to disrespect Renee's immovable face when Jennifer's face grew magical, puffy cheekbones in Marley & Me, and then she deflated.
In other Jennifer Aniston news, her dog Norman is jealous. I kid you not, this is an actual tabloid story. Jennifer couldn't bring Norman on the Marley & Me set because he would get all territorial and take issue with all of the "Marley" dogs. Yeah, that happens. Boy dogs get extra territorial about their bitches. My puppy thinks the UPS truck is trying to kill me, so he really gets upset when the big brown truck goes down the street.
Here's Jennifer Aniston and Gerard Butler on the set of "The Bounty Hunter" in NY on 7/6/09. Credit: WENN.com. Bradley Cooper is shown on the set of "Valentine's Day," which is being shot at LAX on 7/7/09. Credit: Jeff Steinberg/INFphoto.com