Ed Burns says he kissed Christy Turlington within 5 minutes of meeting her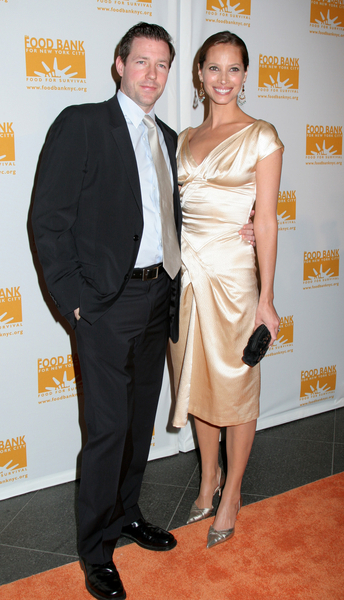 Writer/director/actor/hottie (okay that last classification isn't official) Ed Burns had some pretty clear (and uber romantic) reasons for wanting to meet now-wife Christy Turlington. He tells Best Life magazine "'We both live in New York, we're both pretty low-key, both heterosexual.'" If those are his only qualifications, he could have just as easily married me. Jerk. Apparently Turlington wasn't even interested in Burns, and declined being fixed up by mutual friends with a "'Uh, not really interested.'"
"'Friends of ours had tried to fix us up – we both live in New York, we're both pretty low-key, both heterosexual – but she was like, `Uh, not really interested,'" the 39-year-old actor-director tells Best Life magazine in its October issue. 'That did not deter me. I just wanted to get her to laugh.'

"How long did it take to build up the nerve to kiss her?

"'Probably within five minutes of meeting her,' Burns says. 'Which hurt my chances. It took her a long time to come around. But I got her good and drunk, if I remember correctly, which never hurts.' Turlington and Burns wed in 2003. They have two children."
[From the Washington Post]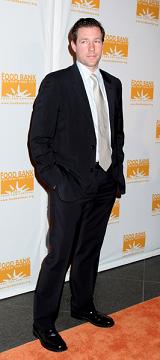 Aww, that's so sweet! What girl doesn't love her guy telling the story of how he wooed her… by getting her shitfaced. Oh well, she's a model, I'm told they live on cigarettes and celery, so I'm sure it didn't take much to get her drunk. Probably wasn't even his fault. The article also talks about Burns' new movie, "Purple Violets," and the way his career has kind of, well um, taken a nosedi… well it's pretty much sucked the last few years.
"Burns was seen as the next Woody Allen after directing and starring in 1995′s 'The Brothers McMullen.' 'I was the toast of the town,' he tells the magazine. 'All of a sudden I was semifamous. There were six-figure checks.' However, his other New York-based movies, including 'Sidewalks of New York' and 'The Groomsmen,' didn't fare well at the box office, and failed to meet critics' expectations.

"'I'd been trying to forge another version of Woody Allen's career, to the point that when I signed with ICM right after `The Brothers McMullen,' I signed with Sam Cohn, who was Woody Allen's longtime agent,' Burns says. 'The obsession ran that deep.' The idea was to stay in New York and make small dialogue-driven movies, says Burns, who grew up in Valley Stream, N.Y.

"'And I have to admit, I love most of my films,' he says. 'But at a certain point, you have to take your influence and find your own voice if you want to become a relevant artist. I don't want to explore what it's like to reconnect with old friends, what it's like to grow up on Long Island, what it's like to cheat on your girlfriend, or any of that. … I want to raise the stakes.'

"Next month, Burns' new romantic comedy, 'Purple Violets,' will become the first featured film to be released and distributed by iTunes."
[From the Washington Post]
Not to be totally bitchy to someone famous that I have a crush on, but I don't think your movie being released and distributed by iTunes really means your career is turning around. iTunes is great and relevant and helps artists make money and users save money, but don't filmmakers make the bulk of their money at the theater? No matter how poorly his last few films have performed in the box office, I have to think it'd do better than on iTunes. It's one thing when you film is released on iTunes along with DVD… but if it starts there, isn't that the equivalent of starting on DVD? I didn't think direct-to-DVD was an Ed Burns thing… it's more of a "Dukes of Hazzard 2" thing.
Picture note by JayBird: Here's Ed Burns & Christy Turlington at the 2007 Food Bank of New Can Do Awards Dinner Honoring The Edge and Jimmy Fallon in April in New York. Images thanks to PR Photos.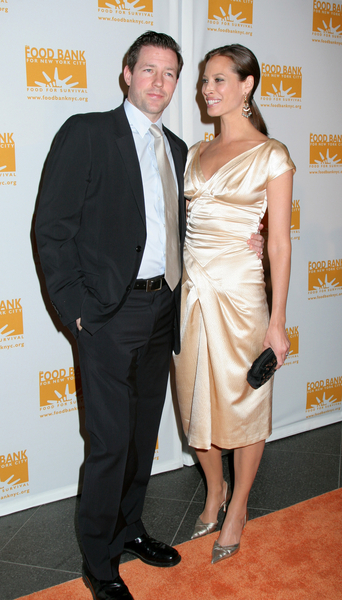 Written by JayBird

Posted in Careers, Christy Turlington, Ed Burns, iTunes, Movies

- Who butchered the National Anthem? [D-Listed]
- Rob Lowe never ages [Lainey Gossip]
- What is Vanessa Hudgens wearing? [Go Fug Yourself]
- Summer guide to reality TV [Reality Tea]
- Game of Thrones recap [Pajiba]
- Tan Mom's music video [Buzzfeed]
- Amanda Knox is broke [Starcasm]
- Backstage at the Billboard Awards [Popsugar]
- Miley is still stuck in the 90s [Popoholic]
- Blind Items revealed: Adam Levine [CDAN]
- Hugh Hefner bought Crystal Harris a house [Celebslam]
- What happened to Aimee Teegarden? [The Blemish]