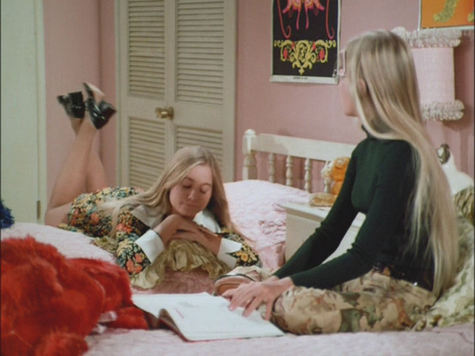 Maureen McCormick, the now 51 year-old actress who played the hot oldest sister Marcia on 70s sitcom staple The Brady Bunch has a tell-all biography coming out next year. Among the bombshell tidbits in the book is a story that she had lesbian experiences with the actress who played one of her younger sisters on the show, Eve Plumb. Plumb played plain Jan on the show, and is about a year and half younger than McCormick.
From this description it sounds like they just made out or something, but there could have been more and that's sure to sell copies of McCormick's book:
Eve Plumb as Jan Brady

As well as talking candidly about her well-documented eating disorder and drug problems in the book, TV's Marcia Brady will come clean about a romance she had with co-star Eve Plumb, who played her sister Jan on the hit show. A source tells America's National Enquirer, "The most explosive comments will be how the then-blonde, blue-eyed cutie developed a crush on Eve Plumb, which led to some sexual play. "This book will certainly come as a shocker. While Maureen is not a lesbian, she reveals there were some sexual hijinks going on behind the scenes. "It's bizarre because she played such a virginal character on the show."
[From Contact Music via ONTD]
In an 1997 interview, McCormick said she had a crush on Plumb and admitted to kissing her, saying only that "We had really good times together."
I know this isn't going to be Anais Nin style erotica or anything, but that's what I'm hoping for after hearing this story – the play by play. Kind of like those Hollywood Madam stories that came out about Ben Affleck, Bruce Willis, and Mark Wahlberg and were all too much like bad Penthouse forum stories to be true.
If anything these stories show that gay and lesbian experiences are common and are nothing to be ashamed of. It's refreshing when people like Pete Wentz come out in favor of the Kinsey scale and say that not everyone is fully on one side or the other. If there's anything that will sell a book, though, it's a hot sex story. When you're talking about young girls that were popular wholesome television stars it's even more titillating.
Both McCormick and Plumb have struggled to have acting careers after The Brady Bunch. Plumb is a talented artist of photorealistic oil paintings and has appeared on television and stage. McCormick has had less acting success with some guest appearances here and there. She was the 2007 winner of VH1′s Celebrity Fit Club, having lost 34 pounds. Now she's about to enjoy some moderate fame after sharing her young lesbian experiences with the actress who played her younger sister. I still wonder what they got up to, but I'll have to wait until the book comes out.
Maureen McCormick is shown below on 5/25/05 at the Cinderella Man premiere. Thanks to PRPhotos.