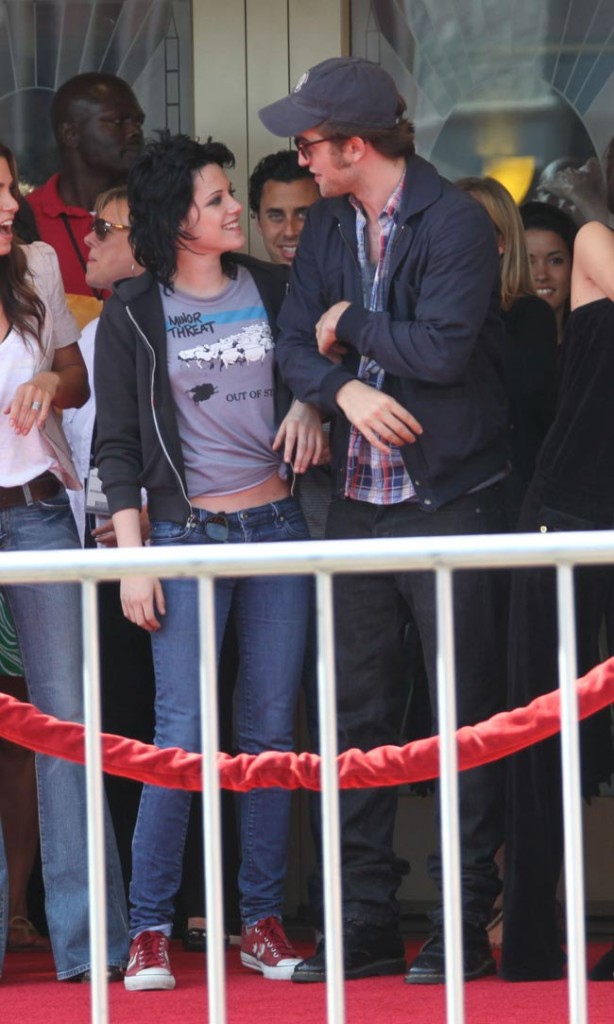 I have a confession to make – I finished reading New Moon last night. It took me a couple weeks, and at times I found the writing juvenile and annoying. I wanted to yell at Bella to sleep with Edward already, or at least make out with Jacob, and I get the fact that the vampire/werewolf angle is just a way to represent teenage sexuality, but it was too glaringly obvious and contrived. It wasn't like I couldn't put the book down, and I didn't buy it myself – my husband brought it back from a trip for me. New Moon made me kind of ache for the intensity of first love, even as I rolled my eyes at how over the top it was. That said, I do want to find out what happens next and will probably read the next book in the series, Eclipse. I'll also finally give in and rent Twilight soon, although I won't bother to read it.
Hearing R-Pattz explain his character Edward in the video above, taken during a Comic-Con press conference yesrterday morning, I have to admit I'm excited to see finally see Twilight and the much-anticipated follow-up, New Moon, out this November. Pattinson has a lot of insight into his character, and he seems perfect to play Edward. I really get his appeal and started to get a little swoony over him as he talked about Edward.
The real story in the press conference at Comic-Con is that someone asked Stewart and Pattinson about their off-screen chemistry and Stewart got visibly annoyed about it and refused to even give a bland quote. This came, ironically, right after she assured the crowd that journalists "can ask me anything."
At around 2:00 minutes into the video above, a journalist asks "please each of you tell me the one Twilight question you never want to answer again." Pattinson quips "What's it like kissing Taylor Lautner?" Lautner says he doesn't want fans to ask him to growl any more, and that they can wait for the movie. A kind of high looking Stewart assures us "You can ask me anything you want."
Then 3:00 minutes in a guy from FirstShowing.net, chimes in with "This question is for Kristen and Robert. You guys have great chemistry on film, romantically. Is there any chemistry off camera?" Kirsten rolls her eyes and mumbles something and then starts giggling and looking embarrassed when a moderator chimes in to say "We talked about that point, personal questions. So why don't we ask the next question?"
I tend to agree with Kaiser's assessment that there is some romance there, or else Stewart would have calmly answered the question with some lame statement about how they're friends or got to know each other while working together. She could have said something like "I understand that we sell magazines, but at the end of the day we're just doing our jobs. If people think there's more there, then that means we did a good job." Instead she looked shocked and then was giggling like a fool.
At the end of the press conference you can see Pattinson looking at Stewart for a moment across the table, kind of serious and concerned like "why didn't you handle that better?" Life probably doesn't exactly imitate art in this case, though, and I bet that Kaiser is also correct that Stewart isn't pining for Pattinson. If he has something going on the side with his other co-star, Emilie de Ravin, she's likely to be playing it cool without being clingy. I see Pattinson as a guy who could be semi-serious about the women he's dating, but who is probably playing the field as you would expect from someone in his position. He may have some similarities with the mature lovelorn vampire he's playing, but he's not about to get all wrapped up in one woman, as elusive as Stewart might be.
Video via Perez Hilton
Here are photos from yesterday at Comic-Con. Outdoor photos thanks to Fame Pictures. Indoor photos credit: Mavrixonline.com. The indoor photos are from a later press conference, not the one shown above.