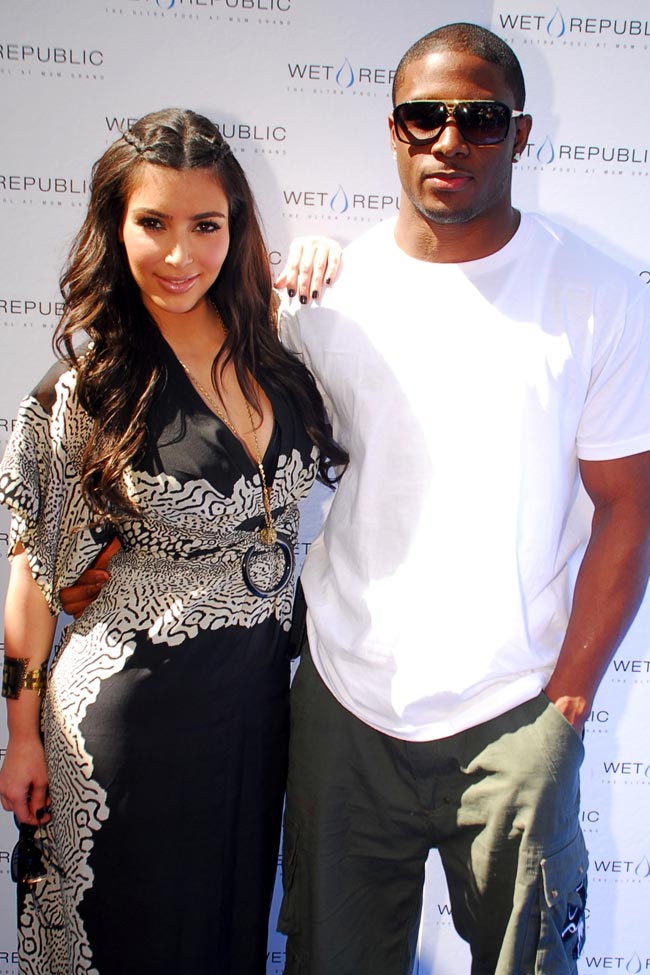 The official statement from the Kardashian camp about the breakup between Kim Kardashian and Reggie Bush contained the kind-of strange assertion "No one cheated." Usually celebrity breakup statements skirt around the issue of why the couple broke up, and if they mention anything it's usually scheduling, distance or something vague. Radar Online reports that there's a "sexy Latina model" in Miami who says she's been hitting the sheets with Reggie for months and that Kim heard about it and was "furious." We also heard the bizarre story yesterday that Reggie found sexy text messages from Kanye West on Kim's cell phone. (I wonder if they were all caps rants about his artistry.) There may have indeed been some cheating going on, if this story is true:
Now that it's over between Kim Kardashian and Reggie Bush all that's left to do is sort out what went wrong.

And while reps have officially said there was no cheating that led to the breakup, RadarOnline.com has learned exclusively that cheating charges are flying BOTH WAYS in the relationship now.

Foxnews.com broke the story that Reggie saw text messages from Kanye West on Kim's phone and "flipped out." Fox reported the messages were more than just friendly and talked about Kanye hanging out with Kim and how much fun he had.

Now RadarOnline.com has learned exclusively that a sexy Latino model in Miami is claiming she had an affair with Reggie and has been threatening to take her story public to the highest bidding magazine.

The model claimed a months-long affair that included hookups in Los Angeles, Las Vegas and Miami and included X-rated texts and phone messages.

Kim was aware of the model's charges and furious about it, RadarOnline.com learned. The model did have video of herself in Bush's house.
[From Radar Online]
While a lot of people are quick to condemn the guy in an instance like this, I'm reminded of that story from a "French model" who claimed she had a relationship with Eva Longoria's husband, Tony Parker. It all turned out to be an elaborate lie by a prostitute looking for publicity. She even convinced another woman to pose in her place, and I'm positive that it wasn't some kind of cover-up by Longoria and Parker. So now there's a "model" in Miami who said she had an affair with Reggie. Did she really sleep with him and/or will we soon be seeing her photos and pictures all over the tabloids in a lame attempt to get famous? It seems the quickest way to fame is to attach yourself to someone who's in the public eye.
Reggie seems like a decent guy, and while I don't watch that Kardashian reality show I was really impressed by a story about how he came through for Kim. She described an instance in which she forgot her passport on the plane and wasn't allowed to enter the country when she arrived in South Africa for a pro-diamond "fact-finding mission" arranged by Russell Simmons. Reggie convinced customs officials to let him go back on the plane and search for it, and he found it and brought it back to her. That doesn't mean the guy didn't cheat of course, just that he seems like he really cared for Kim and tried to watch out for her. Not many guys would do that.
Kim and Reggie are shown out on 4/8/09 in the header and 2/9/09 below. Credit: WENN.com