We were initially a bit divided as to whether married Tony Parker could be guilty of the hotel romps that were claimed by a French model. Alexandra Paressant went to paparazzi agency X17 with an amusing tale of hooking up with Parker on separate occasions, claiming that he was seeking sex outside his new marriage to Eva Longoria because the petite actress thought sperm was bad for her skin, didn't want to have sex in front of mirrors, and didn't like certain sexual positions. Paressant offered four text messages presumably from Parker and her plane ticket to San Antonio as "proof" of their relationship. Parker sued X17 for $20 million, claiming they didn't do their journalistic duty by failing to report his side of the story and not adequately checking out the woman's story.
Paressant claimed last year that Brazilian soccer player Ronaldinho performed poorly at the World Cup because he was busy bedding her and playing Playstation late into the night. Ronaldinho also sued her for that claim, and while I initially thought that he had actually dated Paressant the real story is that, like Parker, he's never even met her. She called Ronaldinho constantly, though, pestering him and threatening suicide. She also seems to not be a real model and to be using another woman's pictures and passing them off as her own.
Dana Kennedy at The Huffington Post investigated the story and concluded that all of Parressant's claims about both Parker and Ronaldinho were fabricated. In fact she found that many of the photos on X17 were of German model Hana Nitsche, a second runner up on Germany's Next Top Model's second season.
There are two different videos of a woman who is supposedly this Paressant person on X17, and she looks an awful lot like the German model mentioned in the Huffington Post article, Hana Nitsche.
It turns out that all of the videos and photos were of Hana Nitsche, not this Paressant person, who no one has ever seen, and that Paressant tricked Nitsche into recording the videos and sending the photos to X17 in an elaborate ploy. Nitsche told her story to the German press in which she revealed the plot: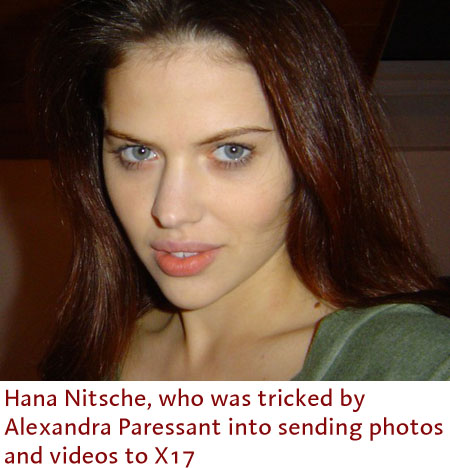 The 22 year old [model, Hana Nitsche] said that some time ago she was contacted by Alexandra Paressant. "A couple of days ago, she called me again. [She said] I should send her a video." It was meant to be a casting video. "She gave me the text. She claimed it was about a love movie. I should recite the given sentences. Of course I didn't know which Tony it referred to."
[From De.News.Yahoo.Com, roughly translated by my husband]
So some model was tricked by a woman no one has ever seen to claim that she had an affair with Tony Parker. As Crazy Days and Nights reports, it's not likely that Parker's lawsuit against X17 for reporting the story will be successful. The woman initially appeared to be believable given the "evidence" she offered and the videos, which weren't even of her. I would like to see what this Paressant person really looks like as she's led away in handcuffs and/or sued into the ground by Parker and Longoria. They aren't my favorite celebrity couple, but when weirdos target people like this they need to be made examples of.
Update: Josh Robertson at The Playboy Blog notes that he found out this woman was a fraud who was using models' photos and passing them off as her back when she tried to smear Ronaldinho. She either has an accomplice or another pseudonym and is running a scam where she uses the Internet to make her claims seem legitimate. As to what her motivation may be, here's a NSFW link found by the Playboy Blog. It's to a French escort agency site for the services of a prostitute named "Alexandra Paressant."