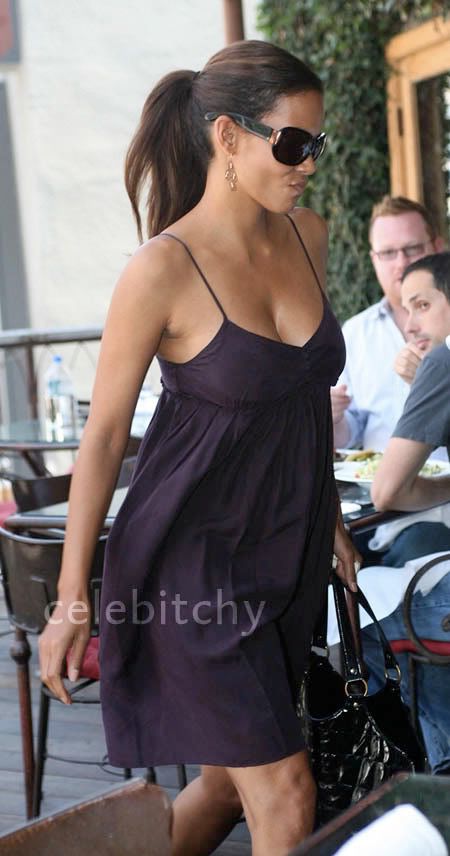 I've never been pregnant, so I don't totally understand all the hormones that go into it – but I was kinda surprised to hear Halle Berry tell Oprah that she already wants another baby. You haven't even popped the first one out girl! You're three months pregnant, aren't you still throwing up and craving tacos? I'm so confused. I had a friend who's pregnancy mantra was something about wanting to "evict her little passenger" – and I gotta tell you, that makes a lot of sense to me. I understand wanting more eventually – but Halle must really be overdosing on the oxytocin if she's already ramping up for more pregnancy.
"Halle Berry says she and her boyfriend, Gabriel Aubry, tried and tried and tried to get pregnant. 'So there was a lot of staying home and doing what you do. Like, all the time, around the clock,' the 41-year-old Oscar-winning actress said Tuesday on 'The Oprah Winfrey Show.' One negative pregnancy test followed another, 'and finally, after about 35 tests, we finally got a positive test,' Berry told Winfrey in one of her first interviews since announcing last month that she was expecting her first child with Aubry, her boyfriend of two years.

"Berry, who is about three months pregnant, told Winfrey she doesn't want to know the sex of the baby. 'There's so few genuine surprises in life anymore that, why not have a huge surprise?' she said. ;And I like fantasizing one day it's a girl, one day it's a boy.' Berry won the best-actress Oscar for 2001′s 'Monster's Ball.' She also won an Emmy and a Golden Globe for 1999′s 'Introducing Dorothy Dandridge.'"
[From the Washington Post]
And how does Berry know all about being a mom? From acting. I'm not sure that's the greatest indication of motherhood, but then again if never been an actress or a mother, so what the hell do I know.
"She said playing a mother in her latest movie, 'Things We Lost in the Fire,' helped convince her that motherhood was for her. 'I think it validated that I was meant to be a mother because every day I dealt with the character as a mother and thinking as a mother,' Berry said. 'It let me know that I must be a mother.'"
[From the Washington Post]
Again, I'm not a mother, but something tells me it may be a little different when no one calls "cut" and someone from craft services doesn't come over and offer Halle a plate of pickles, mustard, and Cheetos. [That joke was funny because women crave weird things when they're pregnant. Alright that joke wasn't funny]. Halle says she and boyfriend Gabriel Aubry don't have any plans to marry. She seems a little jaded after her last two crappy marriages, not that I blame her.
"Berry said she and Aubry don't plan to marry, but feel fully committed to each other. 'I feel more married, in a way, than I ever have in two marriages before,' she said. 'He really understands the spiritual connection is so much more important than the paper and the pomp and circumstance and the ceremony.' But Berry said there is something she and Aubry are sure to do: try to have another child. 'There's just one right now,' she said. 'But we're hoping, right after this one, to do it again.'"
[From the Washington Post]
Well if absolutely nothing else, they will have shockingly gorgeous children. Shiloh and Suri need to look the hell out, because I'm pretty sure the Berry-Aubry baby will be in a league all its own. Stupid cute babies, making me want them. Damn it, there will be no more baby posts after this one.
Picture Note by Jaybird: Here's Halle Berry in L.A. on August 22. Images thanks to WENN.