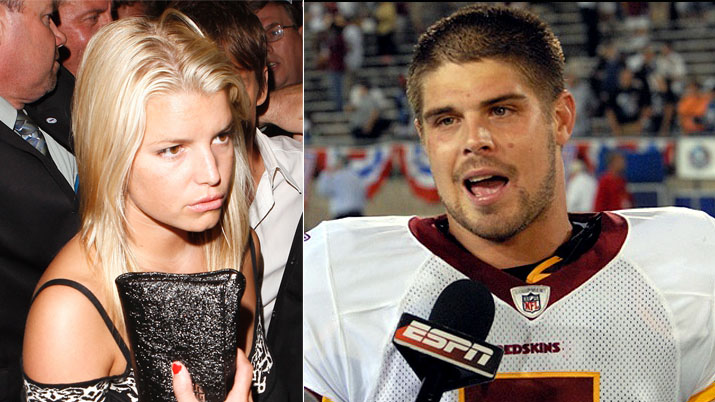 There's an juicy inset story in Star's article this week about Jessica Simpson's supposed planned tell-all book about her love life. According to Star, Jessica has been cyber flirting with a player for the Washington Redskins who's described as the archenemy of Jessica's ex, Tony Romo! Apparently quarterback Colt Brennan initiated the relationship and Jessica is more than happy to reciprocate now that she's single. From what Star is reporting, it hasn't gone behind remote communication yet, but Colt sent Jessica football tickets and hopes she'll show up to one of his games.
Game on! Jess is flirting her way to a romance with ex Tony Romo's archenemy – Washington Redskins quarterback Colt Brennan! "This is a huge stab in the back for Tony, because the Dallas Cowboys and the Washington Redskins hate each other," a source tells Star. "Jessica must really want revenge!" Colt, 26, began chasing Jessica back in July with sexy e-mails and text messages. The pair even set up webcams so they could chat face-to-face through their computers. And now, "Colt sent Jessica tickets for his Sept. 13 game against the N.Y. Giants," the source adds. "And on July 31, Colt FedEx'd her a Redskins jersey. If she wears that jersey to the game, you know it means she's playing rough!"
[From Star Magazine, print edition, August 24, 2009]
I hope this is true and not just wishful thinking by Star. On the other hand, they make it sound like this guy is motivated out of an urge to get back at his rival, not because he's genuinely interested in Jess. Maybe he knows what he's getting into though, and really wants to date her. Simpson is definitely a loyal girlfriend who will stick with a guy and try to please him. There are plenty of guys who aren't intimidated by that and find it endearing. Nick Lachey, for instance.
Speaking of Nick, The National Enquirer has an amusing story this week that Jessica called Nick (it sounds like a drunk dialing situation) and got shot down. This is pretty similar to a story that ran in Star three weeks ago, only in their version Nick and Jessica actually had lunch before Nick told her he wasn't going to give their relationship another shot.
Giddy with excitement, Jessica phoned Nick – who claims in interviews they haven't spoken in two years. "Nick was stunned to hear her voice," said one insider. "It was awkward, and he didn't really know what to say. After about 15 minutes of pleasantries, Jessica finally got up the nerve to ask if they could get together for a drink." Then, just like Tony Romo, Nick drop-kicked her heart! "He was very to the point – and Jessica just wasn't prepared for it. He said he was sorry about her breakup with Tony, but getting together for a drink, dinner or anything at all was not in the cards for him – now or ever." Stunned, Jessica sat speechless as Nick added gently: "It's best to leave things as they are."
[From The National Enquirer, print edition, Mike Walker's column, August 24, 2009]
I feel sorry for Jessica, but she has good friends and family and she'll get through this. Maybe she'll be out with a new boyfriend again before long, but I think she should wait a while and make sure she's happy on her own before jumping into another relationship.
Jessica Simpson is shown out with her hairdresser, Ken Paves, on 8/5/09. Credit: WENN.com. Colt Brennan is shown in 2008, photo via his website