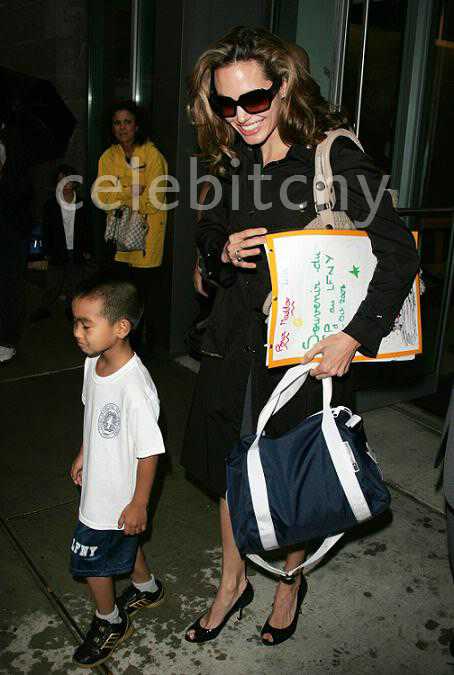 I like Angelina Jolie and Brad Pitt well enough, though I don't think they're the second coming like a lot of people, but they're pretty good, especially as celebrities go. The two have constantly said that their kids are the center of their lives, and considering how many of them they're racking up, one would hope it's true. Yet they haven't curbed their jet setting lifestyle or established any type of clear home base for the kids, and that's kind of worrisome. Most people agree that kids thrive on routine with a little variety thrown in, and not the other way around. After a just a little over a month at his new school, Maddox has been taken out of Lycee Francais de New York. Angelina is filming a new movie in Los Angeles, so the family is now heading there, and the kids are being yanked around again.
"After a little over a month, Maddox Jolie-Pitt, 5, had his last day at his $18,000-a-year Lycee Francais de New York in NYC yesterday, walking out with a goodbye card as a souvenir as mom Angelina Jolie escorted him home. This is at least the fourth school change for Maddox, who has also been a student in New Orleans, Prague, and L.A.

"Since the oldest member of the Jolie-Pitt brood started classes on September 4, his stay had caused a frenzy. Parents began crowding the school in the morning, taking pictures. The Lycee's director of operations, Dan Cooke, even penned a letter September 14, urging them to respect the family's privacy.

"The next stop for the Brangelina clan? L.A.! Jolie begins shooting the Clint Eastwood mystery The Changeling on Monday, while Brad Pitt will start production on the crime thriller State of Play on October 22."
[From Us Weekly]
It's hard to say if it would be better for the kids to have one home base and see their parents less, or if they should have tutors that go with them everywhere so their educations aren't disrupted, or if bouncing from school to school is the best option. None of the options are really ideal. I just remember how the new kids in school were always treated as outsiders and a little weird – now imagine you're the child of famous parents, and you're the new kid a couple times a year. That's got to make it hard to make friends and feel like there's people you can trust. I really don't think it's fair to tell people not to care about their careers, but I think that if you're going to have kids, you need to be willing to sacrifice a bit. Having to leave a new school after just a month makes it seem like the only sacrifice is coming from Maddox.
Picture note by Jaybird: Here's the goodbye card given to Maddox by his classmates today on his last day of school. Images thanks to Splash Photos.