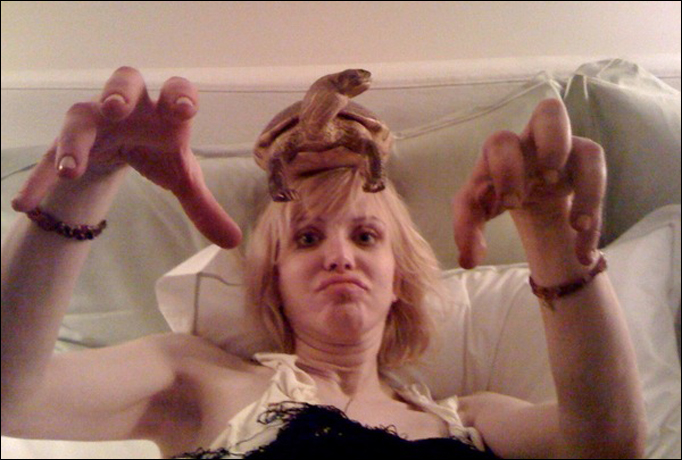 In case you ever should wonder to yourself, "Hey, is Courtney Love still batsh*t insane?" the answer is yes. And frankly, you should assume that's always the case, until given multiple instances of non-crazy behavior on her part. Last night, Courtney was bored, so she hopped on the internet. What do you and I do to kill time online? Probably check some email, do some Facebook stalking, and move on to one of those games with jewels. I clearly don't play games. Anyway, Courtney does the next most rational thing online: post pictures of herself. Not crazy in and of itself. Until you see that her pictures are of her in bed with a tortoise. Or a turtle. Not sure, but I know I'm not okay with it, even if it is a stuffed animal.
JUST when I thought COURTNEY LOVE couldn't get any more bonkers, she goes and posts a picture of herself in bed with a TURTLE on the web.

The HOLE rocker has taken to her Twitter account today to give fans a glimpse into her life between the sheets.

And while Courtney's admirers will be pleased to hear it doesn't involve a man, they may be more than a little disturbed to see the singer – who previously dated NOEL FIELDING – turning to a tortoise for some bedroom action.

Hmmmm.

Continuing her wacky streak, Courtney has said her new album will sound like "giant black pyramids".
[From the Sun]
Well, we all have our own way of dealing with loneliness. I cuddle a pillow, sometimes possibly pretending it's Anderson Cooper. Some people have a stuffed animal, which I don't really understand for adults, but whatever works for you. Courtney's got a turtle. Which, if it weren't for that second picture, I would absolutely insist was real. But I mean, this is not a cuddle stuffed animal. He's way too small for that. This is more of the "I sliced open his belly and hid my heroin inside him" kind of stuffed animal. Must be why she likes to keep him close by.
I'm hoping Courtney's album is done soon and she gets good reviews. I think it'd be nice to show her that people will talk when she does something right just as much as when she does something weird. And sure, there are a lot of bizarre photos out there on the internet. But I still find this one of the most unsettling.
Still, this is definitely the least dangerous thing Courtney's done in a long, long time.
Pictures thanks to Courtney Love's Twitter.