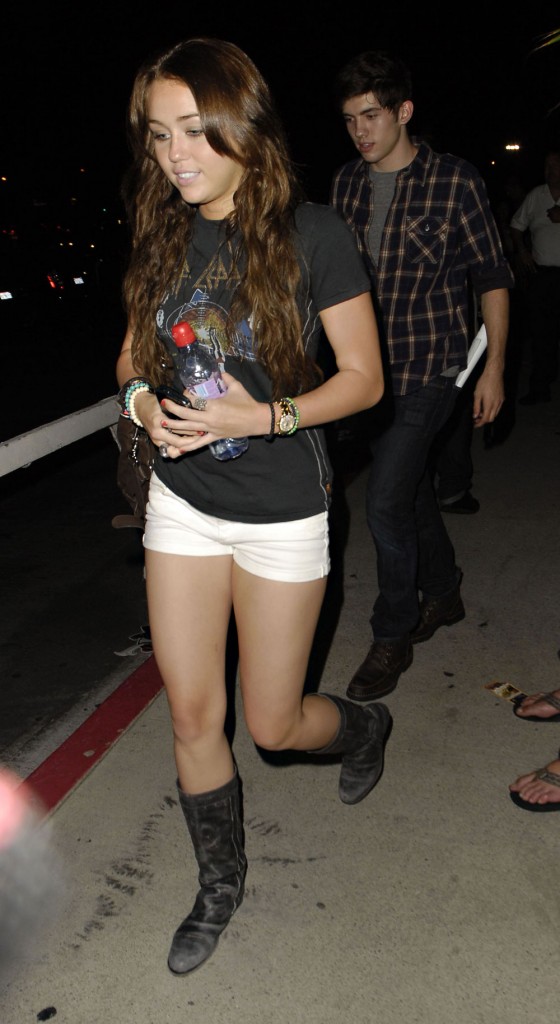 I have a tortured relationship with Miley Cyrus. On one side, I think she's a little sanctimonious, self-absorbed brat and casual racist who has a sketchy, screwed up idea of what is appropriate sexuality for a girl her age. On the other side, I feel for the girl. Throughout the past few months, she's seemed to be trying harder to show a bit more intelligence, and I do think that some of her shenanigans are just the kind of things normal teenagers are doing, just not with white-hot media spotlight focused on them. I also thing part of Miley's deal is that Billy Ray Cyrus is douche who tries to be her friend and her manager rather than her father. While I sincerely hope a Britney Spears-style breakdown isn't in Miley's future, I think it's a possibility.
Anyway, throw another too-much-too-soon log onto the fire, because it seems Miley is dating multiple guys all at once. Last week Jaybird reported on Miley's makeout session with her Last Song costar, hottie Liam Hemsworth. Now it looks like Miley is dating an ex named Carter Jenkins. Apparently, Miley dated Carter just before she went out with 20-year-old Justin Gaston (who her dad set her up with):
The last we heard about Miley Cyrus' dating life was less than a week ago. She was reportedly spotted sharing a kiss with Liam Hemsworth, her onscreen love interest in the upcoming flick The Last Song.

But I'm told whatever the two may have had going on, it was nothing serious.

In fact, not only did the movie wrap this weekend, but within a couple of hours of landing back in L.A. from the Savannah, Ga., set, Ms. Miley was on a date with a new guy.

Well, not so new…

The 16-year-old starlet went to the Kings of Leon concert with Carter Jenkins, 17, an actor she briefly dated before former underwear model Justin Gaston.

Shortly after Miley and Carter arrived for the star-studded show, I'm told security escorted them to join Justin Timberlake and Jessica Biel in the best seats in the house—the technician's booth!

Later, the foursome was spotted going backstage for a VIP afterparty.

Carter tweeted after the concert, "KOL killed it. Awesome show & very fun night with MiCy @mileycyrus."

Carter is currently filming the celeb-filled Garry Marshall film, Valentine's Day. Cyrus will soon start shooting a new season of Hannah Montana.
[From E! Online]
I tend to think this is one of those times where if Miley wasn't a global superstar, no one would care. She's 16 years old, she's very pretty, of course she's going to date a bunch of guys. And who knows? Carter could just be a friend. I actually find this hilarious – because I've noticed there has been very little gossip about Miley and Nick Jonas lately. So much for perfect, virginal Disney love. Miley needs more than that. And I can't blame her – the Jonas boys are as sexy as wet noodles.
Miley and Carter are shown at the Kings of Leon concert on 8/22/09. She is shown out with her sister, mom and friend getting her nails done and getting coffee in Burbank on 8/23/09. Credit: RIV/Fame Pictures. Carter Jenkins is also shown on 4/29/09 at a screening of X-Men: Wolverine