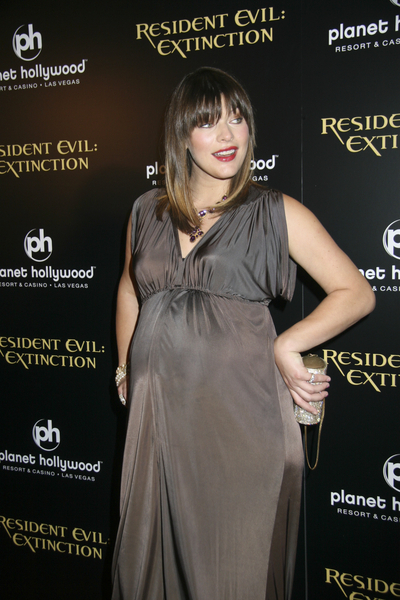 You know how Halle Berry makes pregnancy sound like it's all sweetness and light? Like morning sickness is awesome, and chimichanga cravings are the height of happiness? Well Milla Jovovich is the flipside to all that happiness. The model and actress has had some incredibly frightening cravings since getting pregnant.
Pregnant Milla Jovovich has been craving bone marrow. The 'Resident Evil' actress – who has gained 70lbs since falling pregnant with her first child with fiancé director Paul W.S. Anderson – was in Paris when she experienced an overwhelming desire for "the leg of a cow".

She told Britain's Grazia magazine: "I was craving bone marrow one day, and I scoured the whole of Paris searching for the leg of a cow. When I finally found what I was looking for, I cut it in half, digging out the yellowish substance, slathering it all over bread."

The Ukrainian model, who is expecting a girl, has developed a new relationship with food since falling pregnant. She said: "Before I got pregnant, I really didn't care about food. I saw it as fuel, not something to sit down and enjoy. As an actress and model, I lived on cigarettes and coffee, and jet-lag tended to kill off any appetite I had. My diet for most of this year has been – for breakfast, four eggs with bacon, toast and butter, if I was at home. Then if I was at a diner, I'd have a Mexican omelet, a stack of pancakes and strawberry milkshake.

"I'd stuff myself with cookies all morning – whatever was in the cupboard really – then I'd have a box of Krispy Kreme donuts for dessert. And I once ate two whole packs of coffee cake in one sitting!"
[From Hollywood Rag]
That is truly disgusting. I had a pregnant friend who craved sea sponges. I don't think she ever gave into it (at least as far as she would admit) but she told me that she had to take the sponges out of her shower because she wanted to eat them so badly. Yeah, bone marrow is bad, but sponges are just f*** up.