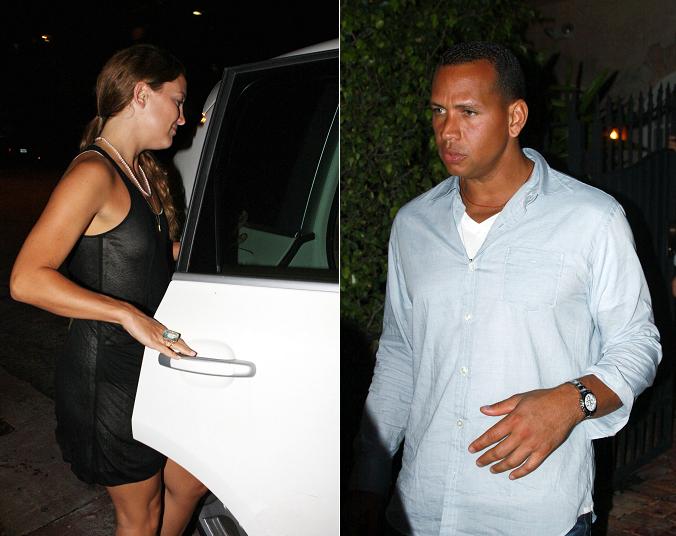 Kate Hudson is notorious for moving too quickly in relationships. If the speed of light had its very own separate speed of light, it'd be that fast. The speed of light squared. Okay physics jokes don't really work for me. You get the point. So it's come as no surprise that Kate and boyfriend of five months Alex Rodriguez are already living together. Well… according to In Touch. In Touch plays it pretty fast and loose with the truth. So I'll go ahead and let you read their article (and its title – very important key to the puzzle), then we'll work through this together.
"Kate & A-Rod Move In Already!"

Kate Hudson is shacking up with New York Yankees star Alex Rodriguez! "Kate's always at his New York apartment, even on the days when he's on the road. She's made herself quite comfortable in his life.

She's met his oldest daughter and her son likes Alex," says a friend of Alex, 34, who has two kids with ex-wife Cynthia and has already hung out with Kate's 5-year-old, Ryder. "Kate has become very serious about him."

And she's ready for the next step as well: Even though the couple has only been dating for five months, Kate, 30, is hearing wedding bells. "Kate seems to feel that she's the next Mrs. Rodriguez," adds the insider. "But it's unlikely that it's headed toward marriage for him. He's taking it slow and seeing where it goes."
[From In Touch]
So you probably noticed that despite they "moved in together" title, In Touch's own article says that she's just spending a ton of time at his place. Being at his apartment all the time is very different from moving in together. Her being there when he's not isn't the same thing. They made no mention of anything official in terms of a change or living arrangements, and in fact they mentioned that A-Rod is "taking it slow." I know we're all keen to rush to the "Kate Hudson makes bad relationship decisions" stories, but all-out inventing stuff seems unnecessary. Nothing in "In Touch's" article makes it sound like they're living together – it just sounds like the magazine made a big leap. And if Kate and Alex really are officially cohabitating, then In Touch sure didn't do a great job of making that clear.
Either way, yes, Kate Hudson moves too fast! But this doesn't really seem to be a great example of it.
Here's Kate reacting sourly to the flashes of photographers in NYC on Sunday. Images thanks to Fame Pictures .