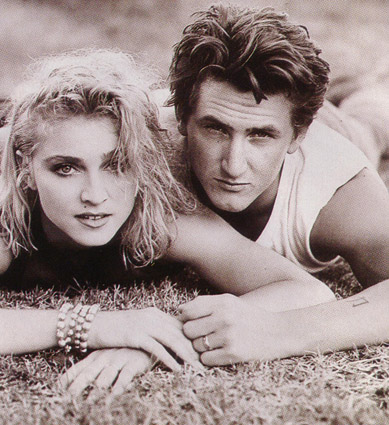 Would you want to live in a world where Sean Penn and Madonna were hooking up again? Or worse, actually had feelings for each other? I know, I shudder at the thought. Each of them are sort of volatile in their own way. And while I'm too young to remember their marriage, the very idea of it sure sounds like a bad one to me. But according to In Touch, that's exactly what's about to happen. You see, Madonna is now single. Sean Penn is now single. So naturally, they're going to get it on. It is a statistical inevitability.
Now that Sean Penn's wife, Robin Wright, has decided to divorce him once and for all, the actor has turned to a familiar face for comfort — ex-wife Madonna! A friend says Madonna, 51, and Sean, 49, have stayed in touch since having cocktails last November at New York's Greenwich Hotel and have helped each other through their respective splits (she divorced Guy Ritchie in 2008). And though she is casually dating Jesus Luz, "Madonna still considers Sean her soulmate," her friend reveals. "It's highly possible that she and Sean will somehow get back together now that they'll both be divorced." The volatile pair were married from 1985-1989.
[From In Touch]
Here's the thing: while a potential relationship strikes me as a disaster waiting to happen, it could also be perfect. I mean if you think of the worst things that are said about Madonna and the worst things that are said about Sean, they're pretty similar. In a way, they deserve each other. As punishment for being controlling, overbearing, manipulative… I could keep going. But I think since their marriage they've each gravitated towards submissive partners that they could dominate and control. That certainly wouldn't be the case if they were to date each other again.
And while I ride In Touch for taking some big leaps with their reporting, Madge and Sean are definitely still friendly. Remember that story about him texting her after he kissed co-star James Franco in "Milk"? "'I just popped my cherry kissing a guy. I thought of you. I don't know why.'" If that doesn't say "permanent love bond," I don't know what does.