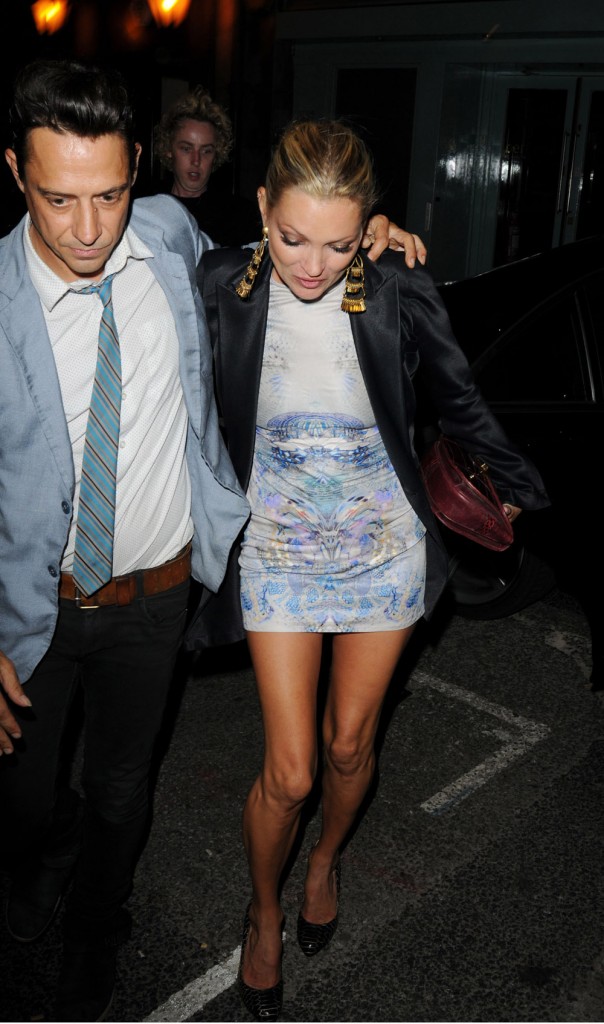 Kate Moss is really outdoing herself. After her 2005 cocaine scandal, you'd think she'd have toned down the partying. Not so much. If anything she's letting loose more than ever – or we're just all more aware of it. Last night Kate embarrassed the living daylights out of herself at the GQ Awards in London. The host, James Nesbitt, made a little joke implying he'd had sex with Kate after she presented an award to Lily Allen and had just left the stage. And it was really raunchy too. So filthy I can't believe I'm going to quote it here: "''Kate Moss has still got it. Well, she should do, I gave it to her just before she came on stage.'" I know, what a filthy perv! Kate, being the calm, rational person she is, reaction with a cool and level head. And by that I mean she freaked the hell out and truly embarrassed herself.
It was meant to be harmless, but a cheeky joke from the presenter at an awards ceremony last night led to Kate Moss throwing one almighty tantrum. The supermodel stormed out of the GQ Awards in true diva style after host James Nesbitt cheekily implied to the audience he'd had intimate relations with her. Minutes later she was seem flouncing out of the backstage interview room and barging past Lily Allen, uttering: 'He's so****ing rude,' before adding that she would 'never come to one of these ****ing award ceremonies again'.

Unfortunately for the 35-year-old her exit was caught on camera by a television crew who were filming rap star Dizzee Rascal and Lily at the time. Lily, who Kate had earlier presented the Woman of the Year trophy to, could only manage a nervous giggle as her friend headed for the exit. An irate Moss was then seen re-emerging and demanding someone find her lipstick which she had mislaid in her temper.

The dramatic scenes were sparked after Kate and Lily left the stage and Nesbitt then told the audience: 'Kate Moss has still got it. Well, she should do, I gave it to her just before she came on stage.' After some muted laughter from the awards show guests, he added: 'What? I'm talking about my telephone number.' As she left London's Royal Opera House, she was pictured being bundled into a taxi, propped up by rocker boyfriend Jamie Hince.

… It paved the way for what turned out to be an embarrassing night, which saw her launch herself into an impromptu pole-dance at the back of the Royal Opera House after arriving late for the event…As she wrapped her slender figure around a column at the venue, she danced to the music and slipped off her black satin jacket, which caught on her wrist and dragged on the floor. While doing her routine her Alexander McQueen mini dress rode up and she narrowly avoided flashing her underwear.
When she joined Lily in the winner's room to celebrate the singer picking up the Woman of the Year trophy, she looked like she would rather be elsewhere. Clearly having sat though 20 winners collecting their awards and making their acceptance speeches had proved rather tiresome for the mother-of-one. Earlier she admitted 'being terrible at these things' before presenting Lily with her award on stage. As Lily smiled for photographers clutching her trophy, Kate leaned on the backdrop and let her head roll back.
[From the Daily Mail]
I usually don't say this about them, but the Daily Mail has done quite the epic bit of reporting in terms of Kate's embarrassing past. The whole article is ridiculously long and filled with so many anecdotes about her inappropriate behavior, I wouldn't even know where to begin. I have to give her credit for this: Kate's interesting. I know that sounds like a really blah comment, but think how dull she seemed when she was at the height of her fame. All those bones and vacant eyes. I'm sure none of these problems are new, but she sure isn't bothering to hide them at all and it's all sort of spectacular in its sadness.
I know this seems like sort of a leap, but has anyone ever thought about discussing… you know… rehab with Kate? Shock! I don't think it could hurt things much. Though to be fair, Kate doesn't seem to think she's got any sort of problem, so it'd probably be a waste of time. She can keep stumbling around awards shows angrily looking for her lipstick. I'm sure she'll stumble back onto the runway eventually.
Here's Kate and Jamie Hince leaving the GQ Men Of The Year Awards in London last night. Images thanks to WENN.com .