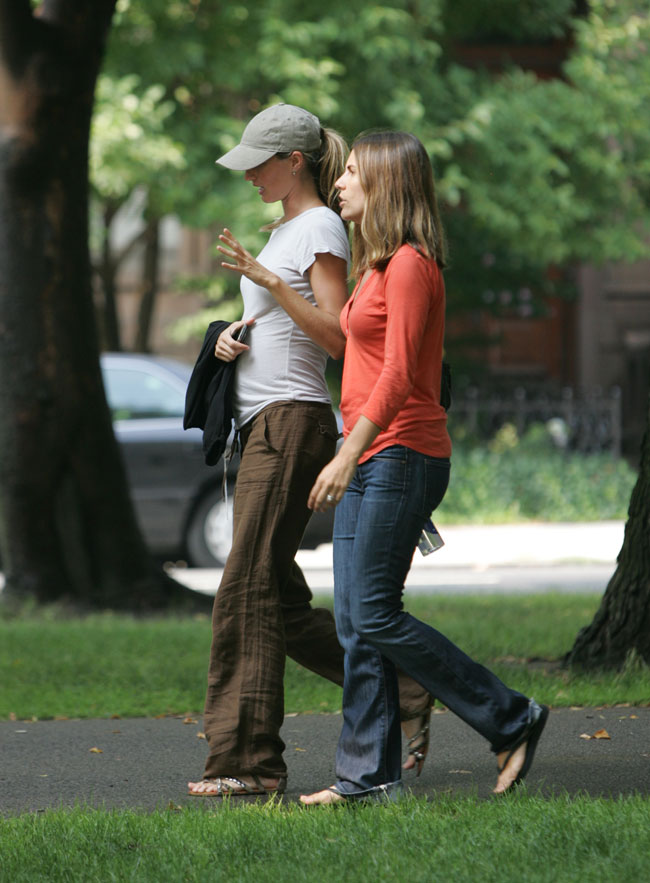 Tom Brady spent Gisele Bundchen's first trimester denying she was pregnant, and saying weird things like "One [child] is enough." Yikes. But shortly after that, People Magazine confirmed Gisele was pregnant although they didn't get any quotes from Tom or Gisele. Tom got on board quickly, telling a magazine "I want a lot of kids. I'd love four or five." But he also seemed to dismiss the idea of an idealized version of marriage, fatherhood and the suburbs, saying "Life is not living in the suburbs with a white picket fence. That's not life. Somehow our American culture has made it out that that's what life needs to be – and that if it's not that, it's all screwed up. It's not. You go through life and you try the best you can."
Tom has now finally confirmed Gisele's pregnancy in an interview to ESPN over the weekend. He also confirmed that the baby is due in December, which means that Life & Style was right for once. Tom sounds like he's being really supportive of the whole deal, except for one thing – he told Gisele "no Sundays" for Lamaze class:
Tom Brady is finally talking about the good news: wife Gisele Bündchen is, indeed, pregnant.

In an interview with ESPN's Chris Berman airing Sunday on SportsCenter and Monday Night Countdown, the 32-year-old New England Patriots quarterback reveals that the couple – who married earlier this year – expect their baby-on-the-way in December.

While Brady said he would happily attend Lamaze classes with Bündchen, he will do so with at least one caveat: "I told her no Sundays," he joked. "It couldn't be harder than training camp, so I'll be prepared."

Noting that "the women are the ones who have to do the work," he adds, "We just have to be there to support them and so it'll be nice to do that."

Their child will be the first for Bündchen and the second for Brady, who is already dad to 2-year-old John Edward Thomas with ex-girlfriend Bridget Moynahan.
[From People]
I don't think it's that big a deal. Some reported (incorrectly) that Tom's "no Sundays" comment was about how Gisele shouldn't give birth on Sunday. If he had said that, I would be calling him a jerk. But I think he was just making a half-joke about his schedule, and obviously, if the baby comes on a Sunday, so be it.
Gisele Bundchen is shown out in Boston on 8/20/09. Credit: INFPhoto.com