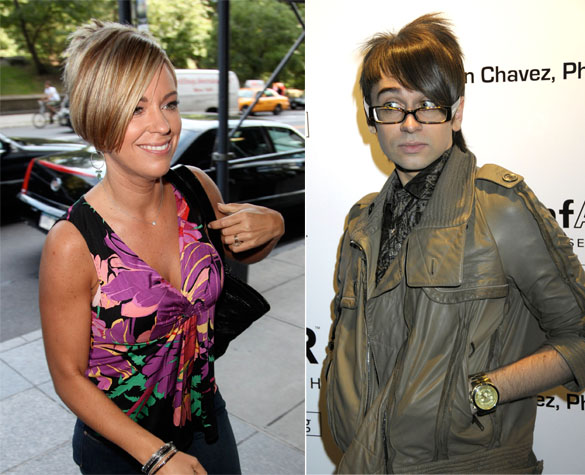 I hope many people remember the stylish woodland diva elf known as Christian Siriano. He won the fourth season of Project Runway, and he was known for his flawless designs and his habit of calling things, people and situations a "tranny hot mess". We just got a pleasant reminder of Christian when he decided to mouth off about Kate Gosselin. Christian think Kate is trying to "rock" his look and his hair – which is sort of true. He claims there are "many women" who are obsessed with his hair style and want it for their own, which he totally gets: "It's cute. It's fun…it is a lot of look." My favorite part is when Christian is asked if he liked Jon & Kate Plus Eight. Alas, he didn't declare Kate a "tranny hot mess".
Kate Gosselin's hairstyle is fierce! Project Runway winner Christian Siriano admits to sharing a similar assymetrical coif with the Jon & Kate Plus 8 star.

"Is she trying to rock my look?" Siriano, 23, quipped to Usmagazine.com at the Payless Fashion's Night Out event in NYC Thursday. "Oh my god. It's cute. It's fun."

He admits that the haircut — which he joked is the new 'Rachel,' after Jennifer Aniston's popular '90s Friends 'do — is most popular among women.

"I understand, personally, it is a lot of look, but you know what is so funny is I know so many women who are literally obsessed with that hairstyle," he told Us. "It's crazy."

Still, he doesn't know if the look works for Gosselin.

"It's crazy because if she was a real person, which at this point, now she is not, then I think it is a cool, cute look," he told Us. "If she really was an everyday mom, I think I'd be like, 'Oh lady, look at you, you look fabulous!' Now she needs to up her game."

Siriano also admitted he doesn't like watching the TLC show.

"No. I am not a fan," he says. "Like, I can't say that because what am I a fan of? 'I loved that episode where you yelled at your child for four hours!'"
[From Us Weekly]
He's so cute, I adore him. He can do no wrong in my book. Kate, on the other hand… not so much. Kate's still on her damn, "I'm such a victim" media tour, even trying to get some headlines yesterday when everybody was concentrating on other things. Kate was filling on The View, and she used the opportunity to bitch and moan some more, this time about Jon Gosselin's Good Morning America interviews where he called Hailey his soul mate, and all of that.
Kate confessed she had a "meltdown" over the weekend, saying "I'm not (going to) lie, it's difficult… For the sake of my children I am going to continue taking the high road because it's the only road for me. It is not easy. I melted down over the weekend in the privacy of my own home. I melted down." For f-ck's sake, are we still pretending that Kate has ever taken the "high road"? Oh, but wait! Kate compares her "meltdown" to Serena Williams' epic tantrum at the US Open! Kate said, "I think the important thing here is that she's in the public eye…We're all human." Bitch, please. I'm going to go out on a limb and say that Serena Williams and Kate Gosselin have literally nothing in common. One is a professional athlete who had a bad day – the other is a nasty piece of work who doesn't have anything to offer than a pathetic victim card.
Speaking of, Kate continued, "Let's face it, I have to support my children…I'm a single mom and now more than ever I need to be out there working hard. It comes with a price. Every job that everybody chooses to do comes with a price. My focus is supporting my family and children and whatever way that comes, in a healthy way, I'm gonna do it…I'm essentially doing it by myself, and I'm going be responsible." Shut. It. Has Kate ever "worked" a day in the past ten years? I mean, really worked? Like, was she ever a waitress or a maid or something? Fine, I'll say it: Kate Gosselin is a tranny hot mess.
Christian Siriano is shown on 6/11/09. Katie Gosselin is shown on 9/14/09. Credit: WENN.com