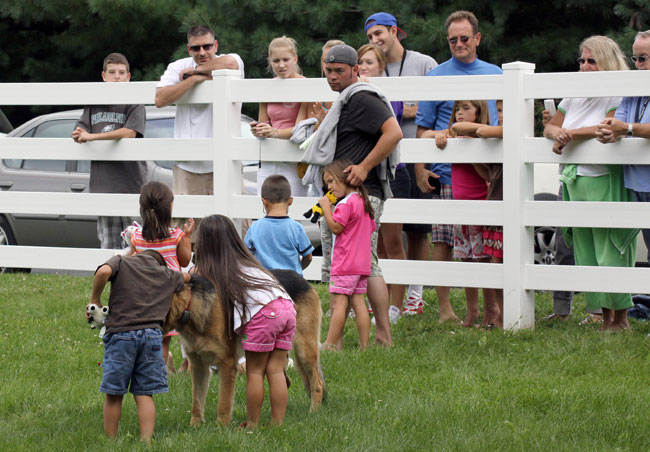 Jon Gosselin gave his two German Shepherd dogs back to the breeder, and is rumored to have blamed his estranged wife Kate for it. His supposed justification for giving away the dogs is that Kate doesn't take care of them when he's not there. Jon Gosselin has enough money to buy $1,000 shoes. Can't he hire someone to walk and feed the dogs for him when his wife has custody of the children? No, he has to make an already-difficult divorce more traumatizing for his kids by taking away their pets. It's all about Jon and how he was wronged. The guy probably doesn't have any friends, ex-lovers (shudder), or family he can trust to care for the dogs, but he can surely hire a pet sitting service if he wants to keep them. Instead, he had to make the pitiful point that his wife won't let him keep his beloved pets. He is such a piece of work:
Okay animal lovers, divorcing a spouse is one thing, but getting rid of your dogs is quite another. Jon Gosselin is sending his two German Shepherd's back to the breeder as part of the fallout from his divorce from Kate.

While the eight Gosselin children are staying in the family's Wernersville, PA home, their parents are splitting time there, trying to avoid disrupting the kids' lives but also not wanting to be around each other.

Now, Shoka and Nala, the family dogs are being discarded and Jon has been telling pals it's Kate's fault because she won't take care of them when he's not at the house.

"Jon blames Kate for having to give up the dogs," a source close to the situation told RadarOnline.com exclusively. "Of course, these days Jon blames Kate for just about everything."

Jon has given several interviews recently and been brutal on Kate, saying he "despises" her and loves girlfriend Hailey Glassman more than he ever loved his wife.

He's also in the middle of another scandal, with his kids' babysitter, Stephanie Santoro now coming forward and confirming she had a sexual relationship with Jon – a fact first reported by RadarOnline.com.

But Jon's attempts to blame Kate for getting rid of the dog simply isn't fair, one source told RadarOnline.com. The dogs have always been Jon's and while Kate was willing to do whatever she had to she simply can't handle them and Jon didn't make any other arrangements for them to be taken care of. He now lives in an apartment in New York City and never considered getting a place where he could keep his dogs, the source told us.

"Kate's being gracious about the situation, she's not going to blame Jon," said the source.

Earlier in the summer Jon caused an uproar when he made comments to People.com about the dogs. "Those kids beat them up, climb on them, pull their tails, bite at them, drag them around and everything you can imagine not to do to an animal, they've done."

The Humane Society of Berks County, Pa., where the Gosselins live, received numerous complaints about the family and animal cruelty, prompting Jon to release a statement to teh HSBC. "I would like to clarify a recent statement I made regarding my family's two German Shepherd puppies, Shoka and Nala. The statement – if taken literally and out of context – could be misinterpreted and I'd like to set the record straight. We understand the responsibilities of being good dog owners. Whenever my kids are with Shoka and Nala, everyone is carefully supervised to ensure that no one – dog or child – is injured. Shoka and Nala are loyal companions who we consider members of our family. We would never do anything to hurt them, and treat them with the respect and love that they deserve."
[From Radar Online]
When will the ridiculous stories end about this family? This guy has the mentality of an immature teenager. I think I learned the most about Jon from an interview that was posted by Radar yesterday with nanny Stephanie Santoro's mom. Jon is said to have blamed Stephanie for telling his other girlfriend, Hailey, about their relationship. Then when Stephanie swore up and down that she didn't tell Hailey, Jon begged her to lie to Hailey and tell her that their relationship wasn't sexual. When Stephanie refused to do that Jon got mad and broke up with her, but then he sent her a bunch of text messages trying to get back with her. He's a tool of the highest order.
Jon no longer wanted the responsibility of caring for those dogs so he ditched them and blamed his soon-to-be ex wife for it. This incident seems to roughly parallel his behavior as a husband and father.
Meanwhile Kate Gosselin is rumored to be in talks for her own mom-centric talkshow co-starring The Food Network's Paula Deen. If it goes through, will Kate do the right thing and halt production on her reality show? I doubt it.
Jon Gosselin, his kids and his dogs are shown out on 9/15 and 9/7/09. Credit: INFPhoto.com