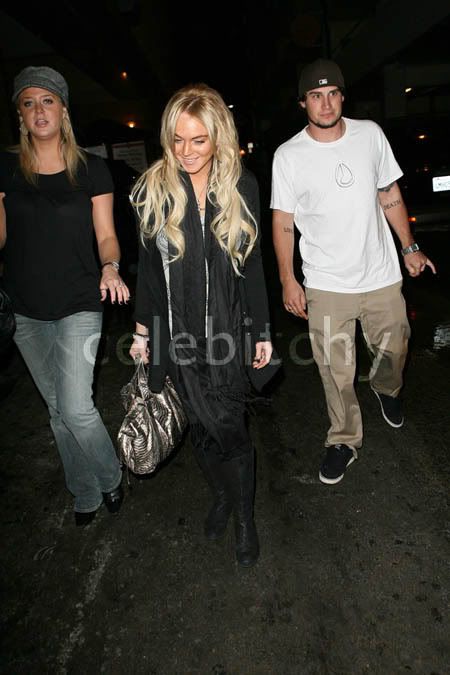 Lindsay Lohan, who hasn't relapsed yet partially thanks to her strict handlers, has been hanging out with a 25 year-old snowboarder with a lengthy rap sheet named Riley Giles. Giles dumped his last girlfriend, Breanna Tierney, by SMS, texting her that he "needed a break" and eventually confessing to screwing Lohan in one of the stairwells at the rehab where they met. Tierney says that she was engaged to Giles, and that he gave her a cubic zirconia ring that she found out was fake after some of the stones fell out. Giles claims that he broke up with Tierney before hooking up with Lohan and that he was never engaged to her.
So Giles seems the type who is willing to get engaged, but is all too ready to pretend it never happened when it becomes inconvenient for him. This week's Star Magazine is reporting that Lohan got all worried that she was pregnant when she was a few days late, and that Giles stepped up to pop the question:
Just when Lindsay Lohan thought she was back on track after finally getting sober, the actress got a major shock that could have threatened it all: According to a source, Lindsay was days "late" and feared she was pregnant with boyfriend Riley Giles' baby.

"Lindsay was terrified," the source tells Star. "She's also gained weight, and she started worrying that it was from being pregnant."

And while having a child with someone she loves is something that Lindsay has always dreamed about, it's not the right time, says the source. "She just figured out how to get sober – she's certainly not ready to be responsible for a child now!"

But when Lindsay, 21, broke down and told Riley she thought she might be pregnant, his reaction was not quite what she expected. "He was actually pretty excited," says the source. "And he did was he thought was right and proposed on the spot."

Lindsay's response? "It literally took her breath away," says the source. "She was touched, but she knew it was not the right thing to do and turned him down. She told him that she cares for him deeply, but they weren't ready to get married. Riley totally understood."

A few days later, Lindsay's fears were put to rest when she finally got her period.
[From Star Magazine, print edition, November 12, 2007]
You know that Giles was just excited that he was closer than ever at his chance to get his grubby hands on Lohan's dwindling fortune. Star reports that Lohan's friends are warning her about Giles and calling him "creepy" and a "jerk, and an all-around bum." He sounds just like her speed, and I hope they do get married as it will make their flame-out that much more significant. Lohan was probably hoping to be pregnant so that she could up her star factor like Nicole Richie. It would also significantly increase the amount she could charge the paparazzi for exclusive pictures.
Opportunistic Giles is said to have given paparazzi a talking-to as they were waiting for Lohan to emerge with new extensions from Ken Paves' salon. TMZ is vague, but makes it sound like he told them to be respectful towards her, and that it worked.
Here's Lohan with cupcakes yesterday and out with Giles the night before. The photo agency Splash has the entire breakdown of her Sunday, which predictably involved shopping and eating out, but I couldn't give a shit.