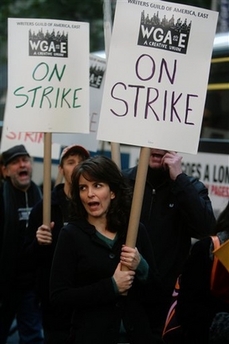 The announcement of the writer's strike today will have some immediate repercussions for movie and TV fans alike, as well as some long-term effects on movies in pre-production.
With emerging markets and new ways to deliver content, the writers justifiably don't want to be screwed out of royalties. The movie companies counter by saying that since internet delivery, for example, is still a developing trend, negotiating profits for new media is premature. A prolonged strike could have big consequences for the entertainment industry.
The daily talk shows such as, well- The Daily Show for one, will likely go into re-runs. Unconfirmed rumors say that The Tonight show will continue production, but consist of only Hometown News and Kevin Eubanks doing guitar solos. With all the major fiction writers on strike, the continued operation of Fox News is also in question.
Among the wonderful movies in pre-production that might suffer in quality are the sequels Saw 6, Rush Hour 5, and Chuck and Larry get a Divorce. Experts predict that because of the writer's strike, these movies will rely on nonsensical plots, stereotypical cliché, scatological humor, and graphic but implausible action and violence in the place of quality scriptwriting.
Also without the creative minds of Hollywood writers, entertainment executives will not know which toys from the 80's, video games, or 70's movies to rip off for next summer's blockbusters. Rumors are floating that among the projects being shelved are My Little Pony- The Movie, a film based on Madden 08, and a Farrelly brothers adaptation of The Goodbye Girl.
Tina Fey is shown picketing outside of NBC Headquarters in the header image.