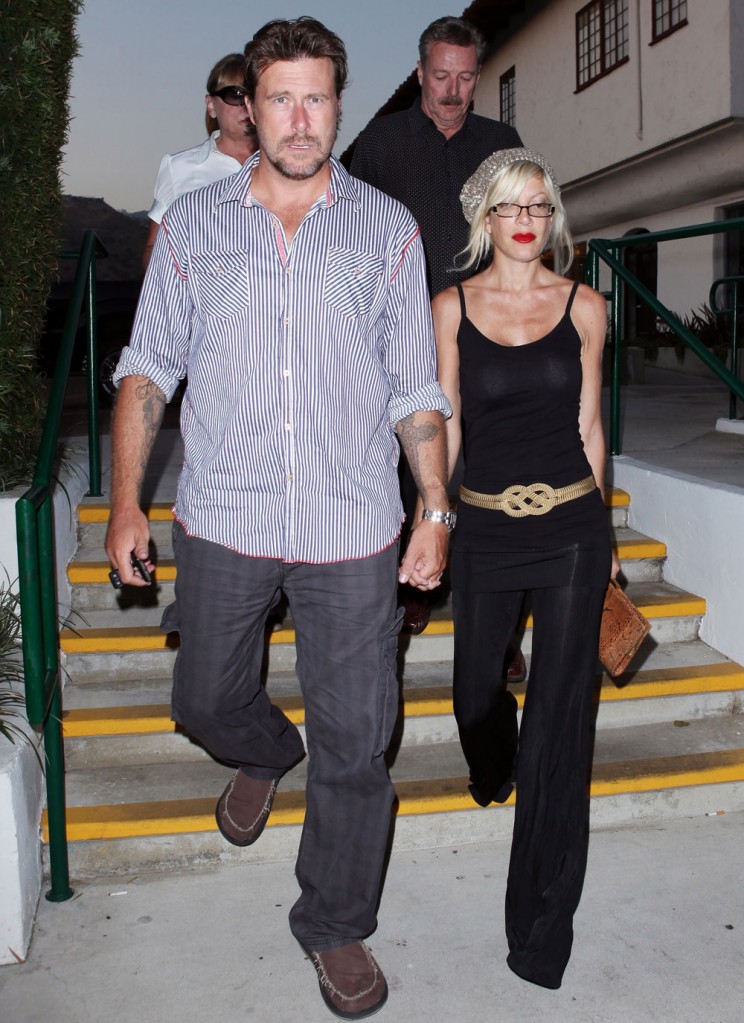 Last week Gatecrasher had an interesting early excerpt from Mary Jo Eustace's new book, Divorce Sucks: What to do when irreconcilable differences, lawyer fees, and your ex's Hollywood wife make you miserable. Mary Jo is the ex-wife of Dean McDermott, who very publicly and suddenly dumped her for Tori Spelling back in 2005. Last week's book excerpt was all about how the producers of Tori and Dean's reality show wanted Mary Jo to come on and make a "guest" appearance confronting Tori. Mary Jo refused – just as she refuses to let her kids on Tori and Dean's show. I commented that it seemed like Mary Jo seemed pretty mature.
Now Star Magazine is carrying several more excerpts from Mary Jo's book, and I'm questioning her maturity and her ability to simply move on from her divorce. She really seems like she has an ax to grind. Of course, wouldn't you have an ax to grind if your husband left you for Tori Spelling? Yeah… I would be devastated. This excerpt also references the cover story Star ran several weeks ago about Tori and Dean's loveless marriage. There's even a quote from the source of that article, Michael Olifiers. Here's some more from Mary Jo:
Mary Jo on how Tori Spelling was like Hiroshima: "I guess I always knew that after the years of mini bombs, one day there would be a big, fat Hiroshima… I just didn't know that Hiroshima would be Tori Spelling."

Mary Jo on why Dean left her: Dean told Mary Jo that he was leaving her for "his soul mate". But she believes it was always about money and fame. "He tells me that money will never be a problem." Dean told his friend Michael Olifiers, "You have no idea what this is going to do for my career! I'm with Tori Spelling now. I'm going to make millions!"

Mary Jo on her disappointment that women didn't rally to support her: "I just assumed everyone would rally around and support me, especially the women… Well, not if these women wanted to meet Tori Spelling."

MJ on seeing a photo of a cowboy-clad Tori with her legs wrapped around Dean: "I will never feel the same way about cowboy boots again."

MJ on meeting Tori Spelling for the first time: "Was there an area of misery and humiliation that I hadn't fully explored? My afternoon companion with two blonde pigtails, snugly fitted jeans, and thigh-high boots clicking up my walkway. No recollection of tracksuits [as Tori had described her outfit for the incident]… but then again, I am getting older. Although I was tempted… no broken bones."

MJ on Dean introducing their son Jack to Tori after 2 weeks of dating: "My son was confused… I told him that it was his father's girlfriend, and that he needed to talk to his dad about her." Dean denied the relationship. "Then I had to stand there while my 7-year-old son confronted me and called me a liar! To this day, it still gets me angry."

MJ on Tori the Usurper: Mary Jo came across a photo of Tori, Dean and Jack with an accompanying interview with Tori. "Tori said, 'She loved hanging out with 'her boys' and that they 'were like the three amigos,' doing everything together. My family had been officially usurped. What exactly is wrong with these women pouncing on families when they're being dismantled?"
[From Star Magazine, print edition, October 12 2009]
Although I have sympathy for Mary Jo, I don't think she's coming across well. She seems very bitter and very much like she's wallowing in self-pity. She also seems like she's using Tori as much as she would have us believe Dean is using Tori. Look – I could totally understand how Mary Jo couldn't stand Tori and everything, but Mary Jo is feeding her own drama and neurosis by picking apart everything Tori and Dean do. It's pretty obvious that Mary Jo sat down with Tori's books and read them cover to cover, taking notes for her own response. It just seems petty, immature and vindictive.
Tori and Dean are shown out at dinner on 9/18/09. Credit: Fame Pictures