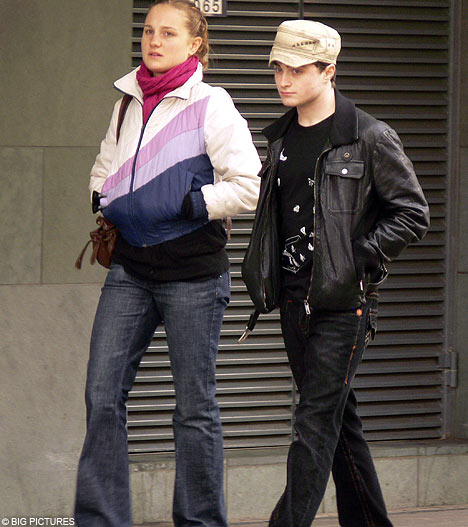 Harry Potter hunk Daniel Radcliffe has a girlfriend, which in itself may be news to send a thousand teenage girls to their bedrooms in tears. It seems she liked what she saw of Daniel during his nude scenes in the play Equus – she's actually the understudy for the female role in the play, Jill.
His girlfriend, named Laura O'Toole, isn't quite as financially solvent as Daniel. She sells oats to pay her bills.
Actress Laura O'Toole – who has been dating the millionaire 'Harry Potter' star since May – earns £7 an hour selling juice and yoghurt on health food stall Moma at London's Liverpool Street Station from 6am to 11am.

She said: "I have to keep the pennies rolling in. We all have to pay the bills."

Laura, 22, met Daniel, 18, while they were both starring in the raunchy West End show 'Equus', but she is determined to pay her own way in the relationship.

A friend said: "She doesn't want to rely on his cash. She knows she has to stand on her own two feet."
While her sentiments here seem so lovely and down to earth, I'm wondering if after she and Daniel split a quick tell all interview with a couple of British tabloids might sort out her bill payments. When did I become so cynical about young love?
Daniel seems a little jaded about his fame nowadays too, saying he'll never have a one-night-stand as he wouldn't be able to stand the anticipation of seeing the tell-all appearing in the London tabloids.
"No, I wouldn't (have a one night stand). Because the next few weeks would be awful, worrying she'd sell her story to the press."
Daniel will be heading to Broadway with Equus.
Header picture via The Daily Mail.