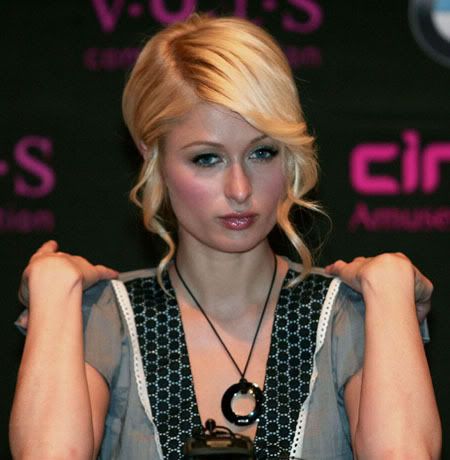 Paris Hilton has been working on the rock musical film "Repo: The Genetic Opera" in Canada, where she ran into some trouble after she demanded that management at an adult video store in Toronto remove posters advertising her "One Night in Paris" film. "Repo" wasn't the only venue where Paris wanted to exhibit her breathy vocals, which will be gracing airwaves less frequently after she was dropped by her record label.
Although Paris can arguably sing well enough after her voice is remastered, she apparently can't do much more than pole dance. Paris auditioned for a role in the Broadway version of Chicago, the play in which Ashlee Simpson graced the stage as Roxie Hart in London last fall. Producers invited her to audition for a possible role as Roxie or Velma, and had to pass because she couldn't dance at all:
Paris Hilton just flopped a dance audition for "Chicago" because "she simply can't move," says choreographers. The show's producers often invite movie and/or TV stars to take over major roles… and Paris aimed to shine as either Roxie or Velma… But when choreographers taught her simple dance moves, Paris was "too stiff" for anything beyond her trademark nightclub booty-shakin', said an insider, who added "It didn't help telling producers she 'knew nothing' about their show because she 'hardly ever' goes to the theater."
[From The National Enquirer, print edition, Mike Walker's column, November 19, 2007]
So not only can Paris not dance, she also failed to do the basic research for the role. It's not like she even had to read because she could have just rented the movie!
Paris is currently doing the promotional tour for her super-cheap looking perfume, Can Can. She will appear at Macy's at the Roosevelt Field Mall in Garden City, NY tomorrow at 6:00 pm. The moral of this story is that Paris should stick to what she does best – marketing cheap shit with her name on it.
Here's Paris at a press conference for FILA on 10/11/07 to promote her new collaboration with the sports clothing line. Thanks to WENN for these photos.