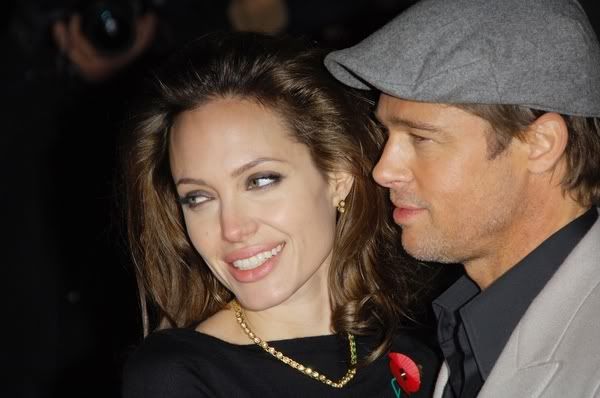 Angelina Jolie and Brad Pitt made another public appearance at last night's London premiere of her CGI epic Beowolf. The Daily Mail notes that she had gum stuck to the bottom of her heel and that her pants were ripped slightly on the seam across her butt, but you could hardly tell unless you were staring at her ass and feet.
Along with all the other overhyped tabloid cover stories about Brangelina this week there's an article in the National Enquirer that isn't featured on the cover, but sounds just as typically fake. It claims that Angelina told Brad that their family is moving to France or she's going without him. As a compromise, she is said to have promised Brad to have another biological child with him.
Angelina Jolie is so desperate to live outside the U.S. that she told Brad Pitt she's moving to France with or without him!

Brad has reluctantly agreed to move on one condition – that Angelina gives him another biological child…

At least one insider says that Angelina, 32, wants to leave the U.S. because she's worried that brad has been enjoying himself too much in LA and NY and it has left her insecure. With his family and friends in the U.S., Brad, 43, has resisted Angelina's pleas to take their growing family abroad.

"But Angelina didn't really give Brad any alternative in the end," said the insider. "As far as Angelina was concerned it was France or bust – bustup, that is."
[From The National Enquirer, print edition, November 19, 2007]
One thing might be true about this story – they supposedly purchased a vineyard in France.
In August, the couple agreed to buy a vacation home and vineyard in Provence after they visited the beautiful Chateau Val Joanis in the Luberon region north of Aix-en-Provence.
[From The National Enquirer, print edition, November 19, 2007]
Considering all the other homes the couple is collecting – including a new estate in Berlin – that doesn't mean that they're about to move there long term. I don't remember hearing about this vineyard before, but there are so many "Brad and Angelina bought a house" stories that they all kind of blend together. Here's a link to a story on ecorazzi about the vineyard purchase.
Here are Brad and Angelina at the Beowolf premiere in London last night, thanks to PRPhotos.