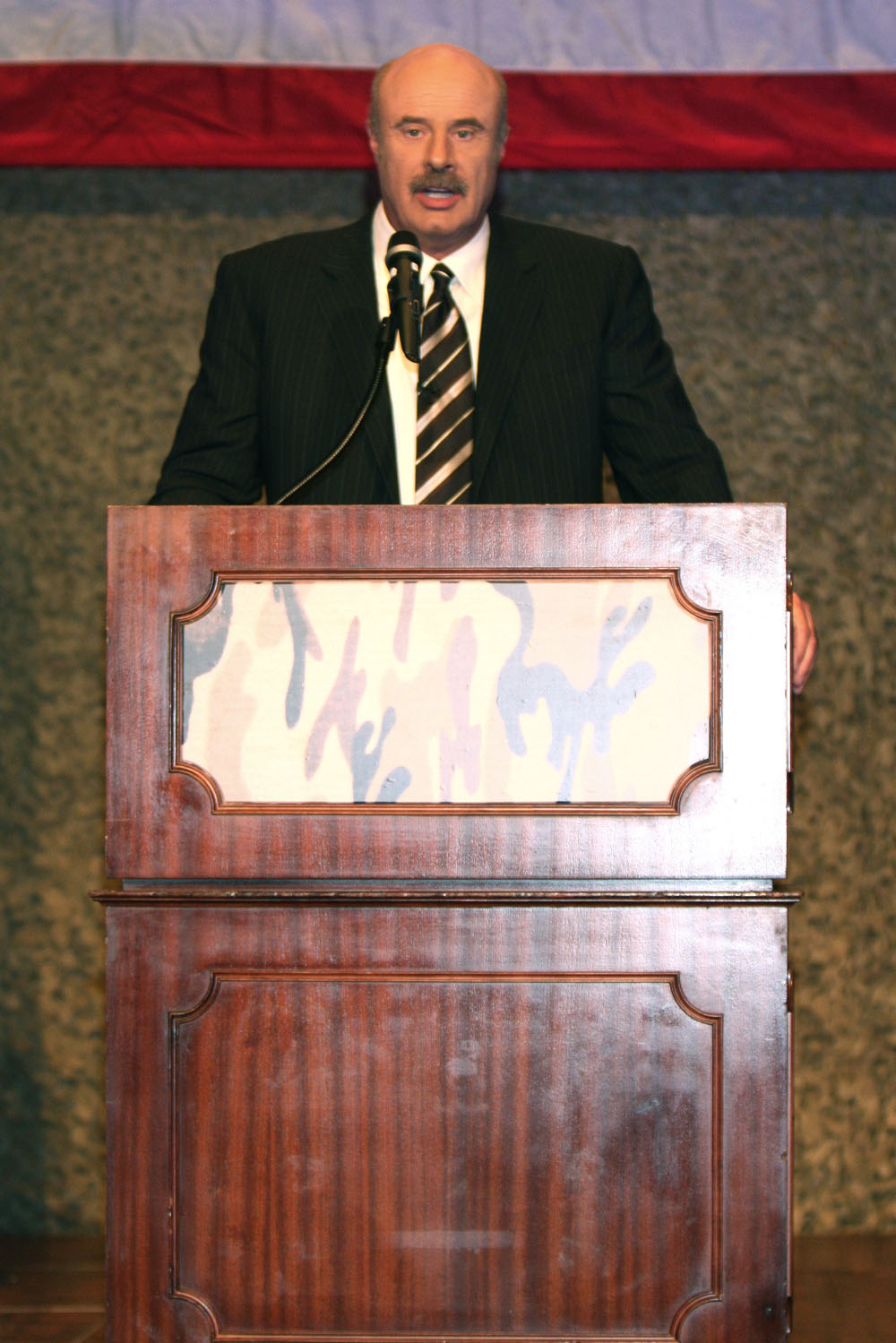 Dr. Phil is being sued but a woman who claims he brainwashed and groped her. There are a couple of ways to handle this story. We could try the tabloid, National Enquirer way ("Dr. Phil Sex Shocker") or we try the we-always-side-with-celebrities way, like People Magazine ("Dr. Phil Slapped with Bizarre Brainwashing Lawsuit"). Let's try to take Dr. Phil's side for a brief moment, and go along with People that the woman is a wingnut. People makes a good case for it:
A woman has filed a lawsuit in Los Angeles Superior Court against Dr. Phil McGraw, two producers and another doctor in what she alleges is a case of false imprisonment, practicing without a license, indecent exposure, battery, fraud and more.

Shirley Rae Dieu, 56, of Irvine, Calif., claims she was seeking therapy from Dr. Phil in his Hollywood office in 2007 when she allegedly was held captive and "forced to be in the same room with a completely live naked man while he exposed his entire naked body, genitals and all," according to her filing.

Dieu further alleges she was deprived of sleep and food, "brainwashed" and "subjected to edited tapings depicting her as a different personality other than her own." On Oct. 9, 2007, she claims Dr. Phil touched her left breast during a therapy session.

Representatives for McGraw did not immediately respond to a request for comment.

"[Dr. Phil] is nothing like what he's like on TV," Dieu told PEOPLE by phone, adding that another woman will be joining her suit. "You have no idea what I and this other woman went through."

It's unclear how much she is seeking in damages but Dieu – who filed a malpractice suit against an Orange County hospital in 2002 and sued a car dealership in 2007 – is acting as her own attorney, and her filing is filled with misspellings and grammatical errors. Records also show she filed for bankruptcy in May 2008.

This is not the first time someone has tried to haul Dr. Phil, 59, into court. In 2006, he was sued by two men who claimed he implied they were suspects in the Natalee Holloway case. In 2005, he was sued by three consumers of a diet pill he endorsed.
[From People]
Well, when they put it that way, how could I not think the woman is a wingnut? But let's hear the wingnut out! The Enquirer has a few more details on just what Shirley Rae Dieu is alleging. Dieu is also claiming that Dr. Phil held her "captive" and that when she tried to escape, she "was blocked by the staff to prevent her from leaving." And that's about it. It's a weird lawsuit, and I bet it's bullsh-t for the most part. I hate that I'm taking Dr. Phil's side, though. I think that man's an asshat, and I wouldn't past him to sexually harass, grope, fondle or act inappropriately with his patients or his coworkers. He looks like that kind of guy.
Here's Dr. Phil with wife Robin attending 'A Night of Honour' which benefits The Iraq Star Foundation in Universal City, California on Sunday. Images thanks to WENN.com .