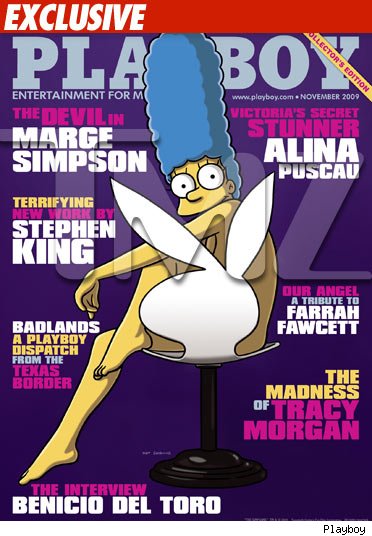 Photo courtesy TMZ
Marge Simpson is sexy, right? She had that brief stint writing romance novels, she once kissed a woman, she had a boob job, and she got caught having sex with her husband on a mini golf course. Plus countless men have fallen in love with her: that French bowling coach, the evil home robotics system with the voice of Pierce Brosnan, all those Hells Angels she cooked and cleaned for who took over her home.
The sexy cartoon character with the gravely voice and the tower of blue hair will soon be in Playboy, and she's even featured on the cover. We won't be able to tell if the uh carpet matches because Marge will be in lingerie. It seems only fitting for a mother of three children who never age.
I know I'd rather see a cartoon character semi-clothed than a bland naked reality star like Heidi Montag or Aubrey O'Day. Playboy made a smart move with this one. Maybe Hef's new girls are influencing the magazine, or maybe his sons are starting to make decisions. They're supposed to take over at some point after all. What better way to make their mark than by paying homage to the blue-haired bombshell who helped define their childhood.