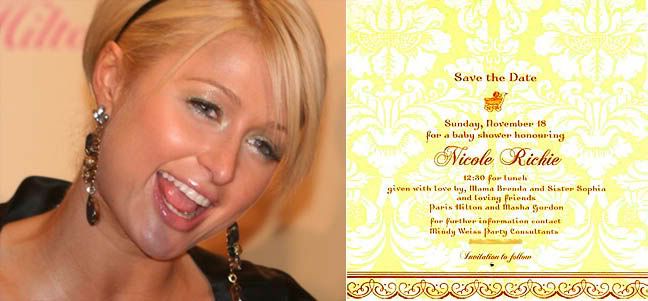 There was a story that Nicole Richie wasn't going to invite Paris Hilton to her planned (and postponed) wedding to Joel Madden after Paris asked Nicole if Joel was really the father of her baby. Paris and Nicole haven't been seen out together since their over-hyped supposed makeup for the sake of their never-ending reality series The Simple Life. It was also thought that Paris was making an obnoxious dig at Nicole when she publicly told Christina Aguilera "Congratulations to the most beautiful pregnant woman in the world."
Maybe these two have buried the hatchet, or maybe they just realize that they generate more publicity together, because Paris is hosting Nicole Richie's baby shower this weekend:
According to In Touch, invites just went out for the shower, scheduled to take place at 12:30 p.m. on Sun., Nov. 18, at a Beverly Hills estate.

The party's being given by Nicole's mom, Brenda, but sister Sophia and "loving friends" Paris Hilton and Masha Gordon are listed as the official hosts.

Don't see Paris hitting Party City to pick up supplies? Well, she's not. Wedding planner to the stars Mindy Weiss is actually handling all the nitty-gritty—such as ensuring Nicole's favorite foods will be served, including sushi (sorry, Nic, the raw stuff's just for your buddies), coconut shrimp, lobster, lemon-pepper chicken, fruit and cake.
[From E! Online]
And in case you assumed that Nicole would be collecting all sorts of high-end baby crap like most of the other celebrity moms, she's not expecting her friends to buy it for her at least. Nicole and her fiance, Joel Madden, have started a nonprofit organization, The Richie Madden Children's Foundation, and ask that baby shower attendees make donations of needed baby items instead of giving gifts to Nicole. They're also asking fans to make donations to their foundation, with the items to go to families in need who visit the LA Free Clinic. They plan to start a website with a baby registry for people to purchase items:
Nicole would like to invite friends, family and fans across America to participate in the moms-in-need program and highly publicized baby shower. The Richie Madden Children's Foundation will create and promote an online registry to inspire the purchases of items for moms and their families in need. Anyone in the country will be able buy from the registry on her behalf for the clinic. The registry link will live on the Richie Madden Children's Foundation website for at least six months and will be updated regularly based on the needs of the LA Free Clinic and other participating clinics.
[From PDF press release linked from USWeekly]
That's surprisingly awesome of Nicole and Joel. Add in that Nicole is asking Paris Hilton to co-host her baby shower and she seems to have actually matured a bit. Maybe once the baby arrives she'll realize what a spoiled brat she's been her whole life and will start to dedicate most of her time to her new charity.
Photo of Nicole Richie's shower invite fromInTouch. Nicole Richie is shown out shopping on 10/31, thanks to Splash News. Paris Hilton is shown promoting her Can Can fragrance at Macy's in Philadelphia on 11/14, thanks to PRPhotos.