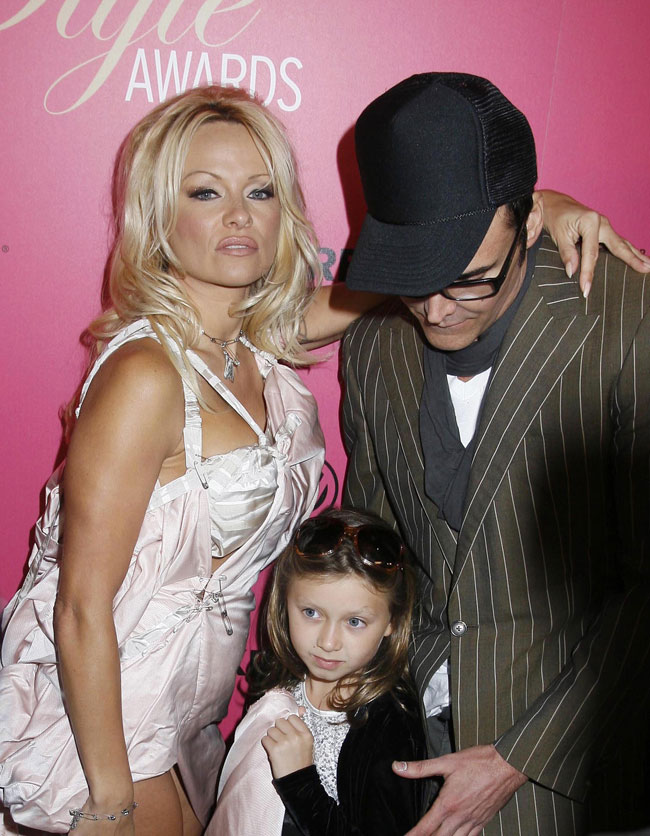 Two weekends ago, Pamela Anderson attended the Hollywood Style Awards to support her friend, photographer David LaChapelle. Pam decked herself out in some mangled, roadkill-looking pink Vivenne Westwood monstrosity, complete with a long, dirty train. Pamela also brought a small child with her, a 9-year-old girl named Adelaide Gault, the daughter of Pam's makeup artist. Adelaide's official job was "train carrier" and she managed to do her job while maintained a steady "Oh, God, my mother works for a gross, trashy idiot" face.
A few days later, Page Six even ran a report on what happened behind-the-scenes to poor little Adelaide at the Style Awards. Sources told Page Six: "She didn't even have her own seat and had to sit at Pamela's feet, where people nearly stepped on her to get to the stage. The girl looked uncomfortable and kept tugging on her dress to get her attention, but Pamela waved her away." Another noted: "After she presented David LaChapelle with an award onstage, she shouted 'daughter' in front of the whole auditorium, and slapped her leg like she was calling a puppy. The girl rushed up to grab her train." A couple of children's advocates provided some quotes, and it looked like Pamela was going to get a good media thumping. Now Pam's manager is trying to convince us that Adelaide had a "great time" and there was nothing abusive, gross or crappy about the way she was treated:
The 9-year-old girl who carried Pamela Anderson's dress at the Hollywood Style Awards asked to do it and had "fun," the actress insists.

Anderson's manager, Peter Asher, said little Adelaide Gault — daughter of the star's makeup artist, Sharon Gault, and goddaughter of photographer David LaChapelle — had a "great time" at the event last weekend.

He said in a statement: "As Pamela was preparing for the red carpet, Adelaide asked if she could carry the train. Everyone thought that would be fun, and Pam agreed. Adelaide held the train with elegance and aplomb."

He said Adelaide "met lots of interesting people." He added, "All the parties involved find the suggestion that this . . . constitutes some kind of 'abuse' or the use of a child as a 'fashion accessory' utterly astonishing and even amusing — but pretty disturbing in a way as well."
[From Page Six]
Meh. I'd like to hear from the little girl to see if she really enjoyed herself. While I doubt what Pam subjected Adelaide to constitutes "abuse", I do think it was totally rude and probably very scary for the kid. I can't even imagine being stuck at an awards ceremony with Pamela Admerson as my de facto guardian, having to sit on the floor and being treated like a dog. That's a formative memory for this girl, and I'm sure she'll never volunteer to help one of her mom's clients ever again.
Photo credit: Adriana M. Barraza/WENN.com